Thế Giới
North Korea 'stretched' the new South Korean president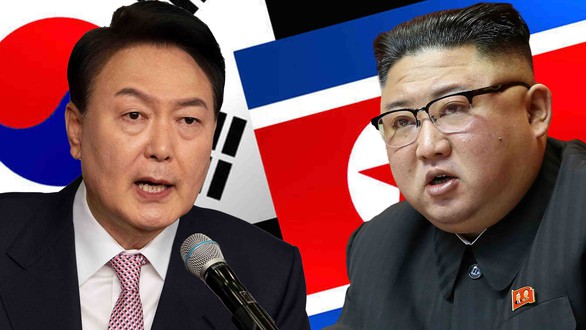 North Korean leader Kim Jong Un (right) sent a tough message to the new South Korean leader Yoon Suk Yeol – Photo: KCNA, Reuters
Despite having a good relationship with outgoing South Korean President Moon Jae In, the North Korean government decided to show a tough attitude to the new administration of President-elect Yoon Suk Yeol – who threatened to strike "pre-emptively". enemy" Pyongyang.
Nuclear test "pick up" Mr. Biden?
According to South Korea, North Korea's SLBM was launched from the area of ​​Sinpo city on the east coast of the country, where Pyongyang has many submarines and SLBM launchers. The Japanese side considers this to be a short-range ballistic missile.
It was North Korea's 15th weapons display this year, the second within the past week, and just three days before Mr. Yoon took office (May 10).
Immediately after, South Korea's national security director Suh Hoon and senior officials criticized the North's SLBM missile launch.
"The new administration will consider the common threat from North Korea's nuclear missiles as soon as it takes office and soon combine the government's capabilities to take basic measures to deal with North Korean provocations," he said. " – Yonhap news agency quoted Kim Sung Han, future national security adviser to Mr. Yoon, as saying.
Meanwhile, Japanese Defense Minister Nobuo Kishi criticized the recent consecutive ballistic missile launches and called North Korea's progress in missile technology a threat to the region and the international community. economic.
"This is completely unacceptable," Nobuo said, affirming that he would strengthen defense capabilities and work closely with the US, South Korea and other allies to deal with security threats. security from neighboring countries. The US Indo-Pacific Command also issued a statement condemning Pyongyang's move to destabilize and pledge to protect South Korea and Japan.
Not stopping there, the US and South Korea think that North Korea may continue to conduct nuclear tests to "pick up" US President Joe Biden – scheduled to arrive in Seoul on May 21. This could be Pyongyang's first nuclear test since 2017.
"The United States believes (North Korea) is preparing the Punggye-ri launch site and could be ready to test it as early as this month," State Department deputy spokeswoman Jalina Porter said.
Similarly, Park Jie Won, head of South Korea's National Intelligence Service, suggested that the test could fall between Yoon's inauguration and Biden's visit.
Park said Pyongyang could test a small nuclear warhead. According to the South Korean official, the test is very important for the Kim Jong Un regime because "if North Korea can create a small and light nuclear warhead, they can mount it on the head of a short-range ballistic missile." ".
Last week, Kim also pledged to accelerate the development of nuclear weapons and threatened that North Korea would respond with nuclear weapons if provoked.
It's difficult for Mr. Yoon
On May 8, North Korean media still did not speak about the latest missile launch as usual, but the message was clear. "This move is aimed at the new South Korean administration next week and exerts pre-emptive pressure to control the situation before the US-South Korea summit," said Yang Moo Jin, an expert at the University of North Korean Studies in Seoul. with Reuters news agency.
According to experts, North Korea is taking advantage of time to promote its weapons program in the context of the United Nations Security Council being divided over the Russia-Ukraine conflict, so it will not be able to punish Pyongyang.
Among the UN members with veto power, the US is confronting Russia and strategically competing with China. The weapons program is also very important to North Korea and it will be the leverage for the country to gain the upper hand in security and relief negotiations.
It's not unusual for North Korea to "stimulate" the new government in the South with weapons tests. But according to analysts, if North Korea nuclear test will escalate tensions, the risk of misunderstanding and miscalculation between the two Koreas leaves the new South Korean president with little options to approach Pyongyang.
So far, Mr. Yoon's proposals such as promoting economic cooperation with the North and setting up a trilateral dialogue channel between the US, Korea and North Korea have not been appreciated.
Bloomberg news quoted expert Lim Eul Chul of Kyungnam University, South Korea, as saying that being too dependent on the alliance with the US will make Yoon's government gradually lose its voice in efforts to resolve the North Korean nuclear issue. Tien and further pushed Pyongyang away from the negotiations.
According to Lim, Mr. Yoon needs to expand diplomacy and push the North to come to the dialogue table with the "carrot and stick" policy.
What is the possibility of the inter-Korean summit?
In an interview last weekend, South Korean President-elect Yoon Suk Yeol did not rule out the possibility of meeting North Korean leader Kim Jong Un, as long as a sure outcome is guaranteed. Yoon also pledged to seek stronger protection from the US, including Washington's expanded deterrence, using nuclear to protect allies.
But analysts say that the security commitment of the US is not guaranteed. "History shows that extended deterrence has never been deployed," said Park Won Gon, a professor at Ewha Womans University in Seoul.
You are reading the article
North Korea 'stretched' the new South Korean president

at
Blogtuan.info
– Source:
tuoitre.vn
– Read the original article
here