Thế Giới
QUICK READ 9-5: The President of Ukraine declares that he will win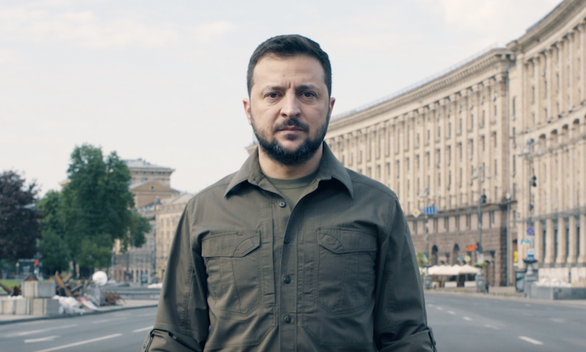 Mr. Zelensky in a video speech on the anniversary of the end of World War 2 – Source: Office of the President of Ukraine
* On May 9, in a speech on the occasion of the end of World War II, Ukrainian President Zelensky said his country will win the war with Russia. "The road to victory is very difficult, but we will certainly win," Zelensky was quoted as saying by Reuters news agency.
Mr Zelensky also added that he would "not give anyone even a piece of land".
* In a speech on the evening of May 8 commemorating the end of World War II, Prime Minister Olaf Scholz sought to reassure the Germans that he was working with his allies and would does not turn NATO into a direct war party with Russia.
According to Politico, Scholz also said that Germany would help Kiev but would not give in to every demand and that "difficult" decisions made by his government in recent weeks were necessary to deal with Russia.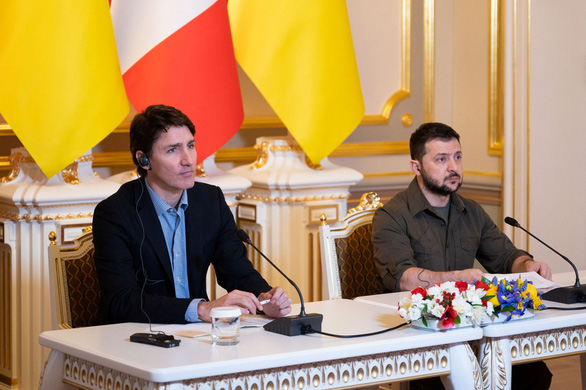 Canadian Prime Minister Trudeau (left) visited Kiev and attended an online meeting with leaders of other G7 countries and Ukrainian President Zelensky (right) on May 8 – Photo: REUTERS
* In an online meeting with the President Ukraine Zelensky on May 8, leaders of G7 countries pledged to ban imports or end reliance on Russian oil "in an orderly manner" and "in a way that gives the world time to find alternative supplies".
The G7 leaders also pledged to step up sanctions against the financial elites who support Russian President Vladimir Putin, as well as their family members. The meeting took place on the eve of the anniversary of the end of World War II in Europe, also known as Victory Day in the countries of the former Soviet Union.
* Before the meeting of G7 leaders with Ukraine, The White House announced sanctions targeting nearly 2,600 Russian and Belarusian military officials, as well as three Russian state television stations. Those on this list will be barred from entering the US.
The United States also prohibits its businesses and citizens from providing consulting or accounting services to Russian companies. According to the US side, these services are "key" for Russian elites to hide their assets and continue to support Russia's war in Ukraine.
* Speaking at a joint press conference with Ukrainian President Zelensky during his visit to Kiev on May 8, Canadian Prime Minister Justin Trudeau announced the reopening of the Canadian embassy.
Canada will provide a $50 million military aid package to Ukraine, which includes drones, satellite imagery, small arms, ammunition and funding for demining operations.
Prime Minister Trudeau also announced that Canada will lift trade tariffs on all Ukrainian imports to Canada next year.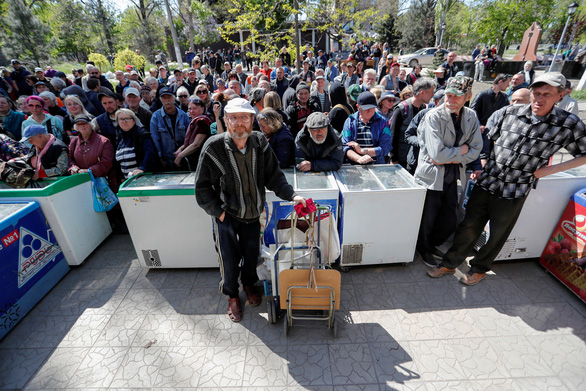 People in the Ukrainian city of Mariupol line up to receive food aid on the morning of May 8 – Photo: REUTERS
* In a speech marking the end of World War II, German Chancellor Olaf Scholz has denied President Vladimir Putin's claims that the country is fighting neo-fascism in Ukraine.
"This is defamation and historical distortion. We have a duty to make this clear," Mr. Scholz said of Russia comparing the current war to the former Soviet Union's war with fascism.
"Today I cannot tell you when and how Russia's brutal war against Ukraine will end. But one thing is clear: There will be no peace imposed by Russia. Ukrainians. will not accept it – and neither do we," the German leader raised the issue and pledged to continue to support and send weapons to Ukraine.
* At least 60 people are believed to have been killed after an air strike on a school in the village of Bilogorivka in eastern Ukraine. According to Reuters and AFP news agencies, Ukrainian President Zelensky confirmed the casualties and blamed Russia for the attack.
The Russian side has not yet commented on Ukraine's accusations.
* 174 Ukrainian civilians were evacuated from the Azovstal iron and steel plant in Mariupol on May 8, bringing the total number of people leaving here to nearly 600, according to the United Nations. The factory site is the last stronghold of Ukrainian forces defending the strategic city of Mariupol on the Sea of ​​Azov.
The remaining parts of the city and its surroundings are now under Russian control. An adviser to the Ukrainian president, Mykhaylo Podolyak, confirmed on Twitter on May 8 that Kiev will not give up evacuation efforts until the last citizen has left Azovstal.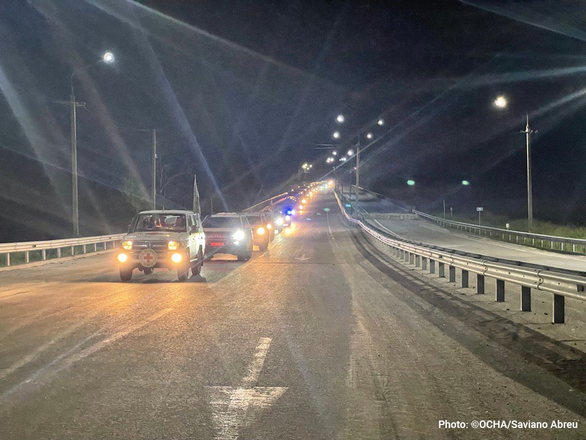 The convoy evacuated Ukrainian civilians from the Azovstal steel factory on May 8 – Photo: OCHA
* In a statement sent to AFP news agency, the Azov battalion – an armed unit that is entrenched inside the Azovstal factory – confirmed Their fighters will fight to the end and will not surrender.
"Surrendering is not an option because Russia doesn't care about our lives," intelligence officer Ilya Samoilenko said. Moscow has repeatedly called on those inside to drop their weapons and assure them they will be treated in accordance with international regulations on prisoners of war.
* Deputy Prime Minister of the Russian Federation Marat Khusnullin arrived in Mariupol on May 8, becoming the highest-ranking Russian official to make a public visit to the city. According to Tass news agency, his trip was intended as an inspection to assess the damage in Mariupol and estimate the work to restore the city.
* In a statement on the Telegram channel on May 8, the head of the Russian Republic of Chechnya – Mr. Ramzan Kadyrov – announced Russian forces "liberated" the city of Popasnaya in the Lugansk region of eastern Ukraine.
Some of the elite armed units of the Republic of Chechnya participated in the war in Ukraine from the very beginning. "Residents of another city of Donbass can now return to a peaceful life," Kadyrov said.
* On May 8, the head of the Center for Defense Control of the Russian Federation, Colonel General Mikhail Mizintsev, accused Ukraine of stationing troops and deploying weapons at schools in the city of Kramatorsk in the Donbass. This is considered one of the important strongholds of Ukrainian forces in the east.
You are reading the article
QUICK READ 9-5: The President of Ukraine declares that he will win

at
Blogtuan.info
– Source:
tuoitre.vn
– Read the original article
here