Thế Giới
Russia celebrates the 77th anniversary of Victory Day 9-5: What achievements will President Putin list?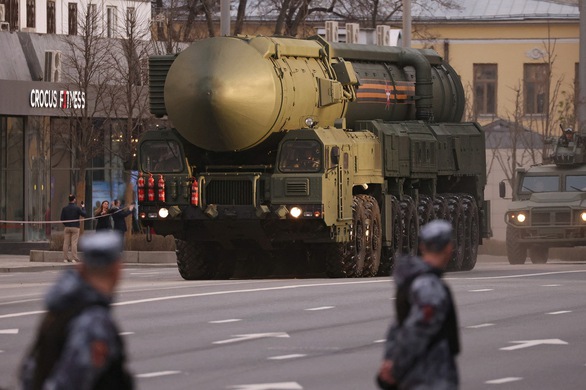 Russia's Yars intercontinental ballistic missile appeared on the streets of Moscow during a rehearsal for the military parade on May 9 – Photo: Reuters
The event is expected to gather the participation of about 11,000 people with 131 types of weapons and 77 aircraft.
This year's military parade has attracted a lot of attention because it took place in the context of Russia's special military operation in Ukraine that has lasted 70 days without finding an exit.
Promote communism nation
Victory Day this year is also a special day for President Vladimir Putin personally, as he is looking for achievements to make Russians proud on this important holiday.
This event is not only an occasion to honor Soviet soldiers who fell in the world war that ended 77 years ago, but also an opportunity for the Russian government to boost the morale of soldiers fighting in Ukraine, pushing strong nationalist sentiments, seeking Russian public support for the military, as well as affirming victory by achieving some of the Russian military's initial goals in the conflict in Ukraine.
The patriotic pride associated with the sacred holiday will also help the Russian people forget the difficult economic problems brought about by Western sanctions.
Just a few days before the ceremony, Andrey Turchak, secretary of the Joint Council of President Putin's ruling United Russia Party, said on May 6 that Russia would help develop the Kherson region in the south of Ukraine, which Russia recently controlled again. into a wealthy locality.
Mr. Turchak stressed "Russia is here forever. There is no doubt about this" and "We will live together, developing this rich and historic region." This is the first time a senior Russian official has pointed out the intention of the Putin administration to have a long-term presence in Ukraine.
Indeed, Russia has a long-term plan for the area they control by making this area close to Russia in terms of institutions, culture, and education. Kherson's new administration, which was backed and set up by Russia, has begun to replace the Ukrainian hryvnia with the Russian ruble and a pro-Russian former Ukrainian MP, Volodymyr Saldo, has been appointed regional governor. .
According to Western sources, teachers have been asked to adopt the Russian curriculum and language when schools return after the summer. This also means that Kherson province has gradually become part of Russia. The story of the referendum in this region to join Russia will only be a story of time to come.
Geopolitically, the city of Kherson – the capital of the region of the same name, which surrendered to Russian troops on March 2, is a strategically important city of Ukraine with a port on the Black Sea and the Dnieper River. , whoever controls Kherson will control its water as well as the road to the Crimean peninsula.
Take Novorossiya back to Russia?
Perhaps Russia wants more after Victory Day. The Kherson region along with Donetsk, Zaporizhia and part of Lugansk lie mostly within the boundaries of the historic Novorossiya. President Putin has made no secret of his intention to restore a historically powerful Russia.
On April 17, 2014, after the annexation of Crimea in February 2014, during a 4-hour Q&A session on Russian television, President Putin mentioned the concept of "Novorossiya" again. east of Ukraine, once part of Russia, and warned that parliament had given him the power to intervene militarily should the confrontation escalate.
Historically, Novorossiya was a large territory controlled by Russia, and later the Soviet Union, from the 18th century until the Soviet Union's dissolution in 1991. But during the Soviet era, it was part of the Soviet Union. of Ukraine rather than directly Russian territory.
Currently, the Novorossiya region (including Crimea), which literally means "new Russia", is a geographical region in the north of Ukraine stretching from Odessa to Donetsk and then Kharkov, including eight provinces in southeastern Ukraine. , accounting for a third of the area and about two-thirds of the gross national product (GDP) because this region is an industrial area of ​​Ukraine.
Could the recent control of Kherson, coupled with the annexation of Crimea eight years ago, be the first steps in the plot to bring the Novorossiya region back to Russia?
At the Victory Day ceremony on May 9 in Red Square (Moscow), Russia may not have as many modern equipment and weapons available to perform as in previous years, but it certainly has a lot of spiritual meaning for the audience. with the Putin administration as well as with Russian nationalism.
So far, Moscow has not been able to "hit fast, win fast" as originally set out due to the strong resistance of Ukraine, which received huge support from the West. But after 70 days of hostilities, Russia has taken control of some geographical areas in southeastern Ukraine close to the Russian border. After Kherson, does Russia want to try to take more Lugansk, Donetsk and the historic Novorossiya region?
What did Mr. Putin and Mr. Zelensky say?
Both Russian President Vladimir Putin and Ukrainian President Volodymyr Zelensky spoke a day before Russia celebrates the 77th anniversary of Victory Day.
According to AFP news agency, President Putin said that Russia's soldiers were "like their forefathers, fighting side by side to liberate their homeland". He believes that "as in 1945, victory will be ours".
Putin also stressed that the common task of current Russia is "to prevent the rebirth of Nazism" and hopes "new generations can be worthy of the memory of their ancestors". "Sadly, today Nazism has risen again," he said.
Meanwhile, President Zelensky declared that "evil has returned" to Europe, in a speech commemorating World War II. Mr. Zelensky said that the past has returned with "another uniform, under other slogans".
NGUYEN HANH
You are reading the article
Russia celebrates the 77th anniversary of Victory Day 9-5: What achievements will President Putin list?

at
Blogtuan.info
– Source:
tuoitre.vn
– Read the original article
here