Life Style
Lifestyle
Saigon is bursting with a series of shops selling popular food but in the style of "lemongrass", also sticky rice, sugarcane juice, chicken feet but why "it's so strange"
IS IT WELCOME FOOD IS BEING "UPGRADED"?
Talking about Vietnamese street food, it is not only famous in the country but also recognized by many foreigners. Even for many people who love street food to the point of thinking that "with that dish, you have to eat some street food to make it delicious", such as sticky rice, broken rice, bread,… just go to a luxury restaurant. a little bit is "broken".
Yet recently in Saigon, there has been a smoldering boom about places that also sell those street foods, but in a very different way. It is more luxurious, more sophisticated, more beautiful, … and of course is also said to be of better quality than the street "version".
And here are some examples:
GAME – EAT THE TRUE CHICKEN'S FEATURES "LIKE LEMON"
Address: 8/10 Nguyen Thien Thuat. Ward 24, Binh Thanh District
Open: 10:00 – 22:00
Menu: 25k – 65k
It's a shop that sells chicken feet with snacks, but in terms of design, menu and quality, Gam has invested a lot in this and that.
Photo: @gamlaghien, @hifasne
The shop is located in a small alley on Nguyen Thien Thuat street. Looking at a shop with bold ancient features, from the old red tile roof, dark yellow wall paint color, green window frames to the displayed items such as radios, cabinets and even used dishes, no one thinks this. will be the place to sell chicken feet, young mangoes dipped in fish sauce, jackfruit salad… The peaceful countryside scene will bring a new visual experience to those who love street food!
Photo: @utcunggg, @coolbe1918
The space here is quite airy and spacious. In particular, the garden has a lot of green trees such as mango trees, banana trees, wildflowers, and sets up a few wooden tables and chairs, gnawing on chicken feet and chilling all the way!
Sticky Rice – A HIGHEST bowl of sticky rice costs nearly 70k BUT ENTERTAINING STORE LIKE RESORT
Address: 8 Hoang Hoa Tham, Ward 7, Binh Thanh District
Open: 7:30 – 22:00
Menu: 35k – 68k
Photo: @anxoancyrus, @9493.corner, @gemiee_
It's not unusual here that you guys spread the slogan "Xoi bowl – bowl of sticky rice is very different"! It's also sticky rice, but when you walk into the shop, you will be surprised or think it's the wrong shop. Because the space here is different from a coffee shop from the interior layout with green trees, decorative pebbles, lighting system, and the illustrated menu is luxurious, genuine, and smooth.
The menu here is quite diverse: shredded chicken sticky rice, char siu, char lou, ribs, fried chicken, chicken intestines, braised meat,… The sauce here is the special thing that makes you fall in love once you eat it. . The plus point in Xoi Bat is that sticky rice is always accompanied by a bowl of soup and kimchi that is never boring.
Instead of eating boxes of sticky rice at the street vendors or small carts standing on the sidewalk, come here with friends to enjoy a bowl of sticky rice and see if you can feel yourself "lemongrass" better!
SAI GON COMPOSITION – It's so strange to eat…
Address: 230/A1 Pasteur, District 3
Open: 7:00 – 19:00
Menu: 35k – 39k
A snack shop in Saigon that cannot be missed if you are missing Da Lat. The name of the restaurant is also a famous snack dish. The shop is hidden in alley 230 Pasteur.
Photo: @gogosapu, @quynhtyy, @manhtienkhoi_
Instead of eating in a colored plastic plate, sitting on a set of red and blue plastic tables and chairs, you will come here to eat in an extremely impressively decorated space. The shop is small but still has enough tables and chairs in the indoor and outdoor areas. The inside of the shop is lined with cement tiles, with a few stools as if bringing you back to the time of "one thousand nine hundred of that time". As for the balcony, there is a window frame molded with earth, planted with many trees, creating an old view for the virtual living believers.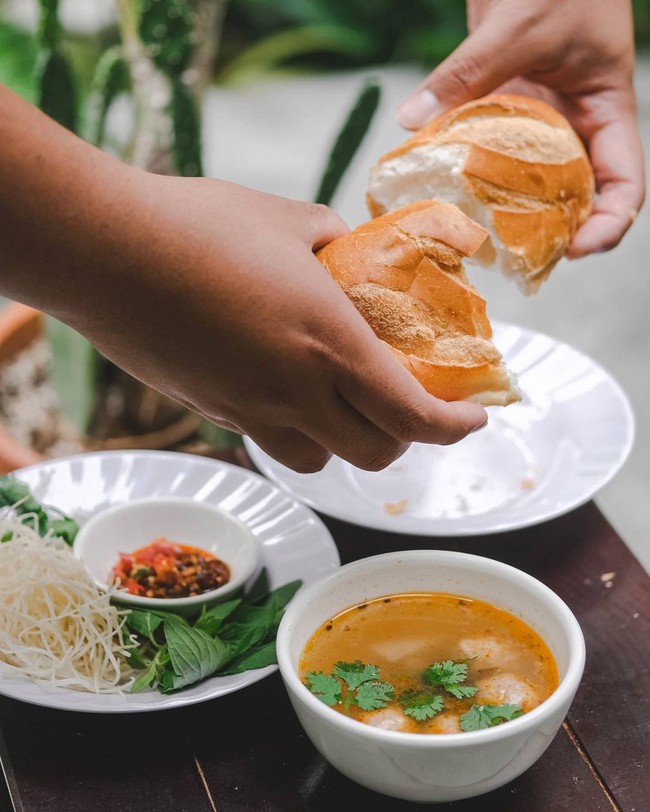 THE BUNS – FANS SHOULD BE VERY INTERESTED, "WHY SHOULD I INVEST IN THE BUNS ONLY FOR SELLING Noodles?"
Address: 11/29 Nguyen Binh Khiem, District 1
Open: 07:30–20:00
Menu: 15k – 50k
It's just a fish noodle shop, but do you need to invest so much?
Looking at the space of the restaurant, who would have guessed that this is the Central Coast fish noodle shop! The space is very poetic like a real dating cafe. Although not too large, the inside is decorated very cozy, the outside is cool, with sunshine and trees.
Just hearing the name The Buns makes me feel very interesting. It's just that the word "bun" is written in Western style, it sounds fancy but it's very Vietnamese.
The menu here is quite diverse and has central flavors such as: fish vermicelli, grilled spring rolls, spring rolls, crispy rolls, etc. In addition, there are also desserts such as sweet potato soup, yogurt, ginseng juice to taste. People lingered for a long time while taking pictures and chatting.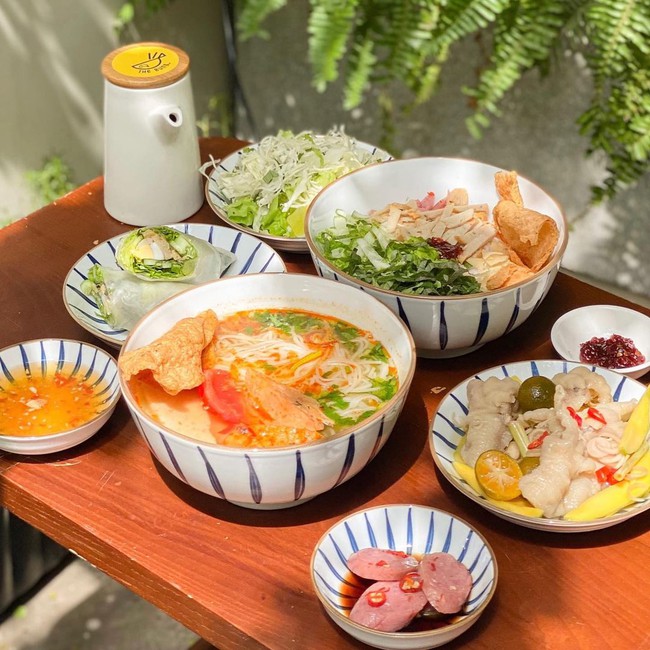 MY SUCCESSFUL – OH, I DON'T SEE THE PICTURE OF THE DAMN HAIR GIRL?
Address:
CN1: 9/8 Truong Quyen, Ward 6, District 3
CN2: No. 88, Street No. 5, Ward Binh Tri Dong B, District Binh Tan, City. Ho Chi Minh.
Open: 7:00 – 21:30
Menu: 30k – 45k
Now, forget about the sugarcane juice carts on the sidewalk, standing with tired feet waiting for each sugarcane to be grinded to get water. Sugarcane juice has now been raised to a new level by "Mia Oi" as a carefully crafted drink. As soon as I arrived at the shop, I had to give 10/10 for the neatness from the concept, the seats to the glass of sugarcane juice.
Photo: @ansapsaigon, Mia Oi, Bich Ngoc Le
The shop is quite modern, with yellow tones as the main theme. The menu of the restaurant is varied: pineapple sugarcane, strawberry sugarcane… With the hot weather of Saigon at this time, sitting and sipping a glass of sugarcane juice is perfect.
WHAT ARE SAI GON SAY ABOUT THESE STORE?
"Beauty is the main thing, but it's delicious to eat or not, I don't know" This is the sentence that office ladies share the most about restaurants like this. However, with young people, it is different, most of you will ask "So beautiful, is the price too expensive?". From that, it can be seen that, for those who do not care about appearance, the food must be delicious and of good quality. As for young people, in addition to the need to tighten the abdomen, beautiful presentation, attentive service experience, clean space, especially having a virtual check-in place become equally important.
It is not unusual for this trend to emerge because everyone's food needs and love for food are different. On the positive side, it can make dishes that are normally not beautiful, but now will be invested in more image and form. But when there are so many accompanying services, the cost for each place like this will also fluctuate when more workers, space, effort, etc. before rating these places other than good or bad.
https://afamily.vn/sai-gon-dang-ro-len-loat-quan-ban-do-an-binh-dan-nhung-theo-kieu-chanh-sa-cung-xoi-nuoc-mia- chan-ga-ma-sao-no-la-lam-ha-20220508130250835.chn
You are reading the article
Saigon is bursting with a series of shops selling popular food but in the style of "lemongrass", also sticky rice, sugarcane juice, chicken feet but why "it's so strange"

at
Blogtuan.info
– Source:
Afamily.vn
– Read the original article
here