Đời sống
The team that spent the night to rescue 0-dong motorbikes in Hanoi: "No profit but love"
Whether it's hot or raining, members of the 0-dong car rescue team at night in Hanoi are always on the street waiting for a few calls for urgent help.
4 hours of rescue in the night
Every day at 9 pm, Mr. Nguyen Van Son (24 years old, in Hanoi) drives a red Exciter motorbike with a tool bag to the intersection of Nguyen Trai – Khuat Duy Tien. This intersection is the "headquarters" of the Hanoi Relief team, where Son has worked for 5 years.
Pushing his foot against the car, removing his helmet, Son sat down at a roadside iced tea shop and excitedly chatted with everyone in the team. On May 1, the team had 3 people on duty, each of whom wore a special reflective vest, printed with their logo and bold words "Hanoi Rescue" with hotline number.
About half an hour later, the hotline vibrated, a female voice urgently begged for help with a punctured electric bicycle on Duong Dinh Nghe street. After asking for the address, Son and another member immediately got up and went to "rescue".
The road is not too far, it takes two people about 15 minutes to reach this address. Seeing a female friend riding an electric bicycle, Son was sure that it was the person who had just called, so he stopped to ask and check the status of the car. After determining that the car had a puncture in the rear tire, Son began to remove the tool to handle it. The other members also help light the lights and give tools. Two people coordinate, handle quickly and quickly.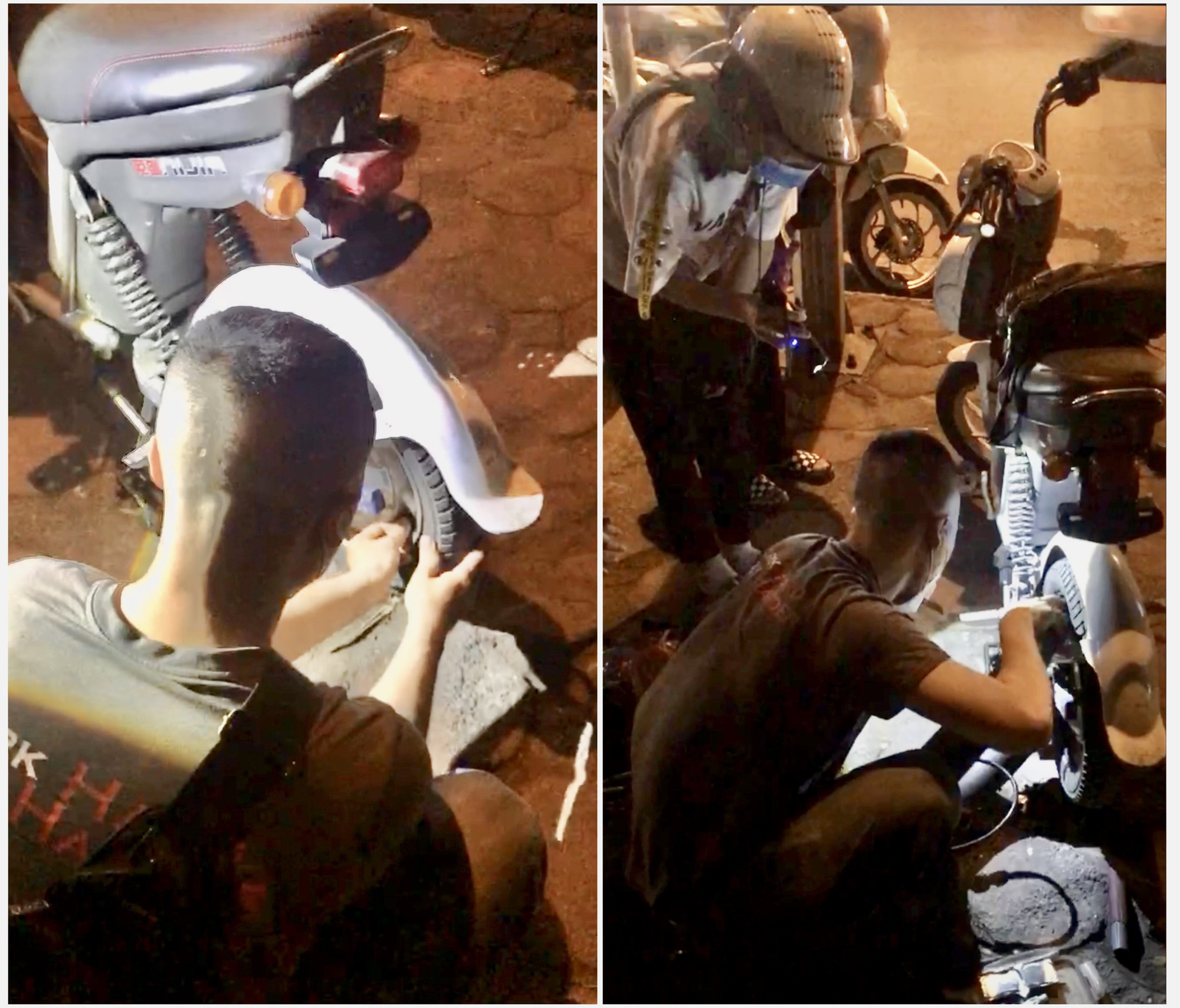 Anh Son "rescued" the girl with a punctured electric bicycle tube.
"We are used to this because we support at least 5 cases a day. There are very few car repair shops open at night, so people who have problems often have to walk home. I take advantage of my free time to go to support them," Son said while doing it.
After 30 minutes, the car was finished, Son packed up his tools and prepared to go to the rescue. Suddenly the girl called back to send the repair fee, Son refused and joked: "The fee is too high, I can't pay it. Come on, it's not too late."
Son and his teammates then brought the girl's thanks and moved to another location to help people. "Each person has different problems, but the most common are punctures, punctures in nails, running out of gas, stalling… If the problem is minor, I can handle it. Worse, I help them push the car home," said Son.
Whether it's cold or hot rain, Son spends 4 hours at night (from 9pm to 1am) to help people. Many days when someone was on duty, Son stayed at home to finish his main job. Was planning to stay at home for a day, but seeing a post that needed urgent help on the group, Son took the car away again.
Besides Son, the other members are also ready to go at any time in that time frame.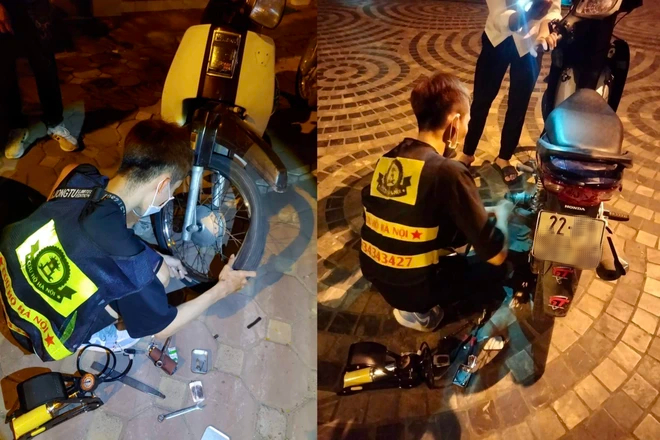 "Helping people for a fee is no longer a charity"
At 11 pm on the night of May 5, while sitting in front of the computer, Son saw an account posting to the team's public group: "My motorbike has a tattoo on Le Trong Tan Street, Ha Dong. I can't find any car repair shop. I hope the rescue team can help me."
Posted by Tran Anh Quan (22 years old, from Nam Tu Liem, Hanoi). Quan and his friend were on their way to work in the Ha Dong area when the car fell into a hole and punctured a tire.
"It was 10 p.m. at that time. I drove the car a long way without seeing any auto repair shops open, calling everywhere and no one could help. Helpless, my friend and I went to Facebook to seek help, and came across the Hanoi Relief group. I posted in the group and got instant support. About 24 hours, two brothers came to help me change the tube, including Mr. Son and a leader," Quan said.
Being helped when he was in trouble, Quan couldn't help but be moved. He knows that there are many good people in this world, but this is the first time that Quan has clearly felt the enthusiasm, warmth and kindness of the rescue team.
"When I knew that you two had come from Giai Phong Street (about 15km), I still had tears in my eyes. But I was even more surprised when you guys didn't accept the money. I don't think I'm lucky enough to have been so generously helped. This is probably a memory that I will never forget, making me think and study to perform more beautiful actions," Quan said and said that he returned home safely after that.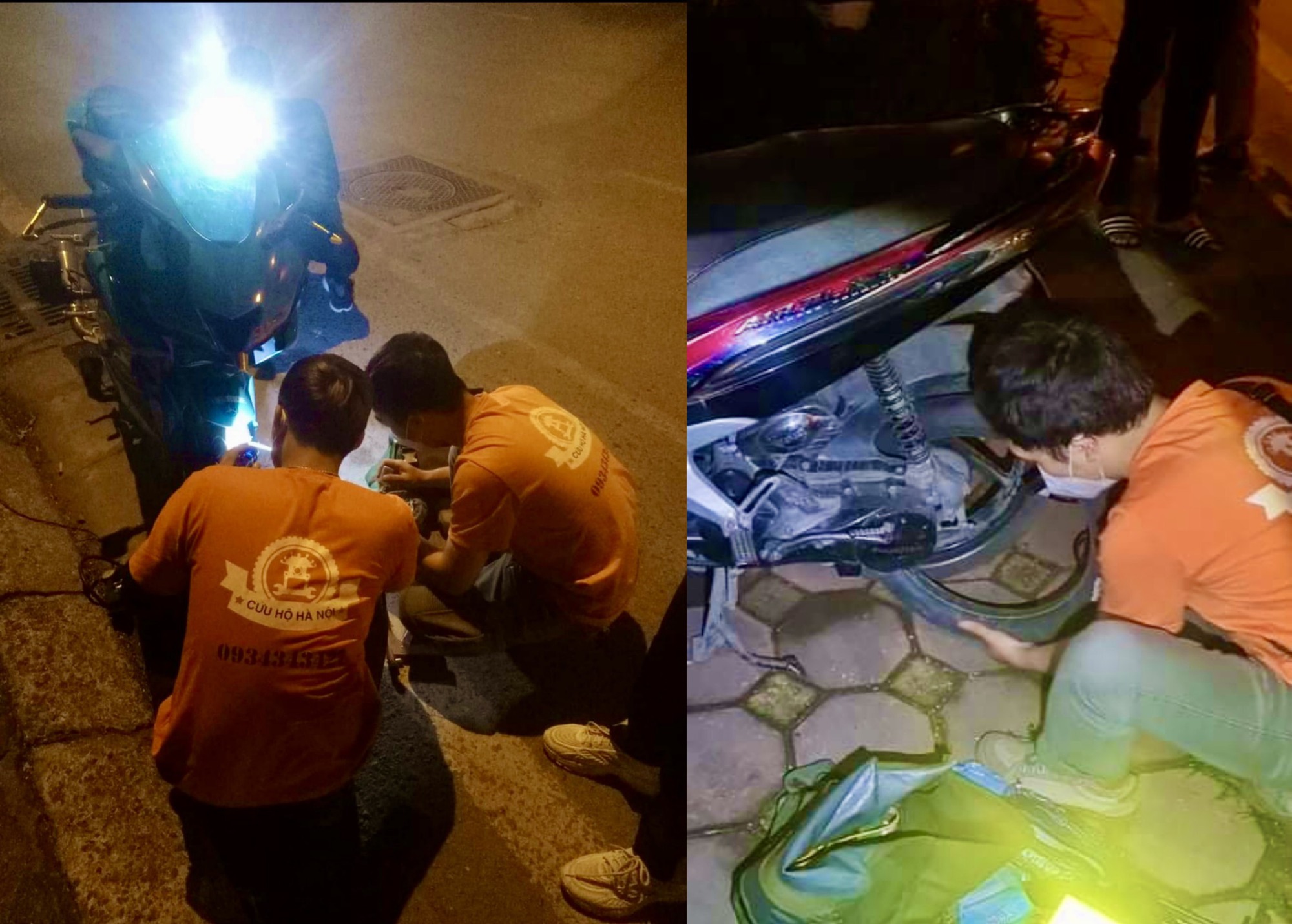 Quan was one of many people helped by the rescue team.
On the Facebook group of the rescue team there are more than 11,000 members. Admins are the ones who are willing to wait for the hotline to help, the rest are the participants for easy contact when facing a bad case. When there is a problem at night, they will post to this group to ask for help. Admin, after receiving help, will coordinate members of the team to move to that address for processing. In this group, in addition to the posts asking for help, there are many thanks and heartwarming wishes.
Up to now, the team members cannot remember how many people they have helped, how many incidents. Not even mentioning the incidents outside the fixed time frame.
Mr. Nguyen Tho Quyen (27 years old, residing in Ha Dong, Hanoi) is the leader of this group. He said the team was established in July 2016, with the purpose of helping people fix vehicle problems in the dead of night. The group works on philanthropic criteria with the desire to help everyone get home safely.
"In the past, the team took a fee, but only took the original price of the spare part, from 10,000 VND to several tens of thousands of dollars, without receiving any remuneration. But up to now, the Hanoi Rescue team supports people completely free of charge, no charge. collect money in any case.If it is public, it is no longer a charity.
Although we do not collect money, we receive everyone's love in return. The respect of those who had a car accident at night is the motivation for the group's members to maintain their volunteer activities for the past 6 years," Quyen said.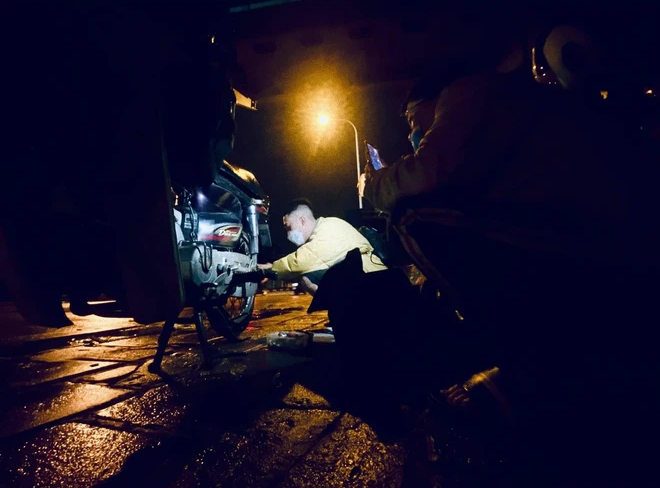 Anh Quyen is always proud that the team has saved many people.
Although he was successful in helping people, Quyen could not help but worry. "Currently, the relief area is too large, while the member force is still small, about 5-6 people. Many days when I was providing relief in Ha Dong, someone in Gia Lam called, I had to refuse because of traveling. It will take a long time while there are many others nearby waiting," Quyen said.
Moreover, Mr. Quyen also finds it awkward when there are certain people demanding compensation for rescue team members. When members of the group refused, they asked for some gifts to help the group buy more tools and spare parts. To avoid awkwardness, Quyen assigned Son to set up a separate bank account to receive and record everyone's contributions. This is a fund for the team to continue to help people who have car problems on the road.
"The limitation of equipment and spare parts for members to go to the rescue is also what makes me think. But I am most worried about the safety of the team when operating late at night," Quyen said.
Mr. Quyen's worries are well-founded when some members of the team have encountered dangerous situations. Despite volunteering, Mr. Nguyen Van Son also encountered a dilemma.
"There are times when I go to help people in trouble, but they are suppressed by car repairmen who cut and slashed in the night. They said I came to rob the business and threatened to beat me.
Another time, I knew that there was a doctor specializing in patching at the beginning of the road in Dong Da district, so I told the person in trouble to take the car a long distance away. However, he still asked me who I was to come out here to rob customers. At times like these, I have to gently explain to them or accept that your loved one has an accident to be safe," Mr. Son shared.
Although the hard night rescue "won't profit anything but love", Son and the rest of the team did not mind the difficulties. Each of them has a separate job, but they all share a common goal and then gather into the "night squad" to rescue 0-dong motorbikes.
DHanoi Rescue Association operates from 9pm to 1am. If you have a problem with your car in the above time frame, you can contact the hotline: 0963 313 004 or 0934 34 34 27.
According to Young Intellectuals
You are reading the article
The team that spent the night to rescue 0-dong motorbikes in Hanoi: "No profit but love"

at
Blogtuan.info
– Source:
infonet.vietnamnet.vn
– Read the original article
here