Tuyển sinh
The university opens many new majors, competing for admission
At the consultation, Dr. Nguyen Trieu Duong, Deputy Head of the Higher Education Department of Hanoi Law University, said that the question he received the most from the candidates was that this year, the school has not yet announced the plan. enrollment by academic records and the direction of admission confirmation, different from the same period every year.
"It also took us a lot of time to explain to the candidates that this year schools are not allowed to implement their own enrollment methods (such as transcripts, …) in advance or ask them to confirm. Admission. Students must register all their wishes by means of the general portal of the Ministry of Education and Training. Thus, this year, only after the results of the high school graduation exam are available, will candidates begin to register their aspirations regardless of the method of admission," said Mr. Duong.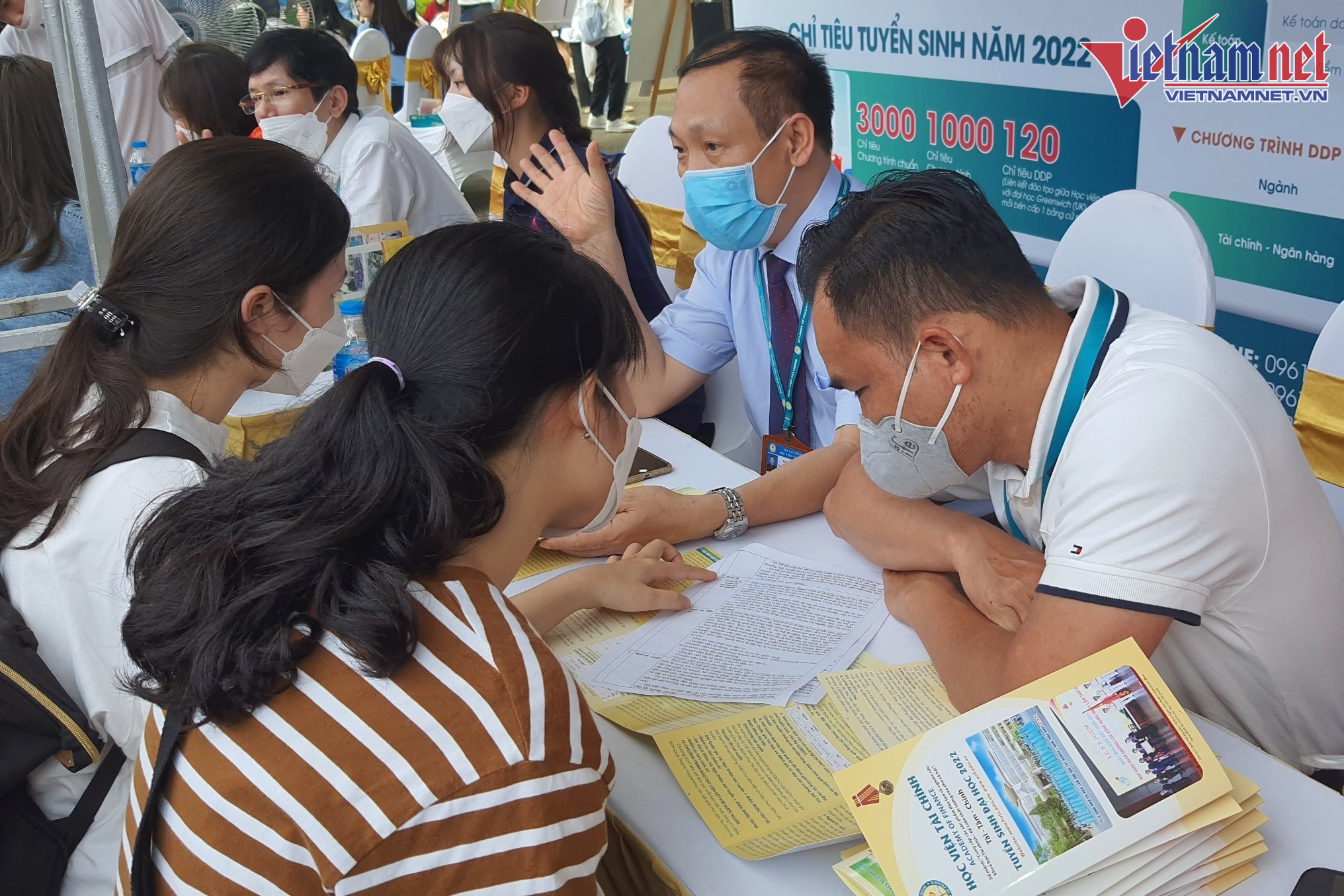 In this regard, Assoc. Prof. Dr. Nguyen Thu Thuy, Director of the Higher Education Department (Ministry of Education and Training) also said, basically, the high school graduation exam in 2022 has not changed much, but mainly technical adjustments to make it more convenient for candidates.
"Previous years only ranked the admission requests by high school graduation exam scores, while other methods were considered in other channels. But this year, all admission methods (records, English certificates, high school graduation exam scores…) are arranged in order of preference, "said Ms. Thuy.
Ms. Thuy said that, like that, candidates will have the most priority with what they want, regardless of the method of admission. This arrangement of aspirations is to ensure that they are admitted to the field of their choice and the schools also reduce a lot of virtual candidates.
"Previously, for example, candidates who applied for admission by the entrance examination method were not equal to their test scores in 5 schools, every school announced their admission, but they only chose 1, and so the remaining 4 schools would meet each other. the problem of virtual candidates. In that case, it is you who are holding the seats of the candidates right behind, and if it is not virtual, the other candidates may be admitted."
Besides, with this year's application method, candidates no longer need to worry about having submitted their high school graduation certificate for early confirmation like every year.
Ms. Thuy also noted that schools, when offering different enrollment methods for the same major, need to clearly inform candidates about the allocation of quotas with each method, so that they know their chances of winning. how to recruit.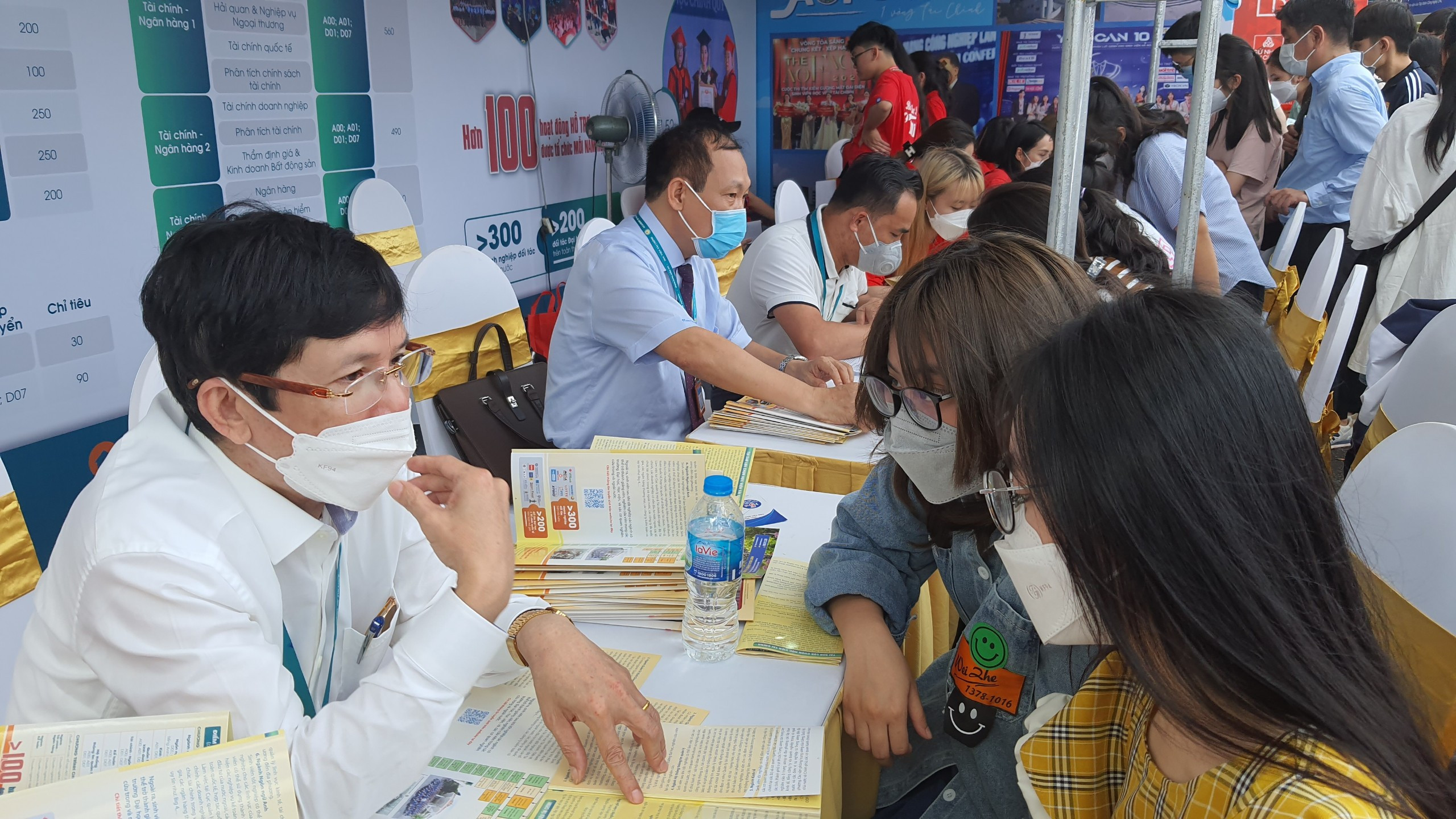 At the counseling session, many parents and candidates expressed concern that the quota for the method of admission by high school graduation exam scores is decreasing day by day, when schools set aside quotas for academic records or assessment. capacity,…
However, a representative of the Ministry of Education and Training said that according to statistics over the years, the number of admission criteria by other methods is less than 10%. "So 90% is still equal to high school graduation exam scores and transcripts. Therefore, the candidates are assured that this year, if there is a shift, the percentage of change will not be too large."
Prof. Dr. Nguyen Tien Thao, Director of the Hanoi National University Examination Center also reassured the candidates: "Not only candidates compete in schools and industries, but also universities and training disciplines. also compete to recruit good and good candidates. Therefore, please rest assured that there are many ways to enter the desired field if you have the ability."
Many new programs, many admission methods
The University of Public Health this year for the first time enrolls data science majors with 50 quotas.
The university representative said that this is a major in the field of Information Technology, specializing in the management of large databases, serving medical digital transformation. Students will be trained in big data analytics, statistics, machine learning, new technology assessment, algorithm writing or natural language processing,…
"Currently, the country has more than 10 universities in data science. But the school is the first and also the only unit in Vietnam to train in data science oriented in the medical field, "said a representative of this school.
According to Dr. Nguyen Trieu Duong, Deputy Head of the Higher Education Department of Hanoi Law University, this year, the university opened and enrolled more high-quality economic law programs with 50 targets. With this program, students will study subjects where at least 30% of the program is taught in English. In addition, Hanoi Law University also built two new specialized majors of Law, which are Intellectual Property majors and Law majors on civil enforcement.
Assoc. Prof. Dr. Nguyen Xuan Thach, Head of the Training Management Department of the Academy of Finance, this year, the Academy added an admission method based on the results of the Competency Assessment exam and the Thinking Assessment exam.
Expanding the selection of excellent students at the high school level. Specifically, direct admission consideration for students with consolation prizes in the exam for selecting excellent students at provincial and city levels; instead of only from the third prize and above as in previous years. In addition, this year, the Academy also extended to candidates with Cambridge intermediate certificates, in addition to IELTS and TOEFL certificates like every year.
Thanh Hung
You are reading the article
The university opens many new majors, competing for admission

at
Blogtuan.info
– Source:
vietnamnet.vn
– Read the original article
here