Khỏe - Đẹp
3 formulas to increase resistance for children parents need to remember
Young children are often sick due to the surrounding environment, viruses and bacteria, and the most important thing is their poor resistance. Increasing resistance is a long process, not just depending on the product.
Many mothers are impatient because their children have just gone to school sick and in addition to diseases of digestive disorders, information about hepatitis in children makes them stand still.
Ms. Nguyen Minh Lieu – Ha Dong, Hanoi lamented her 4-year-old daughter for more than a year at home with her family, rolling around, crawling all kinds of things, but she never got sick. After Tet, the whole family got Covid-19, the baby only had a runny nose, low fever and did not show much.
Since she went back to school, she has been lazy to eat and twice had to miss school because of a fever. A few days ago, she had vomiting, diarrhea, and fatigue. Because there is a hepatitis epidemic, Ms. Lieu was scared, so she took her son to the doctor. Fortunately, the baby received the infusion and was fine.
Doctor Nguyen Manh Cuong – Pediatric Specialist, 103 Military Hospital said that not only Lieu's daughter but many mothers also complained that their children were too sick.
Dr. Cuong believes that children at home are healthy, going to school sick is because the classroom environment is crowded and complicated, children can catch diseases from friends. In addition, the strange weather in the middle of summer also makes children more susceptible to illness. In particular, the reason why young people often get sick is due to poor resistance, this is the core problem' – Dr. Cuong emphasized.
Young children's immune systems are not yet complete, there are many "immune gaps" that need to be filled, so they are easily attacked by viruses and bacteria, causing a series of minor illnesses: runny nose, defecation, regurgitation. to cough, fever… Many children are constantly sick, sick every month, tired of both mother and child, mainly due to poor immunity.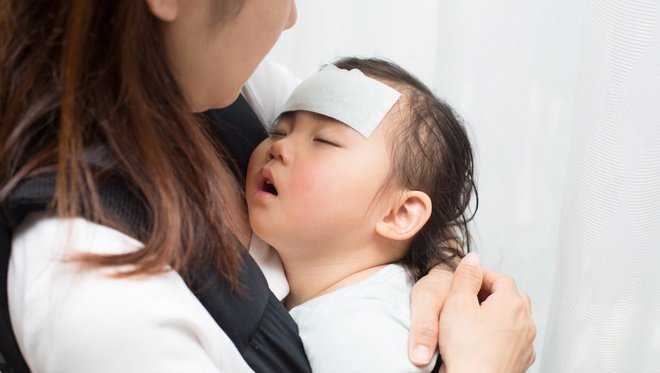 Increasing resistance for children is very important for parents to remember.
Parents should also not take care of their children, buy any medicine for their children to increase their resistance. Dr. Cuong believes that the child's resistance is a combination of many factors, from "physical to mental". Children can't be healthy when they lie down and watch TV and phone every day, eat vegetables and fruits, it's difficult to increase their resistance.
Dr. Cuong shares ways for children to increase their resistance, parents need to remember:
First: Scientific and healthy diet
Mothers should give their children at least 1 meal of variety, with all 4 groups of nutrients: starch (rice, porridge, bread, potatoes…), protein (beef, chicken, pork, fish, eggs, milk… ), fats (edible oils, fats, nuts…), vitamins and minerals (fruits, vegetables).
Infants under 24 months should be breastfed, in which, exclusively breastfed for the first 6 months of life to receive antibodies and create passive immunity.
Children over 6 months are encouraged to eat all 5 colors according to the principle of weaning and drinking more formula every day.
Older children drink a lot of water, smoothies, limit soft drinks, carbonated water.
Let children eat a lot of green vegetables and drink a lot of water to help relieve constipation, supplement with enough protein and lipid snacks…
Second: Life mode
Dr. Cuong believes that children need to sleep enough and sleep on time. Sleep is a time for the body to recover and at the same time helps children strengthen the body's natural resistance.
Let children play more: when they are small, they crawl, when they are older, they walk, and when they are older, they can ride a bicycle, as long as they exercise regularly.
Parents can let children learn more skills such as drawing, foreign languages, dancing and singing, which is also a way to help children develop mentally.
Third: Increase resistance
For a healthy immune system, it is necessary to have ingredients that are necessary micro-minerals such as vitamin A, vitamin C, vitamin D, iron, zinc, selenium… Recently, many studies have shown that Beta-glucan compounds help stimulates immune cells to work, increases resistance, thereby reducing the rate of illness in children.
Mothers can choose the right products because there is no best product, so choose the right product for your baby.
In order to "build" a child's resistance, Dr. Cuong said that it takes a long process, combining many factors from nutrition, exercise, sleep, so that the child is healthy both physically and mentally, not only. a few jars of food to increase resistance and you will be healthy.
Khanh Chi
You are reading the article
3 formulas to increase resistance for children parents need to remember

at
Blogtuan.info
– Source:
infonet.vietnamnet.vn
– Read the original article
here