Sức Khỏe
After Covid-19 a 15-year-old girl suddenly got severe MIS-C
On May 9, the Central Hospital for Tropical Diseases said that it had successfully treated a 15-year-old girl with severe multi-system inflammatory syndrome (MIS-C) after recovering from Covid-19.
The patient is a girl from Cao Bang, who was admitted to the Central Hospital for Tropical Diseases in early April.
In mid-March, the girl tested positive for SARS-CoV-2 with fever, sore throat, runny nose, and dry cough. Two months earlier, she had completed 2 doses of the Covid-19 vaccine. Ten days after becoming F0, she was negative and went back to school.
After 2 weeks, the patient suddenly had a high fever of 40 degrees Celsius, chills, a rash all over the body, red conjunctiva, swollen eyelids, red tongue, and a lot of fatigue. My family took me to the hospital.
Tests at the hospital showed that the patient had damage to many organs such as lungs, heart, liver enzymes doubled, and the amount of cytokines also increased.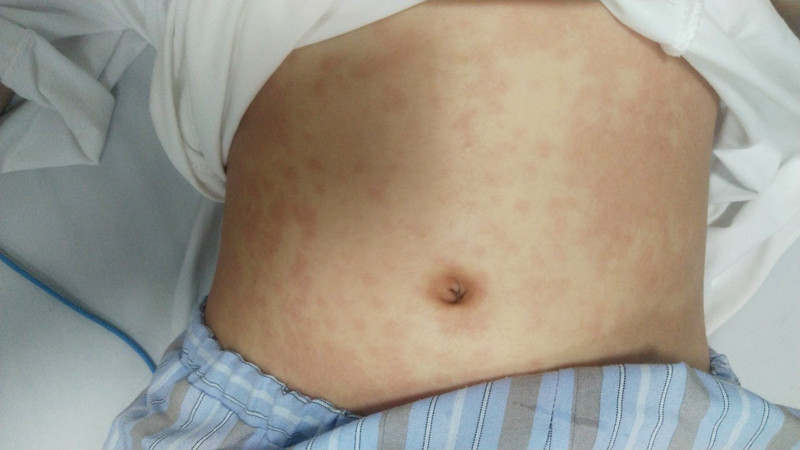 The patient's diagnosis of severe multisystem inflammatory syndrome in children (MIS-C) was made.
After nearly 1 week of treatment at the Emergency Department, the patient's laboratory parameters gradually returned to normal. I no longer have a rash, no fever, I eat and sleep better.
After 10 days of treatment, the patient was discharged and returned to school. Doctors said that the patient still needs long-term monitoring for complications on the cardiovascular and immune system.
Doctor Tran Van Bac – Deputy Head of the Emergency Department, Central Hospital for Tropical Diseases – said that recently, the department received and treated about 4-5 children with MIS-C syndrome after recovering from Covid-19. Fortunately, all children are correctly detected and treated in time.
According to Doctor Bac, MIS-C syndrome has a lot in common with Kawasaki disease and staphylococcal toxic shock syndrome. The average age of patients is 8 years old, most commonly seen between the ages of 6 and 12 years old.
According to the Ministry of Health, MIC-S in children with Covid-19 is rare, mainly in the 2-6 weeks after SARS-CoV-2 infection. This is a serious complication that can be fatal and tends to increase.
In April, the Ho Chi Minh City Department of Health said that from June 2021 to March 2022, 315 children were diagnosed with or suspected of having MIS at pediatric hospitals in the city. C, accounting for 0.4% of the total number of children infected with Covid-19. Of these, up to 46% are children between the ages of 5 and under 12 years old, children over 12 years old account for 6.7%.
Children with MIS-C syndrome often have symptoms such as: Continuous high fever, red eyes, red lips, skin rash, swollen lymph nodes in the neck and gastrointestinal symptoms such as vomiting, abdominal pain, diarrhea.
Severe complications of MIS-C in children often involve the cardiovascular system, including coronary artery inflammation and decreased contractile function of the myocardium.
Particularly complications of coronary artery disease, if not treated promptly, can leave long-term sequelae on the cardiovascular system such as coronary artery dilation, myocardial ischemia.
Doctors confirm that if children with MIS-C are properly diagnosed and treated promptly, most cases will have a good response.
Children suspected of having MIS-C syndrome should be monitored and treated in specialized pediatric hospitals; Some critical cases need respiratory support…
Thanh Hien
You are reading the article
After Covid-19 a 15-year-old girl suddenly got severe MIS-C

at
Blogtuan.info
– Source:
vietnamnet.vn
– Read the original article
here