Du Lịch
Braised fish with soft and sweet shell, visitors eat it all the time without getting bored
Braised fish with shell – famous delicious dish in Ninh Binh in every meal
Ninh Binh cuisine is very rich and diverse. There are many specialties that can be mentioned such as mountain goat meat, burnt rice, eel vermicelli… and especially braised fish with shellfish. An idyllic dish associated with each meal of the people here.
Braised fish dish is a famous dish in Ninh Binh. The dish is as simple as its name suggests, the ingredients are simple and unpretentious. The highlight of Ninh Binh braised fish dish is that the fish is braised and has a beautiful golden color.
Not only has the beautiful color, the fish's flesh is firm; Soft and fragrant, different from other braised fish dishes. When eating, we can feel many flavors from this braised fish. Delicious, sour and spicy taste. Braised fish with dipper is also an extremely delicious dish, especially on cool days
Famous delicious dishes in Ninh Binh are somewhat strange to tourists
Referring to the name "braised fish with shell", there must be quite a few strange visitors. Visitors can also think of the dipper here as a tool used to store fish like earthen pots. But that's not the case, but dipper here refers to a type of fruit called dipper.
This fruit has a sour, slightly sweet taste. The fruit is fragrant, so it is often used instead of tamarind or crocodile to store fish or to cook sour soup. Dio tree is a tree commonly found in places such as rivers, streams or caves. There are two types of dipper, green and yellow. The green one is a bit bitter and the yellow one is a bit sour. However, both types are suitable for use in fish stock.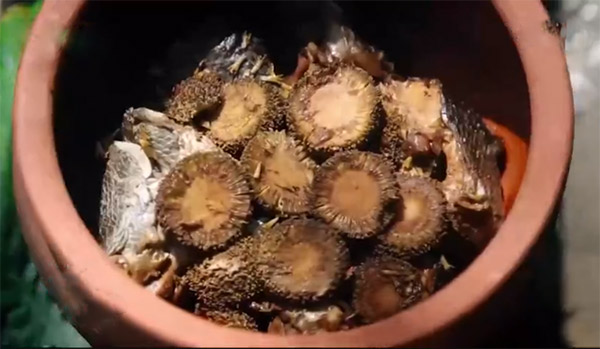 To have a pot of braised fish with standard Ninh Binh flavor is not too difficult. However, careful preparation is required in the selection of raw materials. According to the experience of the indigenous people, it is said: "When choosing a dipper, you must choose the young ones that are still green.
Because the green ones have a certain sour and aromatic taste. You should not choose the old ones because those fruits no longer retain the characteristic flavor of the dipper." For fish, choose fish that are still fresh. Fish are processed as soon as they are fresh. Fish must be fresh. scale, remove the viscera, wash and cut to taste, add salt, ginger, vinegar to reduce the fishy smell of the fish.
Braised fish with shell – famous delicious dish in Ninh Binh to please diners
After preparing, we proceed to fish stock; Place a layer of thinly sliced ​​shells on the bottom of the pot. Then alternately alternate a layer of fish and then another layer of shells until all of them are gone. Finally, we seasoned to taste, including a dried onion, a piece of ginger, two spoons of fish sauce, a spoon of seasoning, pepper, chili and a little colored candy to make the dish look more eye-catching.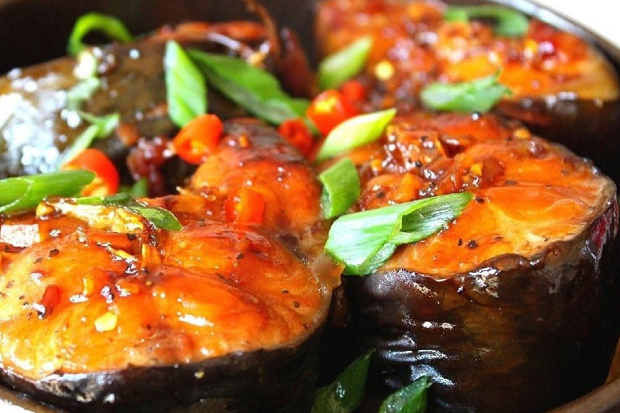 Next, we put the fish pot on the stove and simmer until the water runs out and the fish in the pot is cooked. Looking at the plate of braised fish with attractive colors and the special delicious taste of the shellfish when eaten with white rice, surely anyone who enjoys it will not be able to resist the taste of famous delicious dishes in Ninh Jar. This will be a dish that brings rice with a simple rustic style, no matter how much you eat, you will not get bored.
Braised fish with shellfish is a dish made from popular ingredients but has become a famous delicious dish in Ninh Binh thanks to its unforgettable taste. If you have the opportunity to travel in this beautiful land, remember not to forget to enjoy the attractive dishes imbued with the homeland's identity of the ancient capital.
You are reading the article
Braised fish with soft and sweet shell, visitors eat it all the time without getting bored

at
Blogtuan.info
– Source:
danviet.vn
– Read the original article
here