Suggested dinner this afternoon will have the following dishes:
– Ribs with sweet and sour sauce: 70,000 VND
– Minced cabbage soup: 15,000 VND
– Stir-fried mushroom: 25,000 VND
– Mixed cucumbers: 8,000 VND
Total: 118,000 VND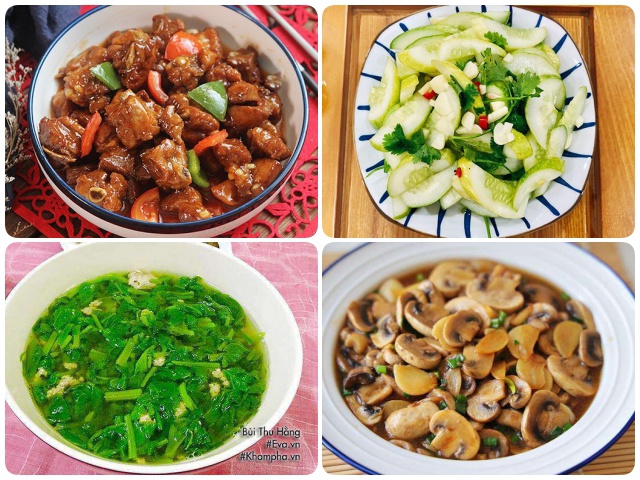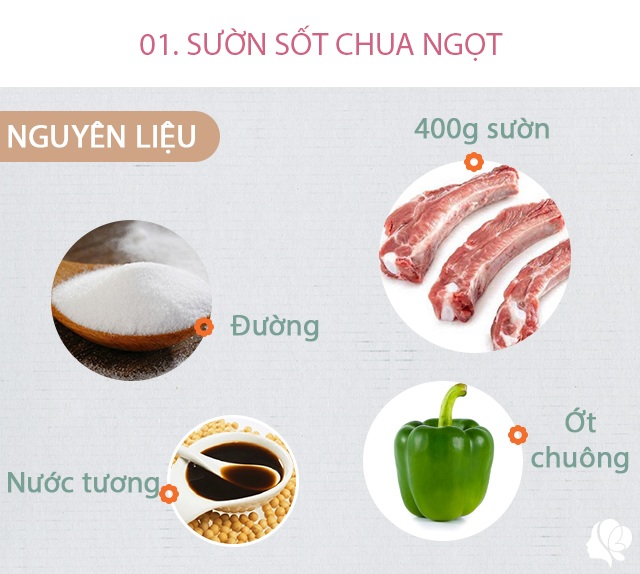 Ingredients: – 400g pork ribs, 3 spoons of soy sauce, 1 black soy sauce, 1 spoon of cooking wine, 1 egg, 2 teaspoons of starch, appropriate amount of salt, sufficient amount of green and red chili. – Sweet and sour sauce: 1 spoon of starch, 2 spoons of balsamic vinegar (or white vinegar, lemon juice), 3 spoons of sugar, 4 spoons of fish sauce; 5 tablespoons of filtered water
Rinse the ribs with water to remove excess blood on the surface of the ribs. Use a kitchen paper towel to absorb the water, then add eggs, soy sauce, black soy sauce, cooking wine, half a teaspoon of salt and starch to the bowl of ribs. Mix well and marinate for 30 minutes for the ribs to absorb all the spices.
Put a lot of oil in the pot, when the oil temperature rises to 60%, put the marinated ribs in the pot and fry. Note, do not rush to flip, wait for the ribs to turn golden before turning. Fry the ribs on medium to low heat until the surface of the ribs is shaped and golden, then remove. Then, increase the heat of the oil pan, put the ribs in and fry for a second time for 30 seconds so that the ribs turn golden brown, take them out and drain the oil.
Next make the sweet and sour sauce. Put 1 tablespoon of starch, 2 tablespoons of balsamic vinegar, 3 tablespoons of sugar, 4 tablespoons of fish sauce and 5 tablespoons of filtered water in a pot, then boil until it thickens. Pour the fried ribs into the sauce pot, sauté over medium heat until the ribs are soaked in the sweet and sour sauce.
Finally, cut the green and red bell peppers into pieces, pour the green and red peppers into the pot of ribs, stir-fry until the peppers are cooked, the sauce thickens, then turn off the heat.
So the sweet and sour ribs are finished, both delicious and perfect in taste. In fact, everyone's taste is different, so you can rely on the ratio of sauce to adjust. For example, if you like sour, you can add a little vinegar, if you like sweet, you can add sugar…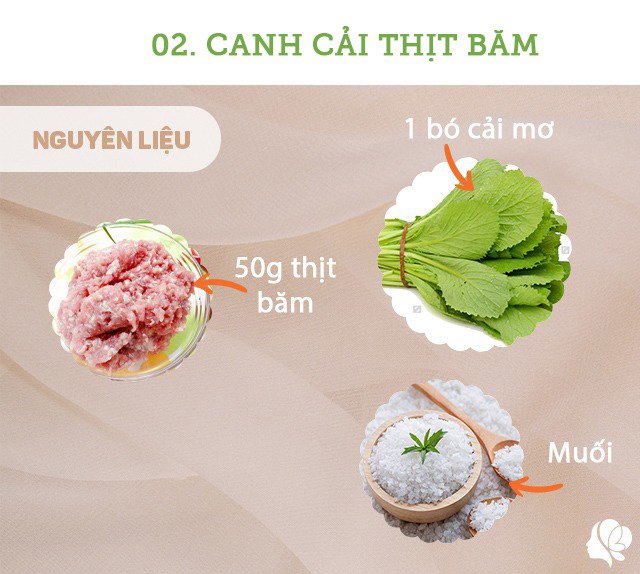 Preparation: 1 bunch of apricots, 50g minced meat, a little salt
Vegetables are washed and cut into pieces. Shoulder meat boil with water. Season to taste, then add the vegetables and bring to a boil.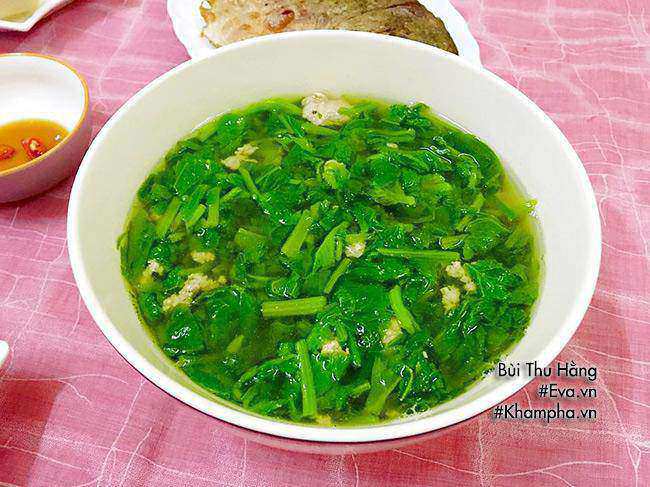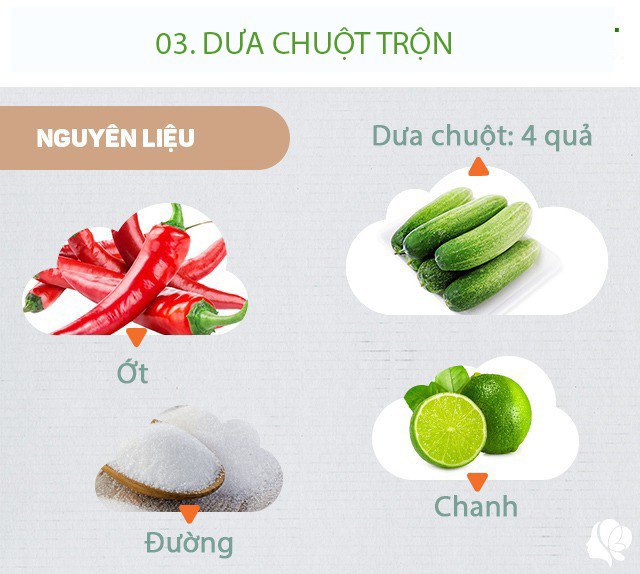 Prepare: 4 cucumbers, lemon, sugar, garlic, chili, enough soup powder
Cucumbers are washed with water and then soaked in dilute salt water for 15 minutes. Take out the cucumber, wash it again, cut off the ends, halve, and slice thinly. Mix cucumber with soup powder, sugar, lemon, garlic, chili just enough. Let it sit for 30 minutes and you can eat it right away.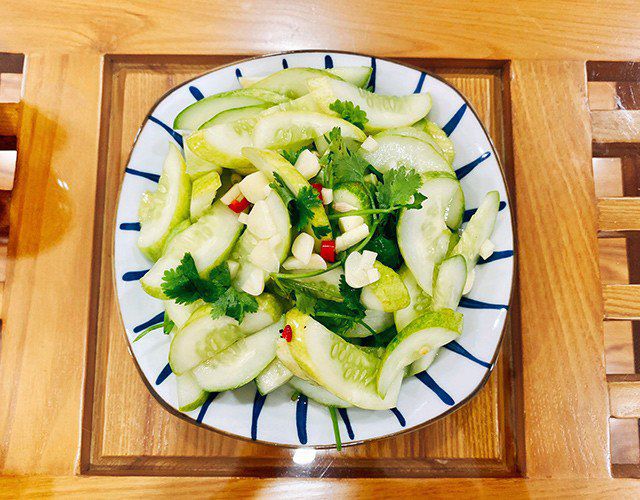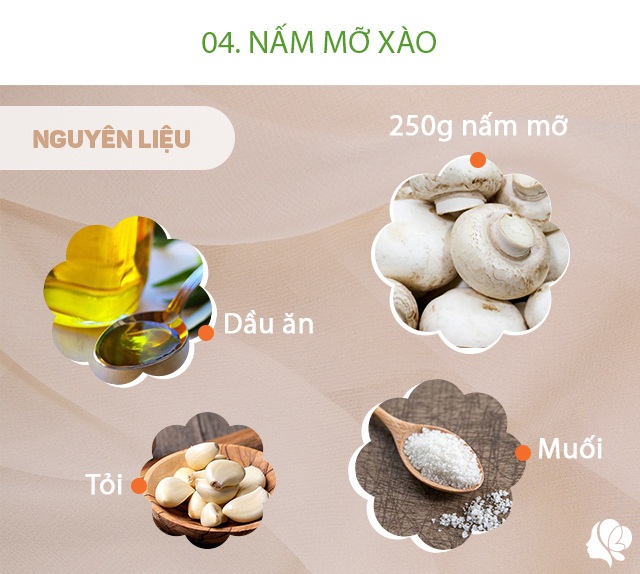 Ingredients: 300 grams of mushroom, 1 garlic, 1 teaspoon of soy sauce, 1 tablespoon of starch, 1 teaspoon of salt and 1/2 teaspoon of finely chopped scallions
Clean the white button mushrooms and cut into slices for later use. Minced garlic and scallions. Blanch white mushrooms in boiling water, almost cooked, then remove. Mushrooms are slightly transparent and translucent. Prepare half a bowl of water, add 1 teaspoon of starch, half a teaspoon of salt, 1 teaspoon of soy sauce to the bowl and stir well.
Heat a pan with oil, saute garlic slices until fragrant. Then add the mushroom slices and stir-fry. Add chopped scallions and stir-fry well before serving. Pour in the sauce and sauté until the sauce thickens.
This type of sautéed mushroom is soft and delicious, the stir-fried water is rich, and the aroma is unique to everyone who eats it. Mushrooms are rich in nutrients, especially vitamin D, which can be eaten regularly for good health.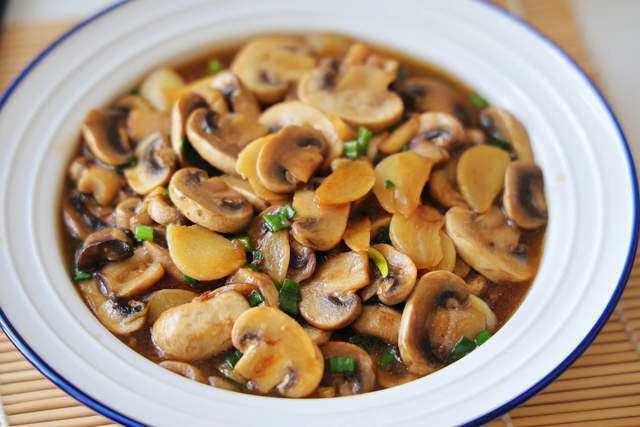 Good luck!
You are reading the article
Dinner is full of delicious dishes, anyone who is tired of eating must crave it

at
Blogtuan.info
– Source:
Eva.vn
– Read the original article
here