Recently, the name "Queen Bee" is causing fever on the small screen. This is a character played by an actor Kim Phuong played a role in the television work on the subject of criminal police "Underground Storm".
Kim Phuong once made an impression on the audience with the roles of "villain boss" in the film: "Children of the Saigon Rangers", "Boundary of good and evil", "Changing fate",… Other than The image of a dusty Gypsy in the movie, in real life, she is gentle and feminine. In a talkshow, the actress admitted that she is lucky to be able to transform into characters with unique personalities on the small screen.
In early 2022, Kim Phuong continued to attract attention with the role of assistant Tu in the TV series "Underground Storm". It was an intellectual young lawyer with white glasses, returned from studying abroad and was an effective assistant to the tycoon. According to the actress revealed, the character Tu is the one who contributes to outline all the tactical situations for the tycoon to work and commit crimes.
Tu is extremely loyal and respectful to his boss that he is willing to kill his homosexual lover to protect the boss's secrets. Then back to the self of a woman, falling in love with her assistant guy to support the work.
It can be said that, compared with Phuong De of "Saigon Special Forces", Kim Phuong in "Underground Storm" has renewed and "upgraded" herself when there is a love scene with both men and women. Even the actress is ready to roll out fighting scenes from morning to night, learning the lute until her hands bleed.
"To make the character more interesting, Phuong is willing to study for 3 days to keep up with the director's composition and filming schedule. If I learn to absorb, I can't, but to get the shape of plucking or vibrating movements, my arms are numb without knowing it and my fingers are also bleeding. Fortunately, when filming the scene of strumming and appearing on screen, it also seems to be okay", Kim Phuong shared.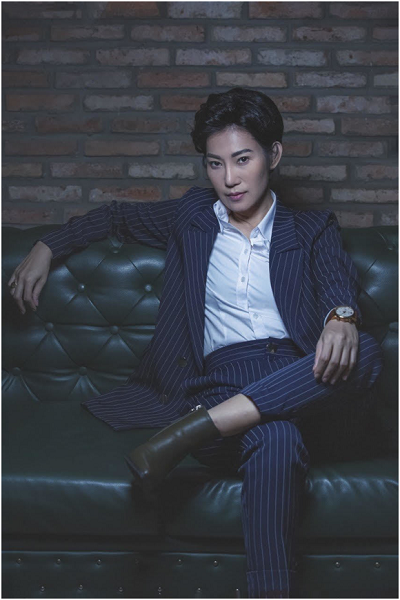 Talking about the time filming in the North, Kim Phuong said, she learned the fresh acting of young people and gained more depth of experience from the brothers, sisters, aunts and uncles in the group. After "Underground Storm", she found she loved her job more.
If in the past, many people were afraid of working between the two regions, Kim Phuong herself did not feel the distance but the closeness. Those were unforgettable experiences in my career journey.
In 20 years of artistic activities, Kim Phuong considers herself lucky to have won prestigious awards, but her career in the profession was interrupted. She once had to take a break to treat cancer.
"Phuong has a habit from childhood to always pay attention to health care and when there are any abnormal signs, go to the doctor immediately. When you see that your right breast is different, hard, you go to the doctor, but the doctor does not think it is cancer. Kim Phuong is still very young and cannot get cancer, as long as a woman gives birth and then she will develop her milk glands, it will be possible, but now she is very young.
Phuong went to another hospital and asked for a biopsy, if it doesn't, then I'm glad if it is, I know it's treated soon. Saying so hard but also very worried. In the end, the result was the same as what I was worried about. At that time, the world was spinning, Phuong sat motionless for 3 hours, "confided the female artist.
Kim Phuong decided to treat alone without letting her family know because she didn't want people to worry. However, this was her wrong decision: "Later, when Phuong was well, recovered from her illness and returned to represent the National Cancer Prevention Program of the Ministry of Health, Phuong traveled a lot and advise people to share their problems with relatives and family because it will be a motivation to pull them back in times of weakness."
After nearly 3 years of focusing on treatment, Kim Phuong recovered from the disease and in 2009, she got married, but did not dare to give birth to a baby because she still had a lot of antibiotics in her body. A few years later, the actress had her first baby and it was so wonderful.
Recalling the time when she was ill, she said she also had moments of weakness, but thanks to thinking about her family, thinking about her dreams and ambitions, thanks to memories on the set and when going out on the street, the audience recognized her. but has more motivation, is the spiritual therapy for Kim Phuong to overcome cancer.
To have a Kim Phuong like today, she told herself many times to never give up. This is also the baggage that follows the female artist in her work. Although she is "framed" with a villain, evil role, while she can play very sweet, feminine, and hard-working roles, Kim Phuong always gives her best because she "doesn't give up". , rolling in each character.
You are reading the article
Fighting cancer alone

at
Blogtuan.info
– Source:
Soha.vn
– Read the original article
here