Business
FPT Software COO Tran Dang Hoa – The man behind the Make in Vietnam product series
The person who creates challenges but also devotes all his heart to incubating a series of solutions is FPT Software's Deputy General Director – Tran Dang Hoa. With 18 years of accompanying technology projects, he believes that it is necessary to create a start-up environment for technology experts to turn ideas into reality, creating both challenges and motivation to help employees be more creative in their work. The technology playground is constantly changing.
That is the first step to create a unique working culture of this technology company, in order to nurture enthusiasm and blood in the business. In order to create a favorable start-up environment, FPT Software creates an ecosystem that fully supports from process, human resources, market, finance… so that the team only needs to focus on making products – a prerequisite in start-up stage.
Mr. Hoa said that one of the most important factors for a solution and platform to be born is to be accepted by the market and users. The biggest strength of "Make in Vietnam" application solutions is to directly answer questions and solve problems posed by the market and businesses.
For example, akaBot – RPA (Robot Process Automation) platform, the product that reached the top of Make in Vietnam in 2020, solves the market's problem stemming from the need to use technology to perform repetitive tasks. instead of humans. Reality proves that akaBot has become a breakthrough solution, supporting big banks such as TPBank, HDBank, BIDV… to break through competitiveness. With 5,000 virtual robots serving 600 global customers, akaBot continues to develop robots for automated multi-tasking, such as automated invoices, online shareholder meetings.
akaBot has been providing RPA solutions to more than 30 customers and strategic partners, large enterprises in the US, Japan, UK, Korea, Taiwan, such as Thinkpower, HSBC, Panasonic, Mizuho, ​​DIP, SCSK… Process automation solutions can be applied to many different fields such as finance and banking, retail, manufacturing, logistics… helping businesses cut costs by 60%, increase productivity up to 80 % and reduce processing time by up to 90% while being committed to a high level of security. akaBot has been consistently ranked among the top RPA platforms by Gartner over the past three years of development.
To achieve such sweet fruits, Mr. Hoa accompanies the product-making team on all fronts. From testing products to entering projects of customers of FPT Software, selling products in the international market to making adjustments to help solve problems of domestic enterprises.
According to him, everyone wants their products to be used by many people, but before they can be sold, they must dedicate themselves to introducing that product to users.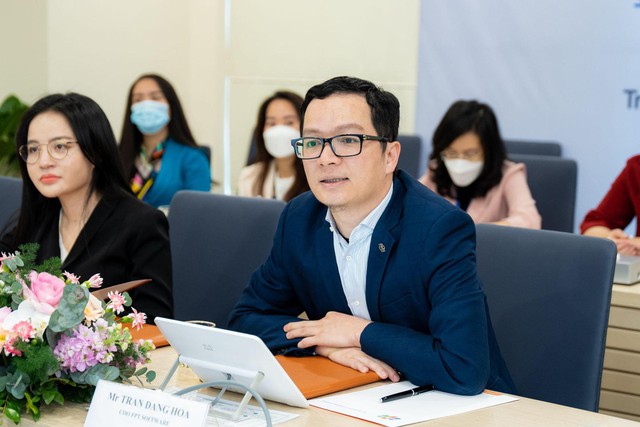 Mr. Tran Dang Hoa – Deputy General Director of FPT Software.
A Make in Vietnam technology platform that also helps solve business problems is akaChain – a Blockchain platform (blockchain) that helps businesses in many industries optimize their operations, improve customer experience and find opportunities. new business association, thereby promoting the development of the digital economy.
FPT Software's akaChain team of experts has created a platform to help businesses build business systems through the distributed application of blockchain technology. The platform can process up to 250 transactions per second, ensuring smooth transactions in large-scale enterprises.
The outstanding point of the akaChain platform is to help businesses shorten the time to deploy important operations and bring many obvious benefits to people and businesses. Specifically: (1) Automating the customer identification process (2) Credit scoring (3) Loyalty program (4) Data traceability.
Some leading retail and technology product distribution companies in Vietnam said that akaChain's credit scoring helps reduce the company's bad debt ratio from 14% to 7%.
The platform is used by many multi-industry customers across the country such as Masan Group (Consumer goods group in Vietnam); Bao Viet (Insurance in Vietnam); AIA (Insurance); VPBank (Bank), and some other enterprises in the top Fortune 500.
Looking from the leading countries in the Blockchain field, Mr. Tran Dang Hoa said that, with the decentralized and distributed characteristics in Blockchain, if the country's legal system has not been widely accepted, the brain drain of business is inevitable, so the approach to solving practical problems for businesses is still the mission to promote the economy in general and the digital economy in particular.
According to Mr. Hoa, making products to have immediate sales is not difficult, but making products at a world level and good, able to compete at a high level, needs "secrets", startups or product owners. product owners) it is very important to have accurate and definitive advice and strategies from experts, as well as participate in big "battles" with customers, from which the product will have an objective assessment and most valid.
https://cafebiz.vn/coo-fpt-software-tran-dang-hoa-nguoi-dung-sau-loat-san-pham-make-in-vietnam-20220510165059549.chn
You are reading the article
FPT Software COO Tran Dang Hoa – The man behind the Make in Vietnam product series

at
Blogtuan.info
– Source:
cafebiz.vn
– Read the original article
here