"Growing up" by winning the jackpot and then quickly empty-handed is no longer a strange thing for people in the West in particular and Vietnamese in general. Because in the past, there are too many cases where suddenly having billions of money, then playing debauchery, causing bad luck to win the lottery. But perhaps the most tragic is the case of Mr. TCT (SN 1964, Long An) – who has caused tremors throughout the river for a long time.
Mr. T is originally from Long Xuyen, working as a driver on the Saigon – Western route. When he turned to Long An, he fell in love with sister U of the same age in An Nhut Tan commune (Tan Tru). After that, the two developed feelings for each other, but both sides' families did not agree. They decided to take each other to register their marriage and then come back to live together. They built a hut in the vacant lot as a place to live in the hope of "settling down and establishing a business".
The road leading to An Nhut Tan commune.
Every day, Ms. U went to sell water, and Mr. T decided to give up his job as a car driver to be close to his wife and ask for a job. Once, he met an old lottery ticket salesman who looked very austere, so he took pity on him and bought 42 lost lottery tickets.
"That night, the couple was having a meal together when the old man rushed over in the afternoon to announce the good news: winning the 42-sheet jackpot. He didn't believe it because there was such a myth, even thought the old man was joking with him. It wasn't until the old man invited him to check the numbers that he believed that he won the lottery, "said Mr. P – U's brother.
Earning billions of dong in prize money, Mr. T deducts a little bit for his family members on both sides of the family, 40-50 million VND each. The rest he worked as business capital, bought a good car, bought land in front of National Highway 1A to build a villa of thousands of square meters.
The man even spent so much that he bought a series of passenger cars, barges, and excavators to establish a company. In addition, he also opened a cafe for his wife to manage.
At first, Mr. T's business was extremely smooth sailing. He created conditions for many people in the commune to have stable jobs. "At that time, he and his wife were very rich. Wherever you go, you go by car, and everyone loves and respects you. But it also started to fall apart, eat and drink, and then have a mistress outside," said Mr. P.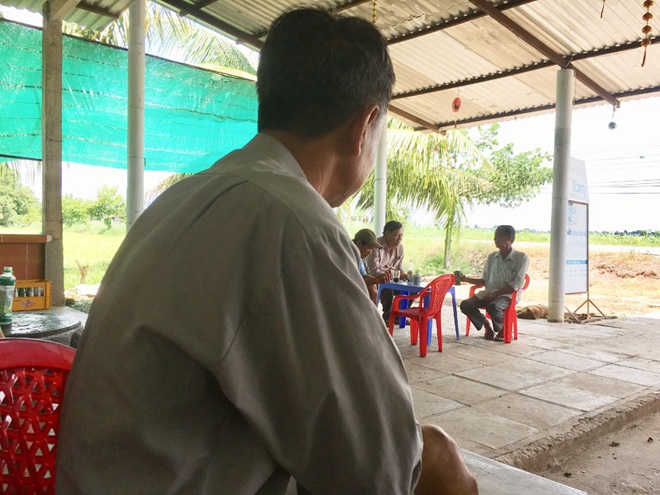 Mr. P – U's brother told the story of his wife and sister winning the lottery in the past
In 2001, Mr. T's job began to "go downhill without stopping". A year later, the company went bankrupt. He owes more than 17 billion dong, the people who stand by him every year leave. He had to sell his car and house to pay off his debt. "The large and beautiful villa on the street also had to be sold, making many people regret. If it is still now, it must be up to hundreds of billions of dong. And after selling all the properties, the couple had just enough to pay off the debt and have 1 billion dong left over for a living. He and the U sent their children home to ask for help and then went to another place to do business," said Mr. P.
It is known that Mr. T and his wife are currently in Ho Chi Minh City. He works as a security guard, and U's daughter serves a restaurant. However, Mr. P himself and the whole family do not know the specific address of his sister and his wife. He surmised that both were afraid to return to their hometown. "Sometimes they call to visit their family. We asked for a specific address, but they didn't say it. They have gone through so many ups and downs in life, with glory – suffering – pain, so I don't expect much, I just hope that the two of them will love each other and live a happy and healthy life", Mr. P confided.
The leader of An Nhat Tan commune confirmed the case of Mr. T's family and said that he was the one who won the most local lottery – 42 sheets at the same time. However, after "changing his life", he did business in the wrong way, played too much, spent money without regret. So he went back to his original difficult life. "This is a wake-up lesson for local lottery winners in the future," the leader said.
Now, people in Tan Tru district sometimes still refer to Mr. T's story as an anecdote about winning the lottery. However, they are still anxious and looking forward to one day being lucky enough to win the lottery like Mr. T, so a lot of people still play lottery tickets every day.
You are reading the article
He won the jackpot of 42 lottery tickets, built a thousand square meter villa and ended up in debt like a god

at
Blogtuan.info
– Source:
Eva.vn
– Read the original article
here