Business
Korean office workers return with 'nightmare' after work
In April, the Korean government lifted all social distancing measures used to control and prevent the Covid-19 epidemic. Regulations on operating hours of restaurants have also been removed. But for many young people in Korea, the news of removing all social distancing measures made the nightmare return.
For young office workers in the country of ginseng, removing restrictions to prevent the Covid-19 epidemic means the return of "hoesik" (the culture of drinking after work). Accordingly, employees in the same company will gather to eat and drink until late at night to strengthen the co-worker relationship.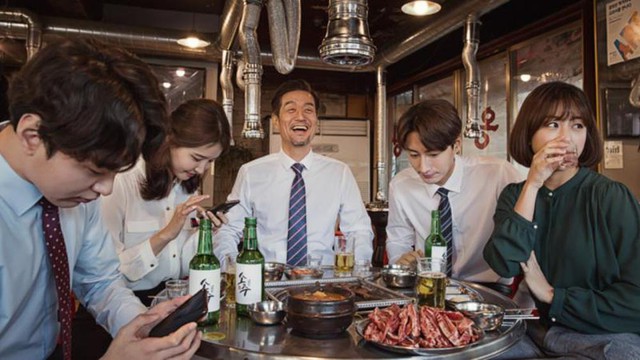 Eating and drinking after work has become a "nightmare" for many office workers in Korea. (Illustration)
"Previously, hoesik was seen as an activity that promotes unity in a group. But nowadays, many young employees see hoesik as an overtime job.", Professor Kwang-Yeong Shin at Chung-Ang University told Business Insider. Since it takes place outside of work hours, hoesik is organized in many forms from a simple dinner to a weekend outing. However, when it comes to hoesik, people think of drunken images.
According to Mr. Shin, this concept is becoming popular among the MZ generation in Korea, a term used recently to refer to both Millennials (those born between 1981-1995) and Gen Z (those born in 1996). – 2005).
The concept of Koreans in the past was that after-work gatherings were a form of social recognition. But for many young people of the MZ generation, these parties are only meant to "show the tyrannical culture that makes more and more young people choose not to participate," said Yoon Duk-Hwan, a researcher on Consumer trends share with BBC in 2020.
When the Covid-19 epidemic broke out, Koreans were forced to change their drinking culture after work.
Because in July 2021, the Korean government issued a level 4 restriction order in the Seoul metropolitan area to prevent the spread of Delta mutation. Gatherings after 6pm are limited to 2 people/place, bars are forced to close, and at least 30% of employees are required to work from home.
Many Koreans believe that the emergence of the Covid-19 epidemic has changed the office culture in this country, as well as brought a small positive impact amid the raging epidemic. Because before Covid-19 appeared, Korean workers often had to work overtime.
Accordingly, each week they have to work up to 52 hours but still have to go out or gather with colleagues after work. But when asked to work remotely, they just need to focus on working and not worry about getting drunk before going home.
Mr. Eric Seo (30 years old), sales manager at a start-up company, said fortunately he did not have to go through the hoesik culture.
"Most of the employees in the company are young people and do not need to adhere to traditional culture. When we're asked about hanging out, it's normal to say 'No'."Mr. Seo shared.
"Workplace culture has changed a lot in the 21st century, showing a growing personalization among the younger generation."Professor Shin commented.
While younger generation employees have a negative view of hoesik, Professor Suh Yong-gu at Sookmyung Women's University in Seoul told Reuters that "many older employees believe that after-hours gatherings doing is necessary to strengthen the camaraderie."
"Hoesik is not time wasted drinking, it is a way for people to talk and strengthen teamwork."Mr. Chae, an office worker in his 40s told the Korea Herald.
But according to Mr. Seo, some of his friends are working for companies that still practice hoesik culture, they cannot refuse the invitation of their superiors to have a drink after work.
"My friends feel pressured. They think that if they don't go to the gathering, they will be seen as something that goes against the company's culture."Mr. Seo said.
But Professor Shin added that currently, superiors and long-time employees in companies are increasingly understanding and accepting the decision of the MZ generation not to participate in the hoesik culture.
"Previous generations realized that today's young generation lives completely differently from them"Mr. Shin emphasized.
You are reading the article
Korean office workers return with 'nightmare' after work

at
Blogtuan.info
– Source:
cafebiz.vn
– Read the original article
here