Thế Giới
QUICK READ 10-5: Russia denies the closure of embassies in Europe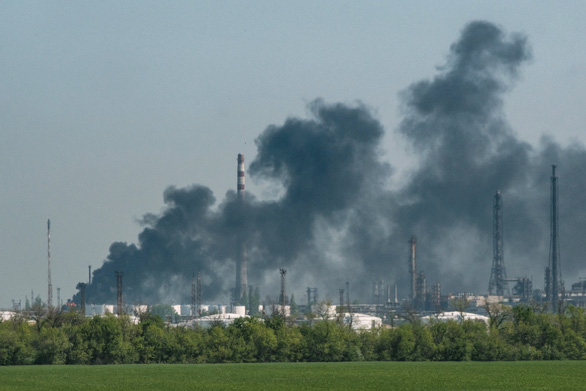 Smoke rises from an oil plant near Lysychansk, eastern Ukraine, on May 9, after it was shelled.
* May 10, Japan announced new sanctions against Russia, such as freezing the assets of an additional 130 Russian citizens including Prime Minister Mikhail Mishustin. In addition, Tokyo also extended the export ban to companies related to the Russian defense industry, scientific research institutes. However, Japan will consider the time of embargo on Russian oil to avoid economic impact, according to Tass and Reuters.
* RIA news agency quoted Russian Deputy Foreign Minister Alexander Grushko as saying Moscow has no plans to close its embassies in Europe in response to Western sanctions. "We believe that the work of diplomatic missions is important," Grushko said.
* Major General Igor Konashenkov specific information: Russia shot 318 targets of Ukrainian manpower and equipment, destroyed 400 fighters that Russia called nationalist, 48 units of military equipment, shot down a MiG-29 in the city of Severodonetsk, intercepted a Tochka-U missile in the village of Ivanovka in the Kharkov region and two rounds of the Smerch multiple rocket launcher system in the Bolshaya Kamyshevakha and Izyum regions.
Konashenkov said: "The high-precision air-launched missiles of the Russian forces hit 11 areas of concentration of military personnel and equipment, four fortifications, and eight ammunition depots of the Ukrainian army in the different regions of Ukraine. Konstantinovka, Antonovka, Elizavetovka, Dolina and Lisichansk regions".
* Russian forces also thwarted Kiev's attempt to capture Snake Island, according to TASS news agency.
"Thanks to the professionalism of the Russian armed forces unit on the island, the provocation by Ukraine was defeated," Major General Igor Konashenkov announced.
On Victory Day in Russia, the Russian Defense Ministry spokesman also gave a summary of the special military operation in Ukraine that began on February 24, although there is no independent verified source.
Accordingly, Russia destroyed 162 aircraft, 124 helicopters, 790 drones, 299 anti-aircraft missile systems, 2,967 tanks. and other armored fighting vehicles, 347 rocket launchers, 1,432 field artillery and mortars, as well as 2,778 military vehicles, Konashenkov said.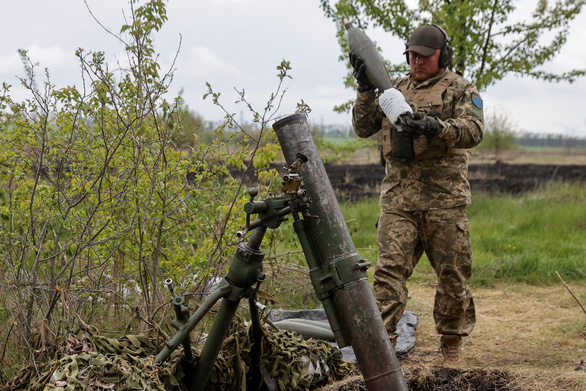 A Ukrainian rocket launch site in the Kharkov region on May 9 – Photo: REUTERS
* According to TASS news agency, on May 9, comment on Ukraine joins the European Union (EU), French President Emmanuel Macron said the process could take years. "We know that the process of joining the EU can take years, even decades," Macron said.
However, he also argued that Ukraine was already a member of the European family. To promote Ukraine's participation in European affairs, he proposed creating a European political community to accept Ukraine into its ranks.
Earlier on the same day, the President of the European Commission (EC), Ms. Ursula von der Leyen announced The EC will respond to Ukraine's proposal to join the EU in June 2022. This is an important step before this issue is discussed by the member countries of the bloc.
According to AFP news agency, on May 9, French President Emmanuel Macron and German Chancellor Olaf Scholz both showed they "fully support Ukraine". in the event marking the end of World War II in Berlin.
The French President is on a visit to Berlin. This is his first foreign trip after taking office for a second term.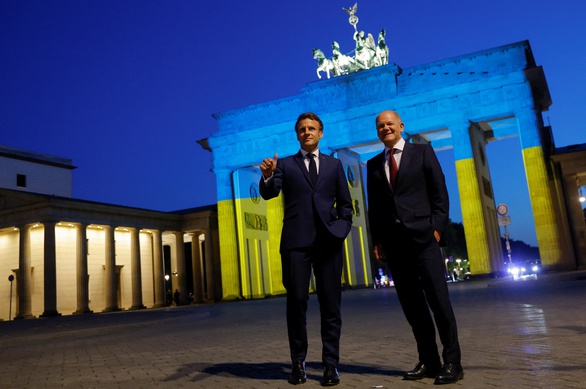 French President Emmanuel Macron and German Chancellor Olaf Scholz at the Brandenburg Gate, Berlin on May 9 – Photo: REUTERS
* According to Reuters news agency, on May 9, White House press secretary Jen Psaki said: US President Joe Biden is not satisfied with the leak of information to the press about how US intelligence appeared to be instrumental in helping Ukraine to target Russian ships and generals in Ukraine.
"The President is not satisfied with the leak. His view is: it is an exaggeration of our role, an inaccurate statement and also an underestimation of the role of the Ukrainian people and the their leader. The president (Biden) doesn't feel this is constructive," she said.
The White House also confirmed There are currently no plans for Biden to visit Ukraine.
* Regarding the speech on the occasion of the "Victory Day" event of Russian President Vladimir Putin, on May 9, the White House said that the speech was a "revisionist of history" and gave false information. Accordingly, Putin's claim that there is a Western role in the Ukraine war is "completely absurd".
Earlier, according to Russia Today, from Red Square in Moscow, President Vladimir Putin said that Russia's military action against Ukraine is "necessary, timely, and the only correct solution".
Putin stated that the West has put Russia in a position of no choice but to attack Ukraine first.
* Reuters sources said the Democrats in the US Congress agreed with a proposal to provide 39.7 billion USD additional aid to Ukraine, higher than President Joe Biden's request of $33 billion. Mr. Biden called on Congress to approve the aid to Ukraine immediately.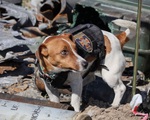 Ukraine's President gives medals to mine detector dogs
You are reading the article
QUICK READ 10-5: Russia denies the closure of embassies in Europe

at
Blogtuan.info
– Source:
tuoitre.vn
– Read the original article
here