Life Style
Tâm sự
An alcoholic husband neglects family affairs and his wife's handling makes her husband respect
Before we got married, my husband was gentle, hardworking in his professional work, and thoughtful in his daily activities. Therefore, I strongly believe in my choice to get married.
However, since getting married, my husband does not have to move his feet or hands on anything in the house because I am the one who does everything. It was also because of his free time and being pampered by his wife that my husband started drinking day and night with colleagues and close friends, often eating and drinking until late at night. In addition, the work at the company is also a lot of pressure, his ability at work is not good, so he borrows alcohol to relieve his sadness… Every few meals, he gets drunk again.
I couldn't bear to see my husband like that, I tried all ways to advise, asked relatives and friends to tell him not to drink alcohol anymore, but he still did. In addition to harming health, taking time, it is also very expensive, that's why the money brought back to the wife and children is less and less.
This situation has persisted for several years, making the family's economy unstable. Children lack proper care. The evening is no longer the joy of family reunion, but only the mother and daughter, worried and anxious, afraid that a drunken father will come home unsafely, hit by the wind and get sick…
Many times when coming home, my husband would scold and curse at his wife and children because he was drunk. From a peaceful and happy family, now because my husband is an alcoholic, my family is on the verge of breaking up.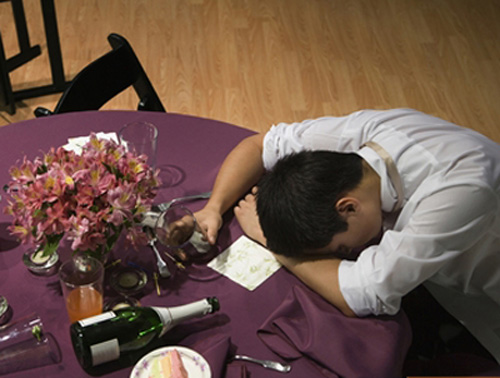 I have begun to refer to the "tricks" of the wives or "treat" the husbands with alcohol and come up with my own determination to change the husband. First, I often organize activities and events in the family such as children's birthdays, visiting husband's parents… Then I think about how to control my husband's finances. With no time, no money in his pocket, my husband reduced the number of times he went out to drink.
Once when I took my husband to visit a friend who had an accident in the hospital, walking through the wards, my husband was shocked and scared when the number of accidents caused by alcohol was very high. Many people, because of drinking a lot of alcohol, become seriously ill, in poor health, and do not know how long they will live.
I also secretly filmed a scene where my husband was drunk and cursed at his wife and children, even hitting his wife and children. I showed it to my husband again, he also didn't believe that he was such a brute and disorganized person. I also told my husband directly, this is the evidence that if he continues to drink, he will post it on social media and go to court for divorce.
There was a time when my husband was drunk and didn't know anything, so I called a car to take him straight to his parents' house for them to take care of. The next day when I woke up, my husband was ashamed of drinking too much, making his parents take care and worry all night. My husband's parents also tried to "correct" their son not to drink too much anymore.
Is it right for me to control my husband like that or am I being too much for him? Give me advice with!
(Anonymous reader)
You are reading the article
An alcoholic husband neglects family affairs and his wife's handling makes her husband respect

at
Blogtuan.info
– Source:
Afamily.vn
– Read the original article
here