Giải trí
Xem ăn chơi
Bun mam restaurant for more than 30 years in Da Nang, customers flock to only thanks to one secret
Ba Thuyen seasoned noodle soup shop, famous for 30 years in Da Thanh
Coming to Da Nang, visitors can find vermicelli noodles (or vermicelli with seasoning) everywhere. Whether it's big streets or small alleys, there are very rustic noodle shops. Even in this city, there is a "noodle hamlet" located on Tran Ke Xuong or Nguyen Chi Thanh, Hoang Dieu, Nguyen Thai Hoc, etc. Of course, there are also many delicious and long-standing noodle shops in Da Nang. In Danang, among them is the noodle shop with Mrs. Thuyen.
Located in a small alley on Le Duan street, the road is also very narrow to move, but not so that Ms. Thuyen's shop is less crowded. The shop is also small but very clean and most importantly, the quality of the food is top notch! Perhaps it is also from that special taste that Ba Thuyen noodle shop has existed for more than 30 years in Da Thanh land.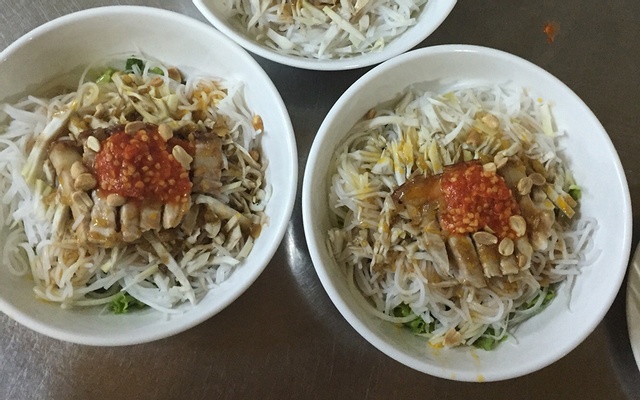 Having come here, most of them are regular customers, only occasional tourists. But once you've tasted vermicelli here, not many people go anywhere else. The taste of the restaurant's bowl of vermicelli noodles has differences that make diners remember forever. From the crispy roast pork to the sweet and chewy chopped young jackfruit, as well as the authentic Central style fish sauce flavor is unforgettable. When customers order vermicelli, the shop often serves an extra plate of thinly sliced ​​papaya with sweet and sour pickles because this is the ingredient that makes the bowl of vermicelli noodles more seasoned but less boring.
Unlike the Southern noodle dish, Da Nang vermicelli has its own secret of processing to create a different taste. That secret lies in the process of making rich, delicious anchovy sauce famous in this land.
Mam wedge (also known as fish sauce) is a popular fish sauce in the Central region, made from fish such as mackerel, anchovies, small scad… The fish sauce is stored in small jars until ripe. has a red color. After a few stages of filtering and boiling, the result is a brown, viscous sauce with a characteristic aroma from sea fish. This is a type of fish sauce associated with many dishes, especially vermicelli and creates a unique culinary flavor of this land.
Initially, the ingredients of a bowl of vermicelli simply consisted of vermicelli, seasoning sauce and boiled young jackfruit. Later, people add other ingredients to make the bowl of vermicelli more eye-catching and attractive. These are sweet and sour sweet and sour spring rolls, roasted pork, attractive boiled pork belly, crispy pork ears, thinly grated young jackfruit with a characteristic fleshy taste… In addition, the famous beef patty specialty of the city must also be mentioned. Da Nang Street.
The raw vegetables will be put in the bowl first, then the vermicelli and then the other toppings. On top is a little bit of fragrant roasted peanuts. The fragrant and rich seasoning of fish sauce is what connects all the ingredients together. If you are a spicy person, you can add a little chili sauce or fresh chili.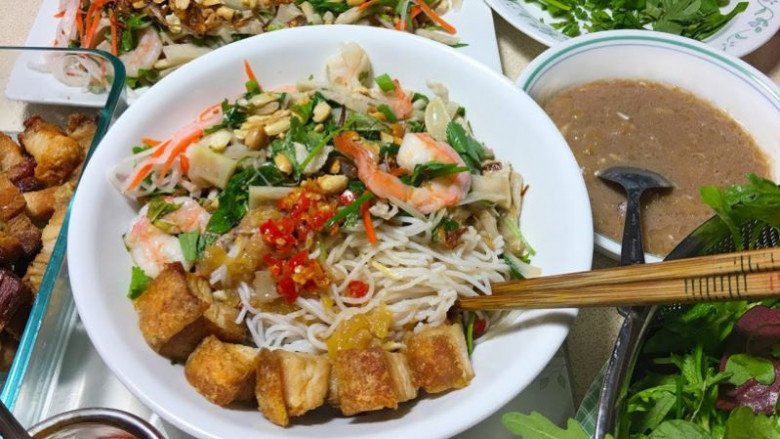 Ba Thuyen noodle shop is famous for its roasted pork vermicelli with crispy, delicious skin. The attraction of the restaurant's bowl of bun mam lies in the fact that the chef can keep the typical flavor of this delicious dish, from the smell of fish sauce to chili sauce, raw vegetables, roasted meat… The seasoning seasoning is usually not rich, or "varied" with too many other ingredients such as adding beef jerky, ram… At Ba Thuyen's noodle shop, from the sweet young jackfruit, to the roast pork, has a crispy skin. Shrimp, add a bunch of fresh herbs, all are mixed in the home-made fish sauce that is right in the Central region and the typical spicy chili pepper sauce. It can be said that this is the secret to creating the brand name of Mrs. Thuyen's shop for 30 years.
Because home-made fish sauce is so delicious, many diners want to buy fish sauce to enjoy or give as gifts. Therefore, Ms. Thuyen's shop also sells bottled fish sauce and chili sauce. Visitors who want to buy but have to move intercity can remind the seller so that they can glue and wrap the bottle cap carefully, and close it with a foam box to avoid breakage.
Address: House number 424/03 Le Duan street, Thanh Khe district, Da Nang city.
Opening hours: 06h00 – 18h00
Price range: 20,000 – 40,000 VND
You are reading the article
Bun mam restaurant for more than 30 years in Da Nang, customers flock to only thanks to one secret

at
Blogtuan.info
– Source:
Eva.vn
– Read the original article
here