Chuyện lạ
Close-up of a papaya tree as tall as a 5-story building that set a world record
The papaya tree is as tall as a 5-story building, setting a world record that makes many people dizzy.
Papaya is a soft, sparsely branched tree, usually with a single stem 5 to 10 meters tall.
But an unusual papaya tree in Brazil has grown to a height that will shock anyone who sees it.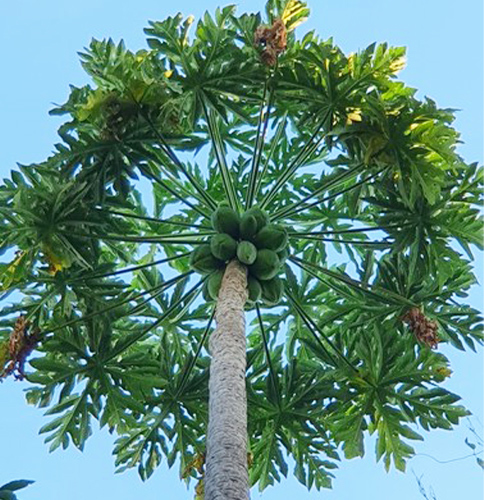 Close-up of a papaya tree as tall as a 5-story building setting a world record
Brazilian farmer Tarcisio Foltzd has grown a papaya tree up to 14.5 meters tall. Tarcisio Foltz's papaya tree has entered the Guinness Book of World Records as the tallest papaya tree, surpassing all competitors.
In 2021, Tarcisio Foltzd noticed that the papaya tree in his home garden in Nova Aurora was growing abnormally, much taller than any tree had ever seen. Its impressive height made anyone who came to his house pay attention. Also because the tree was so tall, Mr. Tarcisio Foltz was unable to measure its size by himself.
He asked his friend Gilberto Franz to use an unmanned aerial vehicle to capture the entire scene in detail. Then, he hired a team of experts to make the most accurate measurements.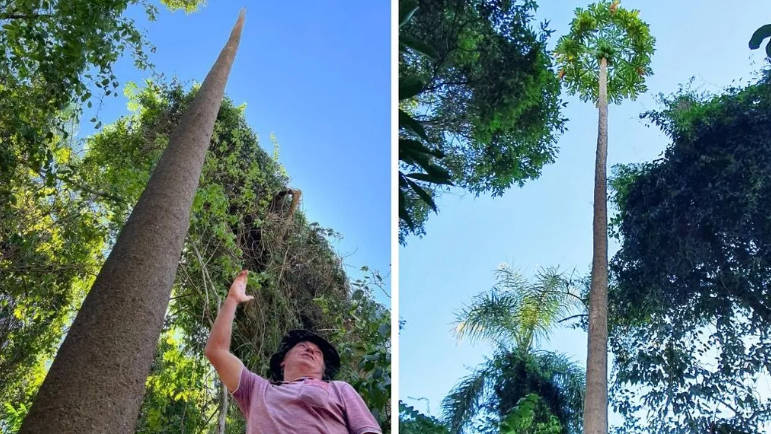 The papaya tree is 14.5 meters high, almost as high as a 5-story building
Experts say that Tarcisio Foltz's papaya tree is 14.5 meters tall, surpassing the previous Guinness world record of 14 meters papaya belonging to farmer Jhantu Paul in India.
Tarcisio Foltz said: "It is a huge honor for me. I am very happy and proud to be able to grow an oversized papaya tree."
The guidelines state that to qualify for the record, the tree must be a living tree. Mr. Tarcísio and his friend Gilberto had to wait patiently for nearly four months for the tree to recover from the frost damage.
It usually takes about three years for a papaya tree to reach maturity and begin to bear fruit. When the tree reaches a height of about 90 cm, the sex of the tree can be determined. The flowers of female papaya plants are closer to the stem and larger than the flowers of male plants.
Tarcisio Foltz wants his hometown's Nova Aurora name to be known by taking advantage of the popularity of this record-high papaya tree.
Papaya is one of the typical fruit trees of tropical and subtropical climates in Brazil, the country is also one of the largest papaya producers in the world.
Hoang Dung (synopsis)
You are reading the article
Close-up of a papaya tree as tall as a 5-story building that set a world record

at
Blogtuan.info
– Source:
infonet.vietnamnet.vn
– Read the original article
here