A number of major banks in Vietnam are coordinating the Center for Research and Application of Population Data and Citizen Identity (CCCD) – Ministry of Public Security to pilot the application of CCCD card with chip to replace ATM card to withdraw money in Vietnam. ATMs at bank branches in Hanoi and Quang Ninh. Withdrawing money with a chip-based CCCD does not incur new costs compared to withdrawing money with an ATM card.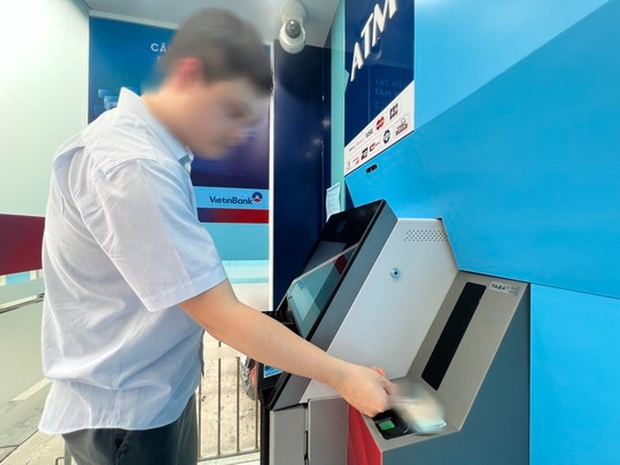 People withdraw money with a CCCD card with a chip at an ATM in Hoan Kiem district (Hanoi) – Photo: Nguyen Huong
Assoc. CCCD with chip will integrate a lot of functions into, replace ATM cards and many other cards. "This is something that should be promoted, but the important issue is whether Vietnam's infrastructure is sufficient and can meet it," the expert assessed.
Regarding people's worry about information being leaked, Associate Professor-Dr. Ngo Tri Long said that information security is extremely important for any card, ATM card or CCCD. With this new form of withdrawal, people's worries are well-founded. However, as you know, CCCD cards are made very strictly by the Ministry of Public Security, with security tools, using customer authentication technology through biometric data such as facial and fingerprint authentication. .. directly connected to the national citizen data, it is difficult to fake or leak information, so it is not too worrisome.
Talking to reporters Newspapers WorkersLawyer Ha Huy Phong, CEO of Inteco Law Firm, said that so far, there are regulations of the State Bank on opening and using ATM cards, responsibilities of ATM cardholders as well as banks. . Currently, the cash withdrawal from ATMs using a chip-mounted CCCD is at the pilot stage, there is no specific legal framework to handle the responsibilities of the person with the chip-mounted CCCD, the responsibilities of banks as well as other financial institutions. relate to. According to him, it is necessary to form a legal framework when mass deployment to ensure transaction safety and at the same time ensure the responsibilities of stakeholders in the future.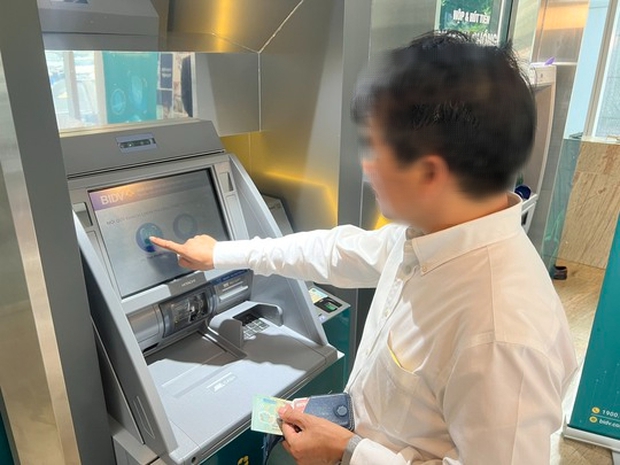 People perform fingerprint authentication when withdrawing money with a CCCD card with a chip at an ATM in Hoan Kiem district (Hanoi) – Photo: Nguyen Huong
In terms of safety, Lawyer Phong highly appreciates the use of CCCD chip to withdraw money at ATMs with fingerprint authentication measures, face recognition of CCCD cardholders. Multi-step verification when withdrawing money is necessary because the information on the CCCD card with the chip is easily exposed in reality. Legally, state management agencies need to issue regulations that require banks and card-accepting units to have the above-mentioned authentication steps to ensure safe transactions.
According to the lawyer, the authentication steps are purely a technological solution, but need to be included in the legal framework to force banks when deploying cash withdrawals with chip-based CCCD cards to have those authentication steps. In addition, it is necessary to specify the responsibility of the card accepting unit when it comes to forging or stealing information, how to handle it.
In fact, there have been many cases where the money in the bank account was suddenly "evaporated", raising the issue of the responsibility of the parties involved to consider and handle this issue, especially when withdrawing money by bank account. chip CCCD card. According to lawyer Ha Huy Phong, the police agency that issues CCCD cards is responsible for issuing the correct identification number and data information in the CCCD card to people, while the use of the card to withdraw money is a civil relationship between merchants and customers. Therefore, when such events occur, this is the relationship between the bank and the customer.
Lawyer Ha Huy Phong also said that he is not too concerned about leaking information such as account balance and transaction information when withdrawing money with CCCD card. "In a word, when we need a key to enter the room, the chip CCCD card acts as a key only. The person who made that key cannot know what is inside the room. Just like the CCCD card issuer can't get information about people's accounts," said Mr. Phong, emphasizing that people are completely secure when withdrawing money at ATMs with a CCCD card with a chip.
To withdraw money at an ATM, customers can follow 6 steps.
Step 1, the customer chooses the cardless withdrawal function at the ATM's screen.
Step 2 click to withdraw money using CCCD with chip.
Step 3 put the CCCD card on the card reader and look directly at the ATM's transaction camera, the interface screen will display authentications such as face authentication, fingerprint… to identify and press continue to confirm the operation.
Step 4, After successful authentication, the customer enters the card PIN corresponding to the account to withdraw money.
Step 5, the customer selects or enters the amount to withdraw on the ATM screen.
Step 6, ATM will pay money and receipt (if any) to the user and close the transaction.
You are reading the article
Lost money who is responsible?

at
Blogtuan.info
– Source:
Soha.vn
– Read the original article
here