"Children are not like their feathers and like wings" is the experience drawn from thousands of years of our forefathers, that is, children born unlike their fathers will also be like their mothers, like their grandparents or second-degree relatives. beside. However, in fact, there are many mothers who fall into the "surrogacy life" – Carrying a painful birth for 9 months and 10 days, cherishing and protecting their children little by little, but when they are born, the child is "a copy of the original". "father's.
Recently, actor Le Khanh – who has appeared in many hit movies such as Bride of the Great War, Career, The smell of coriander, The war of roses, Even if the wind blows, Single age 30, Old girl with many tricks V… posted a photo of "3 men" with the caption: "After taking pictures, "photo" said: thank you for giving birth to me for the 3rd time. Wow, brother! Where's my version?"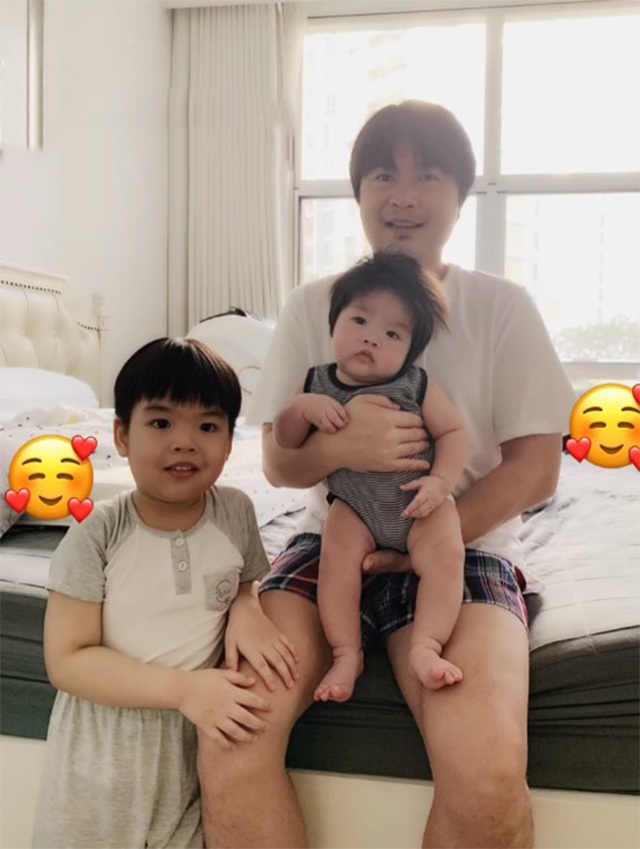 Le Khanh posted a picture of her husband and children, which made netizens stir because the actress joined the "surrogacy association".
This sharing of Le Khanh immediately received the approval of friends and netizens. For one reason everyone has to admit that the two "princes" Tuan Khang and Tuan Kha resemble Tuan Khai's father like molded from a mold: "Father and son have a face", "Like 3 drops of water", "So cute, sister, a perfect copy",…
Besides, everyone also competes to "instigate" the actress "Old girls are very good at V" give birth to a princess to have a "female version". "Make more princesses", "Give another baby", "Next year, add a female version",… are words of encouragement to Le Khanh to "produce" volume 3.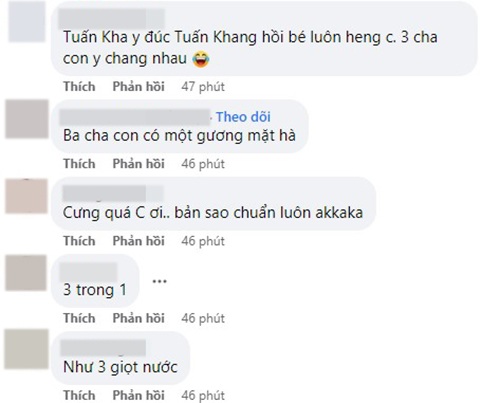 Everyone has to admit that Tuan Khang and Tuan Kha were "cast" from a mold with his father.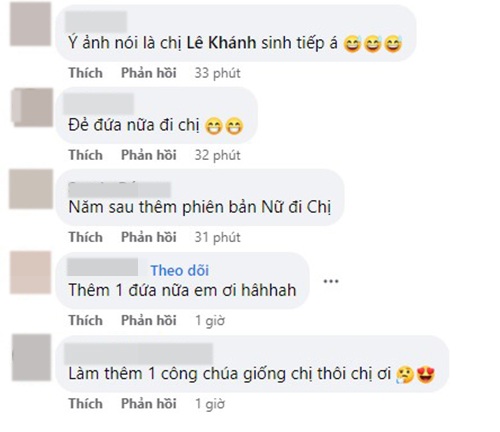 But most netizens "incited" Le Khanh to give birth to another princess to claim justice.
It is known that Le Khanh fell in love with her husband Tuan Khai at the end of 2014 after 12 years of love. In October 2018, she gave birth to her first son Tuan Khang. And on the last day of 2021, the actress gave birth for the second time, giving birth to a son Tuan Kha successfully.
In this second pregnancy, Le Khanh had an experience pregnant at 40 years old is completely different from the first time. She once confided: "When I was pregnant with Tuan Khang, I was tired after eating and wanted to rest immediately. As for this baby, I'm often allergic to strong smells like fried garlic, laundry detergent… It took me 16 weeks to get rid of the symptoms of morning sickness. In order for my body not to be tired, I often actively stay away when I encounter these odors, and eat more carefully.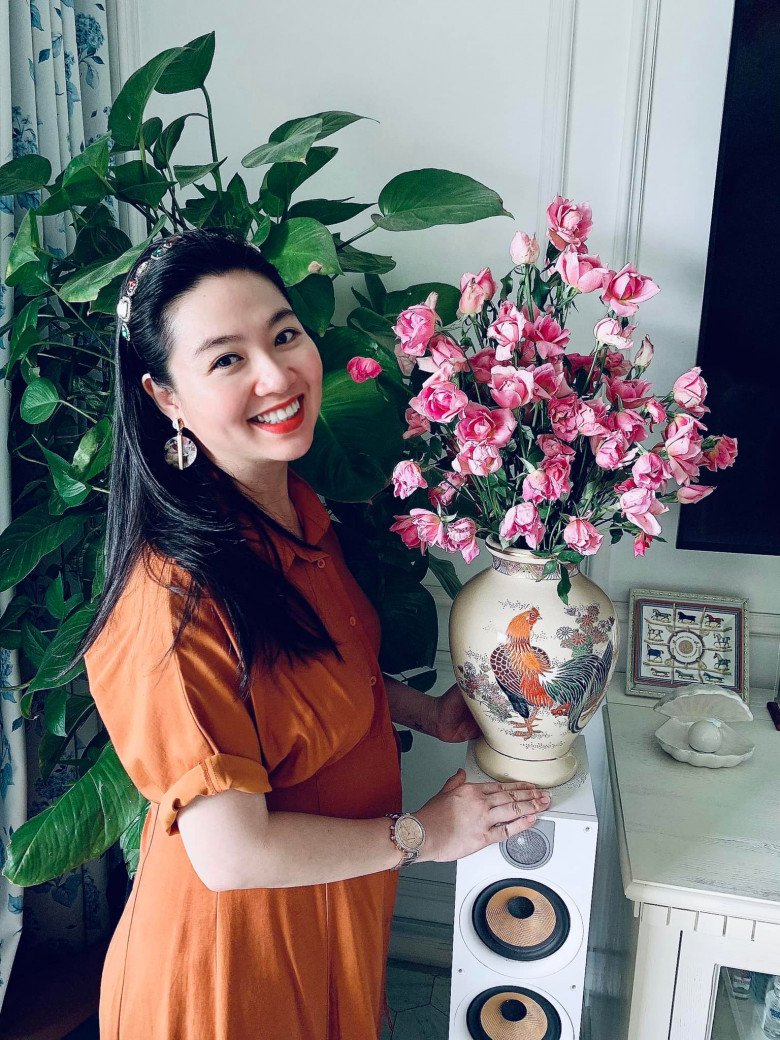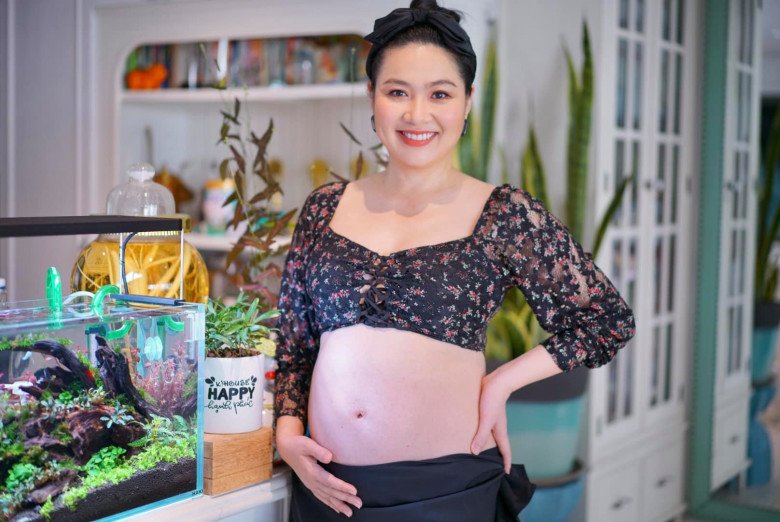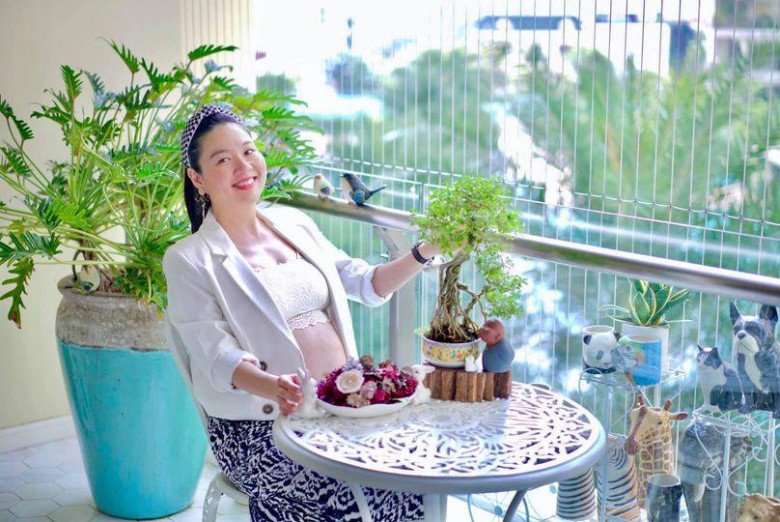 The second time at the age of 40, Le Khanh is still beautiful and full of energy.
Besides eating scientifically, resting in moderation, the actress "The smell of coriander" Take extra vitamins as prescribed by your doctor to make sure your baby gets enough nutrients. Thanks to that, 7 months pregnant, Le Khanh only gained 7kg. At the same time, even though she could not go to the gym due to the complicated situation of the epidemic, she still worked hard to exercise by walking back and forth in the house, breathing and doing some gentle movements. She said: "Maybe, because I have been practicing yoga, in the second pregnancy, the body is not heavy but neat, not gaining much weight."
In addition to the two factors mentioned above, another factor that has also contributed to the beauty of pregnant mother Le Khanh is the pampering that her husband has given his wife. She once revealed: "Pregnant, so whatever I do is a priority. He often encourages me, has sweet gestures, or goes to the kitchen to cook delicious dishes that I like. One day I craved beef steak, snails, he bought ingredients to process for the whole family to enjoy. He also took care of the big baby so I could have time to rest."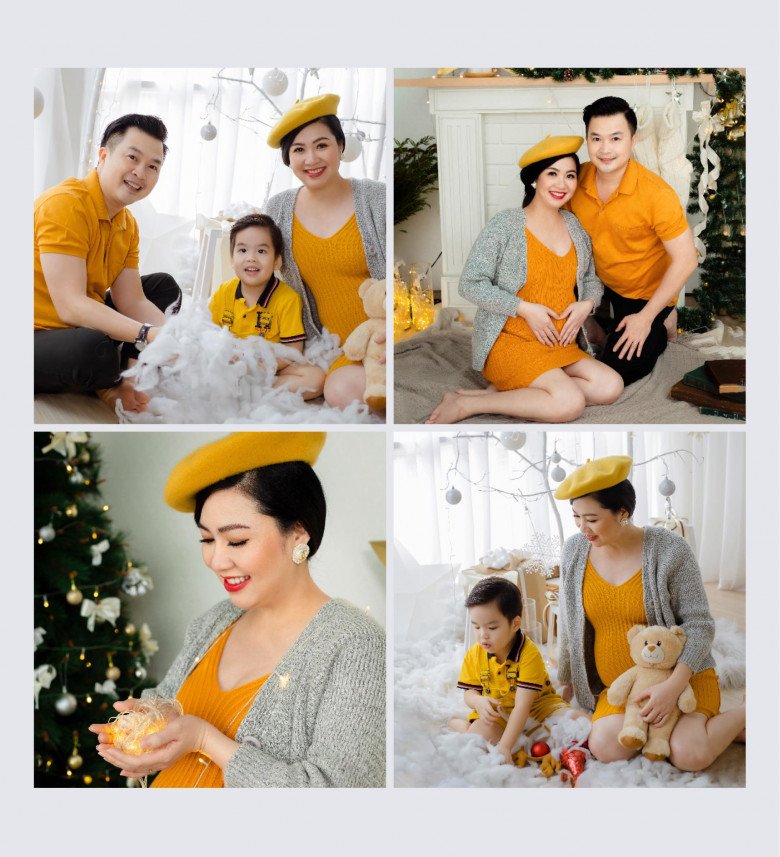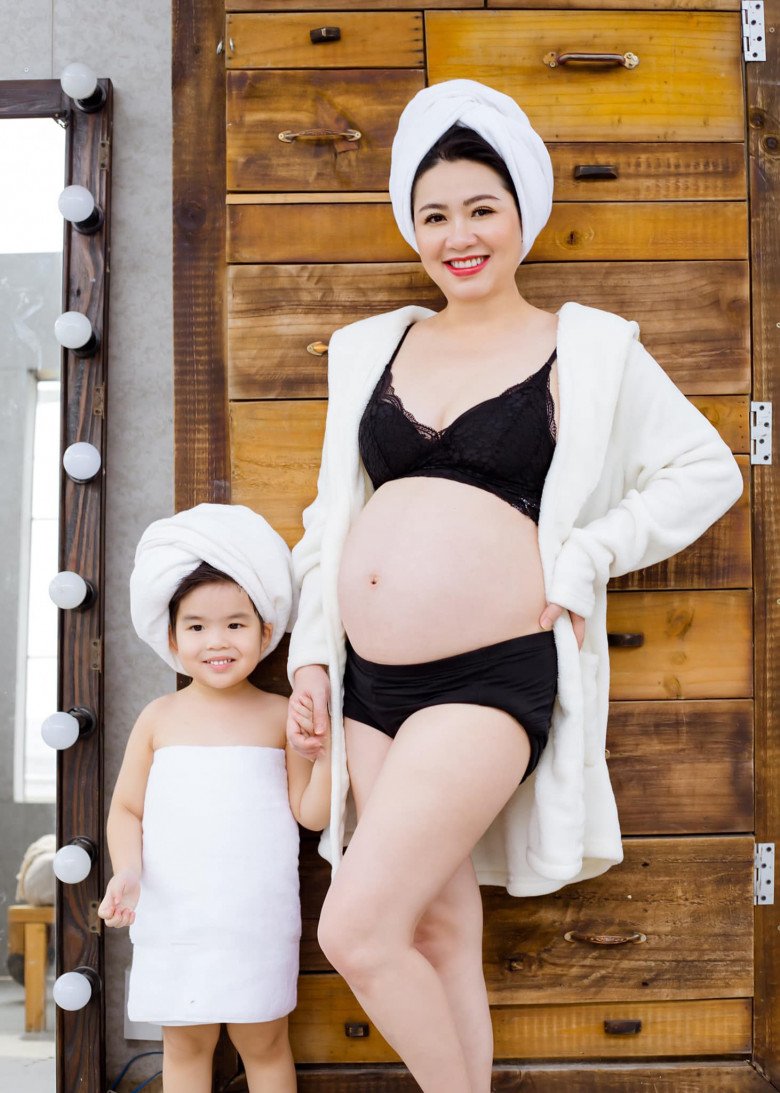 Le Khanh also took a few photos of the election as a souvenir.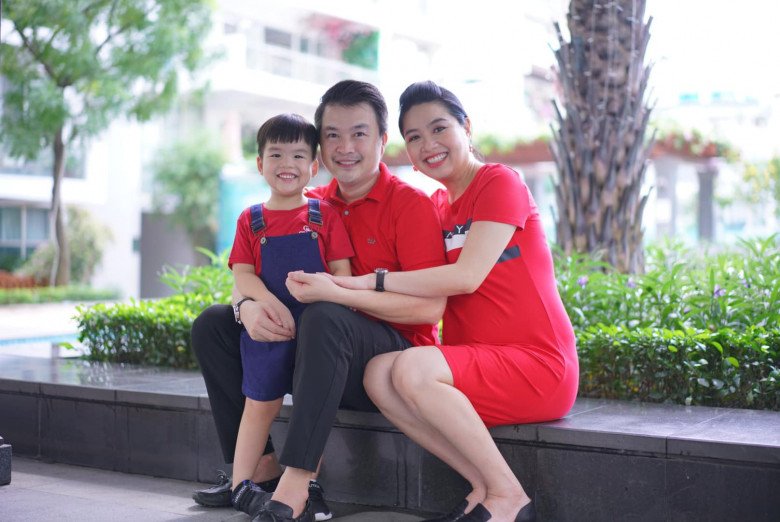 At the same time, she was also pampered by her husband.
Thanks to all the above factors, the actress's pregnancy passed smoothly and gently. Every time she appears, Le Khanh always brings people positive energy with her cheerfulness and happiness. She even arranged the time to take a few photos of the pregnancy as a souvenir.
After giving birth, Le Khanh rarely shares pictures of herself on social networks. However, based on some pictures she took with her two sons, everyone realized that although the mother of two children has not completely lost weight in terms of shape, she has also become much slimmer.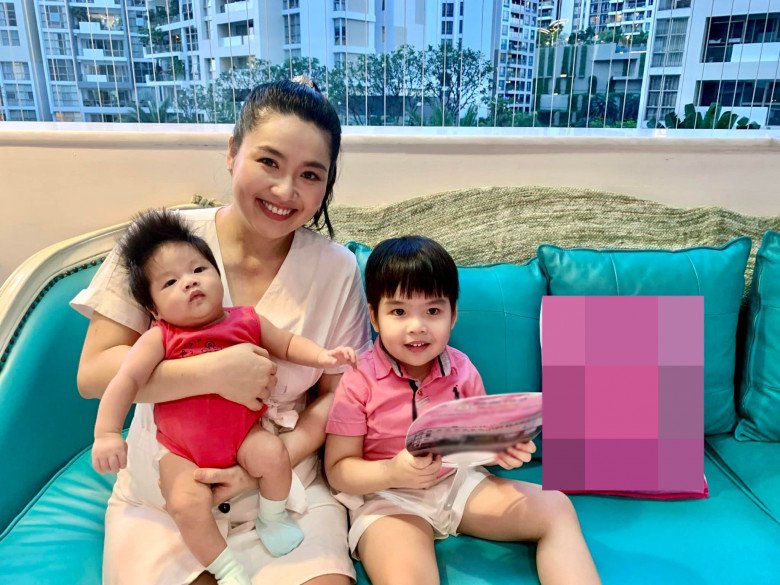 Le Khanh was much slimmer after giving birth.
Although Le Khanh does not share much about losing weight after giving birth, after giving birth to her first son, she once revealed her secret to losing weight. That is, she applies a scientific diet such as limiting starch and sugar, increasing protein, green vegetables and fruits. In addition, breastfeeding also helps the actress quickly lose a few kilograms of excess fat.
Currently, Le Khanh is very happy with her "4K family". There, she had a husband who always loved his wife and two lovely and lovely sons.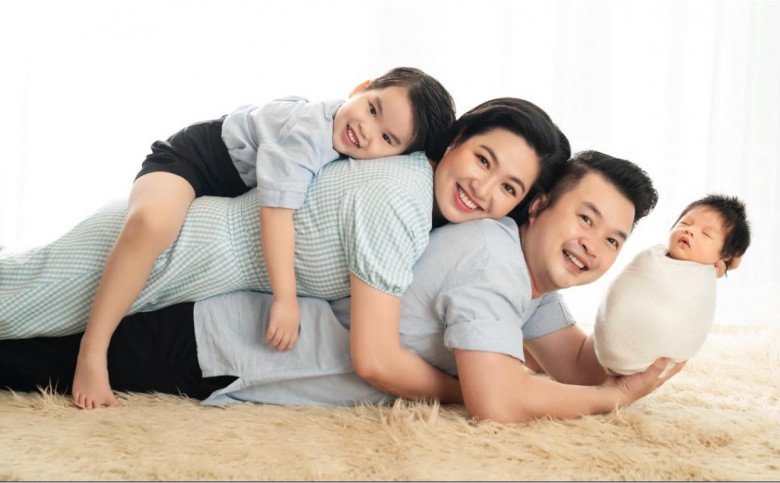 Currently, the actress is very happy with her small 4K family.
You are reading the article
Posting a picture of her husband and children, DV The old girl has many tricks and is instigated by netizens to do one thing

at
Blogtuan.info
– Source:
Eva.vn
– Read the original article
here