Tin
Request to summon a nanny to the trial of an 8-year-old child abuse case in Binh Thanh
The People's Procuracy of Ho Chi Minh City proposed to summon the nanny who used to take care of an 8-year-old girl who was abused to death and 5 other people to attend the upcoming trial.
On May 11, a source confirmed that the leader of the People's Procuracy of Ho Chi Minh City signed a decision to request the People's Court of the same level to summon 6 people to attend the trial of two defendants Nguyen Vo Quynh Trang (born 1995, Gia Lai hometown) and Nguyen Xuan Phuc. Kim Trung Thai (born in 1985, lives in District 1, Ho Chi Minh City).
Accordingly, 6 people were proposed to be summoned to attend the trial, including: Ms. NTH (mother of NTVA victim), Ms. NTTM (mother of Nguyen Kim Trung Thai), Ms. LCXP (teacher of Dinh Tien Hoang Primary School, district 1) and the witnesses are Ms. VTTH (nanny of grandchild A.), Mr. THH and Mr. THĐ. (hospital security).
Nguyen Vo Quynh Trang was charged with "murder" and "torture of others". With guilt"Killing", Trang faces a sentence of up to the death penalty.
In connection with the case, Nguyen Kim Trung Thai was charged with two crimes of "Torturing others" and "Concealing crimes".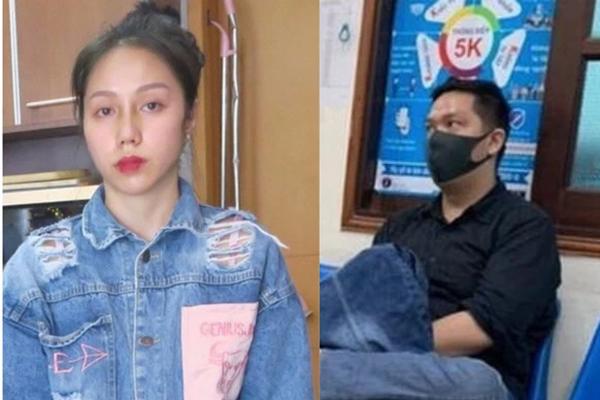 Defendants Nguyen Vo Quynh Trang and Nguyen Kim Trung Thai
The source of Nguoi Lao Dong Newspaper said that in the case file, Trang and Thai said that because A. was poor at school, the couple beat him so that he could study well and be more obedient.
However, the camera image recorded the scene of Trang and Thai beating grandchild A. at any time, even outside of school time. Verification by the authorities shows that A. A.'s learning results at Dinh Tien Hoang Primary School, A. is good at studying, absorbing lessons quickly, being obedient, polite to teachers, and getting along with friends. .
Since then, the legal authorities have recognized that Thai and Trang's claim that their children are poor in their studies is unfounded.
The Ho Chi Minh City police also concluded that Trang had a normal spirit, but for many days in a row, for many hours, she used her hands, feet and weapons to beat, torture, and humiliate A. physically and mentally.
Thai is the one who nurtures and takes care of grandchild A. but sees Trang abusing grandson A. for many days and hours but is indifferent, does not dissuade, protects, and protects her child. In addition, Thai also helped Trang torment A.
When she learned that Trang beat her son to death, Thai took the initiative to delete the camera data at the apartment to hinder the investigation and discovery of the crime and handle the offender.
Nguyen Vo Quynh Trang and Nguyen Kim Trung Thai live as husband and wife in an apartment in Binh Thanh district and grandson A. lives with both.
From December 7, 2021 to December 22, 2021, Trang repeatedly beat brutally, forced A. to be locked in a dog house, not allowed to wear clothes. Trang used dangerous weapons to hit the key, key areas, causing A. to die on December 22, 2021.
In the times when Trang beat, Thai once hit A.'s nephew, many times saw Trang take action, but Thai did not intervene. When A. passed away, Thai actively deleted all camera data in the apartment, but did not expect the authorities to recover it all.
The testimony of Nguyen Kim Trung Thai shows that the Thai family does not agree to marry Trang. Besides, Thai also stated that he did not intend to have children with Trang.
About Trang, due to jealousy, she went to the residence of Ms. H. (Thai's ex-wife), asked Ms. H. not to see her grandchild A. Trang logged into Thai's Facebook to delete all pictures related to her. H.
The testimony of Trang and Thai is consistent with the testimony of Ms. H. and Mrs. TM (Thai's biological mother). After the case happened, VA's family did not ask for civil compensation.
According to the Workers
You are reading the article
Request to summon a nanny to the trial of an 8-year-old child abuse case in Binh Thanh

at
Blogtuan.info
– Source:
2sao.vn
– Read the original article
here