Recently, a user posted a video on the social network Tiktok recounting his journey of planting and creating a Bonsai tree by himself. After posting, the video received more than 15 million views along with thousands of likes and comments from the community.
According to the content in the posted video, while walking on the road, the guy came across a small wild banyan tree on the sidewalk. Without hesitation, he stopped and pulled the tree up to take it home. When he got home, with care techniques, he put the plant in a pot, fixed the stem with aluminum wire and bent the tree.
With skillful manipulations, the roadside wild banyan tree has now been "changed", turning into a very beautiful small Bonsai tree.
The wild banyan tree along the road was plucked and brought home by the young man, turning it into a beautiful Bonsai tree. (Tiktok Adventure Bonsai)
In the comment section of the video, most viewers feel admiring the young man's achievements, along with opinions that want to learn, consult the experience of planting and caring for bonsai.
"It is true that your worth will be found when you meet the right people. You're so clever!"
"Really clever. From a wild tree by the roadside, it becomes a soulful work."
"From free trees to hundreds of thousands or even millions."
What is Bonsai?
Bonsai originated in China, then it was popularized to Japan and Korea. Some people discovered on the mountain there are small trees, growing wild like old trees, with strong vitality in all difficult conditions. Then, they bring them home, plant them in small pots and trim, bend and shape them to make them more beautiful.
In the name Bonsai, "bon" means tray, pot; "wrong" is a tree. After being cut, trimmed, and created by humans, the bonsai trees are aesthetically pleasing, bringing elegance to the display space.
Therefore, bonsai can be considered as a "living work", a living sculpture art of talented gardeners who love beauty and love nature.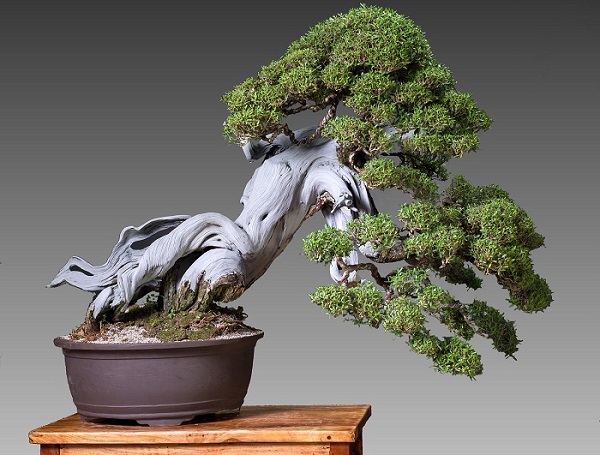 Bonsai trees are pruned, styled and breathed in by humans, since then they are likened to living works of art. (Illustration)
The art of growing Bonsai
The art of growing and playing Bonsai was introduced and popularized in Vietnam a long time ago. Some famous and well-known areas for growing Bonsai can be mentioned as: Dien Xa Ecotourism Village (Nam Dinh), Nghi Tam Village, Quang Ba (Hanoi), Sa Dec Flower Village (Dong Thap). or Cai Mon Village (Ben Tre)…
In order to create a beautiful Bonsai work, the grower is also considered an artisan, will have to take care and be meticulous in each stage. How to keep them alive, how not to make mistakes, accidents while bending trees, how to use pots accordingly…
Because of such special requirements and methods, the price of a Bonsai tree is often quite high compared to other common trees. In craft villages, planting and tending bonsai is considered a main income earner for many families.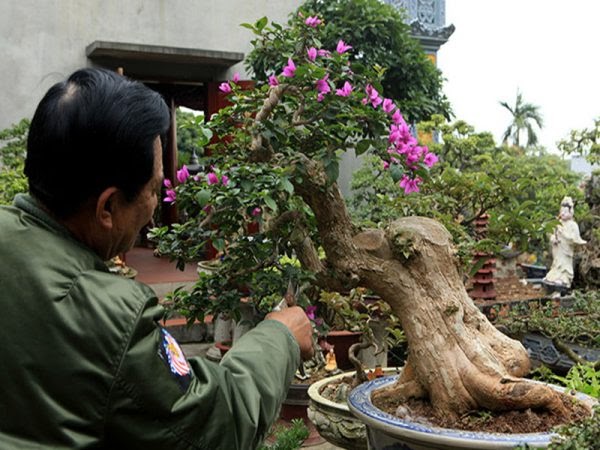 Growing and taking care of bonsai trees is considered a main and stable income earner in many craft villages. (Illustration)
Choosing the right Bonsai for the space
Bonsai is suitable for most types of space, from home and office space to the yard or small garden in front of the house. As long as the player has the aesthetic, knows how to arrange them in a reasonable way, the bonsai will decorate and raise the value of the space a lot.
In general, these ornamental plants are placed in positions that are formal, easy to see, convenient for care and have special feng shui meaning such as living room, outdoor and desk. There are large trees, up to a meter high, or there are mini trees, only about 2 inches. Depending on the location, we will choose the size of the Bonsai trees.
Next, we will look at the shape or position of these trees. Choosing a tree that is flexible and gentle, or trees that can stand tall and strong, depends on the preferences of the owner.
There are both mini Bonsai trees up to meters high for users to choose according to their preferences and needs. (Illustration)
When you have finished choosing Bonsai, then the whole process you have to take care of them properly so that the tree does not die, lose its artistic value and waste a large amount of money.
The light: In general, bonsai trees are usually sun-loving plants. For the best growth, the plant needs to be exposed to the sun for at least 3 hours every day.
Sprinklers: Many people often mistakenly think that watering as much as possible is better, however, sometimes watering too much will lead to waterlogged plants, leading to death. Therefore, the amount of water for irrigation should be suitable for each type of plant.
In particular, in bonsai care, some advice from these artists is that you can use water to wash rice for a few days to be sour for watering, which will be good for the tree.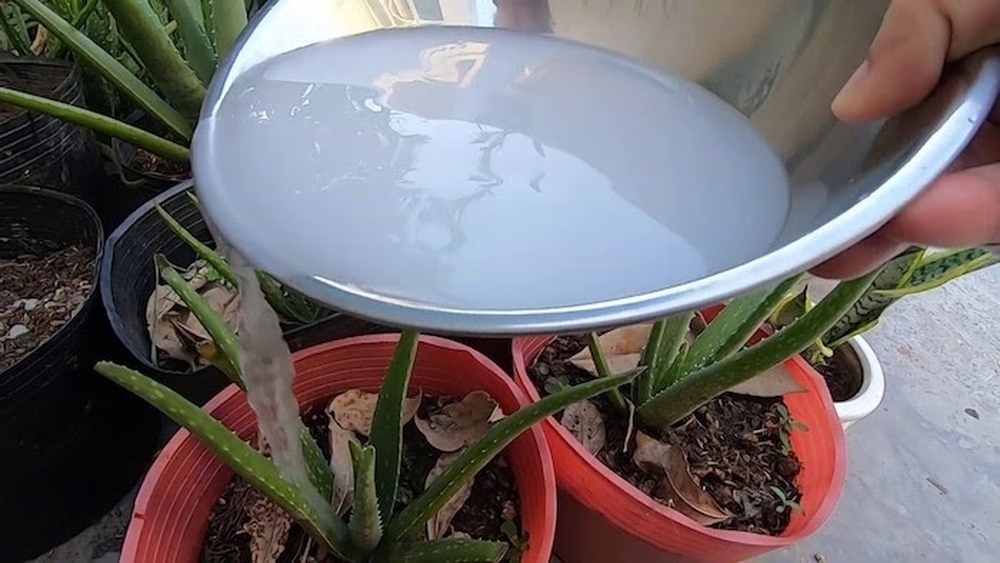 Rice water is considered a good bonsai care method, recommended by many artisans. (Illustration)
Fertilizer: To help plants grow best, it is recommended to use organic fertilizers, all kinds of manure, green manure that is composted twice a time of composting and once in the sun. These fertilizers contain bacteria that have been cleaned and contain many beneficial microorganisms for plants.
Other nutrition: You must regularly check the condition of the leaves to promptly adjust the nutrients in the soil for the plants. If the leaves are yellow, light green is due to iron deficiency, if there are many yellow or brown spots, the soil is too much potassium.
https://soha.vn/nho-cay-dai-ven-duong-chang-trai-dem-ve-bien-thanh-tac-pham-nghe-thuat-ai-cung-tram-tro-20220510165535832.htm
You are reading the article
Uprooting a wild tree by the roadside, the boy brought it back and turned it into a work of art that everyone admired

at
Blogtuan.info
– Source:
Soha.vn
– Read the original article
here