It could be said, in Love the Sunny Day part 2 There are many memorable scenes of jealousy. In addition to throwing a bowl of vermicelli noodles full of shrimp paste on Van Van (Ngoc Huyen), the scene of Lien – Van Khanh's colleague (Lan Phuong) – madly jumping out to beat her husband and lover in the middle of the street is also a detail that leaves a deep impression on the audience.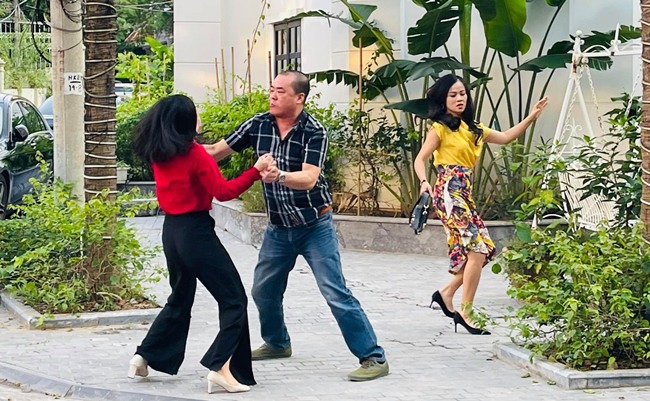 Specifically in Loving the Sunny Day Part 2 episode 14, on a beautiful day, Khanh was invited by Lien (Thanh Hoa) to a coffee shop without knowing that Lien was plotting to beat her husband's jealousy. When she got there, the eldest daughter of Mrs. Nga (Thanh Quy) fell back when she heard her close sister tell her that last night she read a message from her husband dating her at this hotel, so she came to ambush first.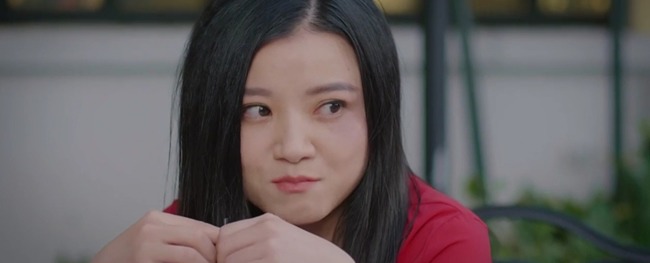 Khanh was extremely alarmed because she already knew that the object that Lien's husband was dating was her sister Duc (Hong Dang). However, when Khanh did not have time to regain her composure, Lien suddenly stood up, rushed to grab her husband's neck, screaming in chaos throughout the neighborhood.
Seeing the situation unfold, Thuong (Thu Ha) quickly got into the car, Lien's husband, after pushing his wife, also hurriedly got into the car to escape. In order to prevent this couple of "adulterous adultery", Lien did not hesitate to hold on to the car door handle and then leaned over the bonnet.
Some passersby witnessed the clip and posted it online. Khanh was also accidentally caught in the camera because he stood up to stop you.
As revealed by actress Thanh Hoa – who plays Lien – the behind-the-scenes performance of this scene is quite dangerous. To get a few short minutes on the film, she had to lie completely on the bonnet, hands clinging to the side of the car while the car kept moving, very precarious. Moreover, because she was too busy fighting with jealousy, she also broke her fingernail while her co-star Trinh Xuan Hao (playing the husband) broke the necklace.
An equally memorable scene of Thanh Hoa is the scene where Lien was beaten up by a blanket in Thuong on Sunny Day. Part 2, episode 12. At that time, Lien and Khanh had just drank alcohol to relieve their sadness, so they temporarily stayed at the hotel. Received the secret news, Mrs. Hien (People's Artist Lan Huong) hastily "summoned" her son and family to accompany him to the three-faced hotel.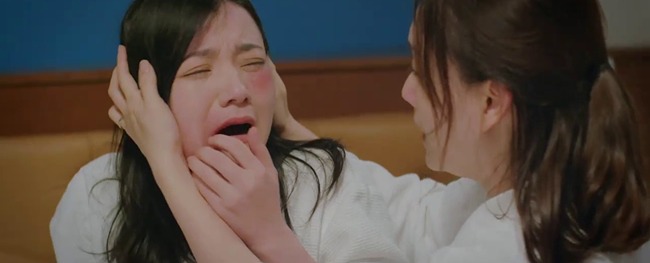 Thanh Hoa humorously shared: "The scene of Duc hitting the wrong person is very funny. After reading the script and going to the filming scene, I was quite scared because I was covered with a blanket and didn't know what it was like outside. Hong Dang was also very loving. so I fought lightly, but still got a few hits (laughs). When I opened the blanket, everyone laughed because they looked at me.
When the episode was aired, the audience and friends texted me a lot, they all said that looking at me was too funny, I couldn't love it."
The face that was "crucified" with teen roles
Thanh Hoa is a face that is not too strange to the small screen audience. After graduating from Hanoi College of Culture and Arts for the first acting class (2003-2006), she officially joined the 2nd troupe of Tuoi Tre Theater.
As an actress of the 8x generation, but because of her youthful and lovely face, Thanh Hoa is often "crucified" with teenage roles like the princess Nao No in the movie. Fairy talethe lovely Pi in Chit and Pi….
In 2014, Thanh Hoa had a spectacular "makeover" when playing the role of Hue in the movie Shadow rain by director Trong Trinh. Hue is a successful female director with high status in society. She is also a loving, salty and equally aspirational wife in married life, but despite being over 30 years old, living with her husband for a decade but no children. Because Hue's husband was impotent, she went to another man and from there the family tragedy happened.
Unfortunately, when her acting career was developing brilliantly, Thanh Hoa suddenly left the small screen to spend time with her family and business. Since the main role in Rain and Clouds 8 years ago, Thanh Hoa has officially returned to the screen with a small role in Sunny Days About Part 2. Talking about the reason for participating in this movie, the actress confided. :
"In the past, I thought it was important to take the lead role and act for a long time, but after working for a long time, what I care about is how that role is more than the length of the role. When talking with the film production organization, he said this is a rather short role but has a special point.
Because it's just a supporting character, Lien's role is not too personal, but she participates in many dramatic situations in the film. I feel ok and look forward to returning to dramas."
According to Thanh Hoa, her husband works in the same industry, so he understands his wife's work very well. Moreover, she considers herself a type of woman who lives quite quietly and does not like noisy and attention-grabbing things. If there is any conflict in the family, the husband and wife will sit down to discuss gently with each other, avoiding absolute conflicts that lead to tension.
Thanh Hoa and her husband currently have a daughter who is in adulthood, very independent in character. Moreover, in the process of raising their daughter, the couple was fortunate to receive the help of both sides of their grandparents. This helps the actress to focus more time on her work.
You are reading the article
"Hong Dang punches lightly, but everyone laughs"

at
Blogtuan.info
– Source:
Kenh14.Vn
– Read the original article
here