Thị trường
Sake fruit in the past no one picked, now it's a specialty of 70,000 VND/kg
Sake (also known as breadfruit) has the English name breadfruit because it has a surface like a loaf of toast, while the smell and taste is like a potato. They are a flowering, woody plant in the mulberry family.
Sake is grown for fruit, each tree can give 150-200 fruits/crop. They first appeared on the Malay peninsula and the islands of the Pacific Ocean. Today, people bring back the sake variety and plant it widely throughout the tropics.
In Vietnam, sake is grown a lot in the southern provinces, especially the southwestern region. Ms. Hoang Thu (38 years old, Ho Chi Minh City) – owner of a large agricultural store in Cau Giay district said: "Outwardly, sake resembles a jackfruit of the North, but inside it has no seeds, thick flesh, and white flesh. Bui. When cut, it looks very similar to a piece of sweet potato, but it is both fragrant and fatty."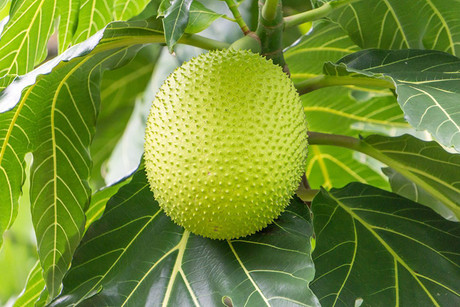 Currently sake is entering the first days of the season, and the main season is around July to October every year. At that time, people in the West will harvest old fruits and sell them market with quite cheap price, about 50,000-70,000 VND/kg.
"On average, each sake fruit will weigh 0.5-1.5kg. So housewives who want to buy only need to spend less than 100,000 VND to have one fruit to be processed into many delicious dishes," said Ms. Hoang Thu.
According to Ms. Hoang Thu, in the past, few people sold sake in the West because every house planted 1-2 trees for both fruit and shade. There are even families with trees full of old fruit that do not want to pick them down because they are too bored. "In the past few years, people in the city have "rushed" to find sake to enjoy. So we small traders have started to collect goods to sell.
Sake is grown naturally, so it is safe to eat, no chemicals. In particular, they have a rich, fatty and delicious taste, so they are loved by many people, especially children," the woman said.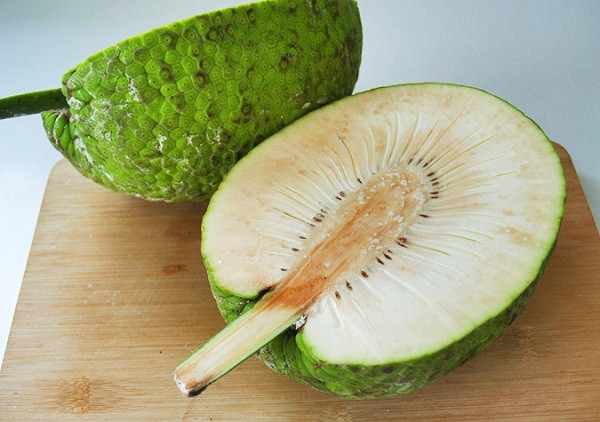 In the sake season, many housewives in Hanoi order some fruit to cook dishes for the whole family to enjoy such as frying, stewing, cooking soup, making tea… Every dish is delicious, nutritious, and good. for human health.
Ms. Hoang Thu said, when buying sake, housewives do not need too much time to process, just peel off the outer shell and wash and then cut it into pieces. You can even wrap each piece of pre-cut sake in a plastic bag and then store it in the freezer for 6-7 months.
"Choosing sake is also very simple, you just need to be a little observant and you can immediately choose a delicious, old fruit such as: hard fruit, full bloom, yellow-green color, with a large weight of 7 ounces or more. In addition, these fruits have ivory or pale yellow flesh, eaten without resin, friable and fleshy.
Some of my customers, when choosing sake, took small berries because they were afraid they wouldn't eat them all. But those are the young fruits, with a lot of plastic, eaten badly, with no plasticity and not a sweet taste", Hoang Thu pointed out how to choose good sake.
From sake, housewives can make many delicious dishes such as:
This is a very popular snack. The fleshy and sweet breadfruit meat is coated with a layer of golden fried dough that looks very nice.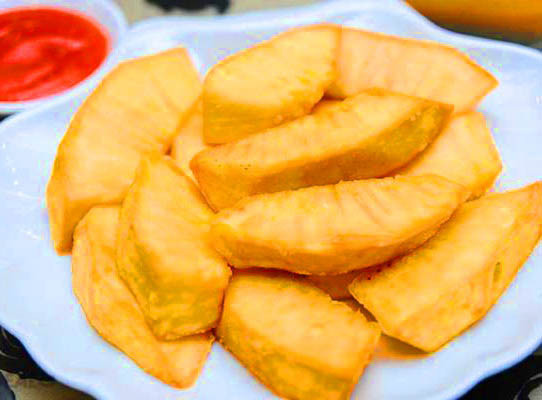 Fatty sake meat mixed with fresh and juicy shrimp, dipped with a cup of sweet and sour fish sauce makes you utter deliciousness.
With just a little variation in ingredients, you have a delicious sake spring roll to enjoy with your family. Tiny spring rolls wrapped with shrimp meat, cat mushrooms, vermicelli and finely chopped sake. When I tried it, the spring rolls were extremely crispy.
The dish is a combination of pieces of sweet sake mixed in a spicy sauce, rich in spices and a very characteristic scent of green pepper.
You are reading the article
Sake fruit in the past no one picked, now it's a specialty of 70,000 VND/kg

at
Blogtuan.info
– Source:
vietnamnet.vn
– Read the original article
here