AMACCAO
The 8x boy and his career turning point when he "married" with a big brand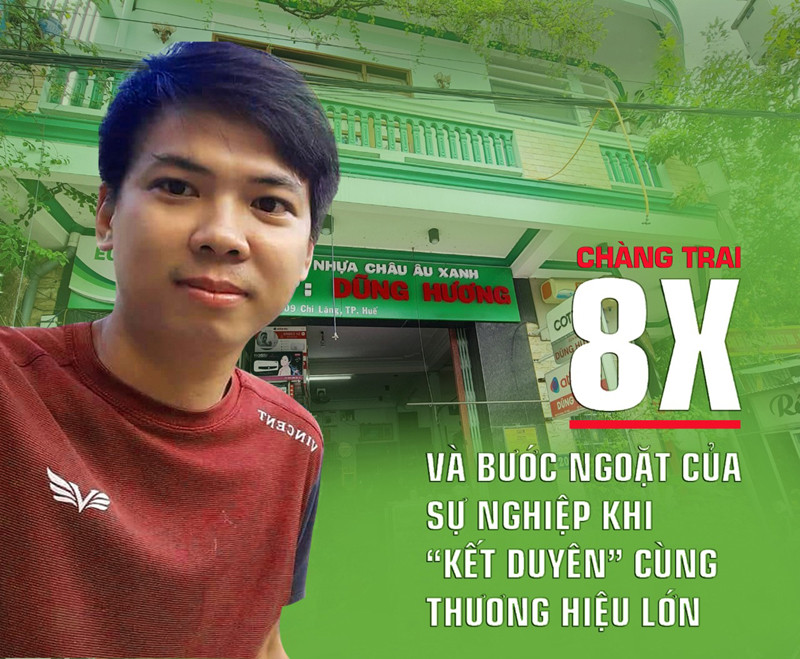 Imprint of the leading plastic pipe brand in the North in Hue
Owning a store that distributes electrical and plumbing products with a 25-year history in Hue thanks to the continuation of the family business, Mr. Minh Hien shared, from his childhood years to the day he received his inheritance, when he was still a From his parents' feet to the local dealers or to look after the family store until the days he went to find a new location by himself, he witnessed the day-by-day change of the city. Hue as well as in the family business itself.
"When my parents still owned the shop, most of the products were traditional products, familiar brands for many years with Hue people. Until 2015, I still see the southern plastic pipe brands dominating the majority of the construction market in this city, while not a single manufacturer in the North has been able to establish its own foothold." , Mr. Hien said.
This is also the time when EUROPIPE – the plastic pipe brand of Euro Green Plastic Company (A member company of AMACCAO Group) – expands the consumption market to the Central and South regions, in order to bring products of European quality. Europe and has achieved the leading position in the North to Vietnamese people throughout the country. In 2016, when the director of this brand visited the market and approached Mr. Hien, the relationship between EUROPIPE and this distributor officially began.
In the first time of cooperation, Mr. Hien sold EUROPIPE's products together with other types of plastic pipes. Even with the naked eye, you can see the superiority between EUROPIPE's pipes and similar brands thanks to technology from extruders imported directly from Germany, sharp pipe molds and the most diverse list of accessories. But due to the lack of familiarity with Hue people, at first, the distributor's revenue was not high, and the quantity of imported goods was not stable.
However, the market has gradually changed in the past few years, when Hue as well as other localities in the country accelerated in terms of infrastructure construction, urban landscape and residential areas. From the plan of the Hue People's Committee on the city vision to 2025 and 2030, the need to implement key real estate projects such as Hanoi Boulevard, An Van Duong new urban area, the northern residential area of ​​An ward Hoa, Bac Huong So resettlement area, Phu My An urban area … in Hue increased sharply, creating strong growth opportunities for new brands in the building materials industry, especially with quality and energy brands. and quickly catch up with market trends such as EUROPIPE.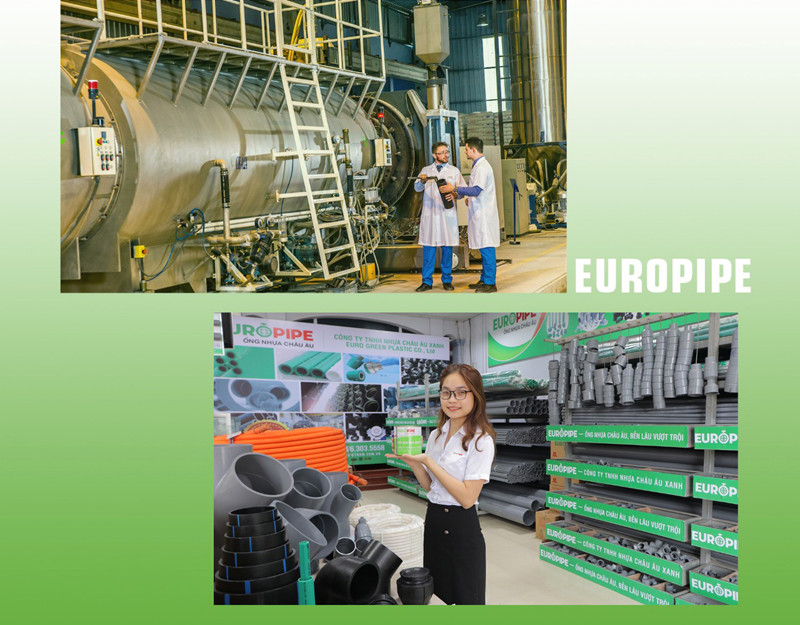 "The demand for construction is growing. If before, the projects only exploded in the city area, now even in remote and highland districts such as Lam Dong, Huong Giang, Huong Huu… about 60km from Hue, there are also consecutive new projects. The hot market brought more opportunities, so at that time I thought I had to do it differently", Mr. Hien shared.
"From 0 to 1"
Although young, but running a family company with a history of 25 years in the field of distribution of water equipment, Mr. Hien decided to invest more heavily in the local EUROPIPE sales system.
When asked why he chose EUROPIPE over another plastic pipe brand, he shared: "EUROPIPE has the advantage of being very successful in the North. I visited the factory directly, EUROPIPE's products are manufactured on modern machinery lines according to German technology, quality and safe raw materials are imported from the UAE and some countries. Nordic, foreign experts operate and transfer. This is also the only plastic pipe unit with a warranty of up to 30 years, which makes me as a distributor selling to customers also very assured when I have this commitment from the company. Moreover, the support policy for Distributors as well as after-sales service is very good, so I choose to promote it."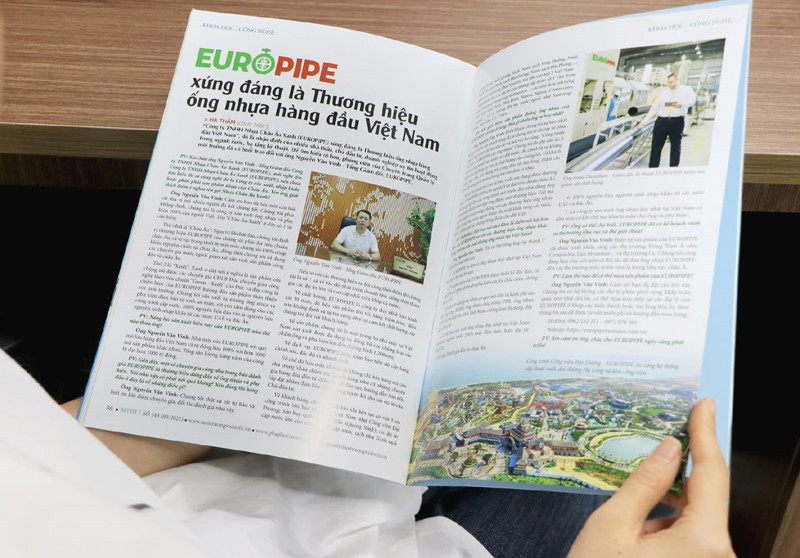 Initially, Mr. Hien rented a separate warehouse for products, creating his own base to focus on boosting sales. Under the management of this 8X, in a short time, EUROPIPE has had its own store and 3 large warehouses that are leased for a long time to meet the demand for plastic pipes for projects as well as wholesalers in the market. this school.
Recalling the early days, it was very difficult to sell to wholesalers, this distributor had to find a way to sell for each project, especially focusing on the group of public investment projects, including the Resettlement Zone project. Bac Huong So residence.
With outstanding quality, the brand is familiar to large investors and contractors, moreover, AMACCAO group allows customers to take samples for independent testing, so EUROPIPE plastic pipes have been trusted to use. in this project. When EUROPIPE pipes lined the outside of this project site, Hue people had a different view of a northern brand.
"This is a big project, requiring very close quality and supervision, each delivery is monitored, measured and checked for each vehicle. But EUROPIPE's products are always guaranteed, stable quality, meeting the requirements of the project. The mentality of Hue people is that whatever the State uses, they like to use it, so they quickly accept EUROPIPE products, even actively looking to buy them "- Mr. Hien shared.
Successful from the initial project, EUROPIPE's products are trusted to be listed on Hue Department of Finance, creating more favorable conditions for public works contractors. In just a short time, EUROPIPE plastic pipes have made their mark in a series of large and small projects, from roads, urban areas to houses, and are present in all stores selling water industry equipment from the city to the suburbs. highland areas by focusing on strengthening the distribution system.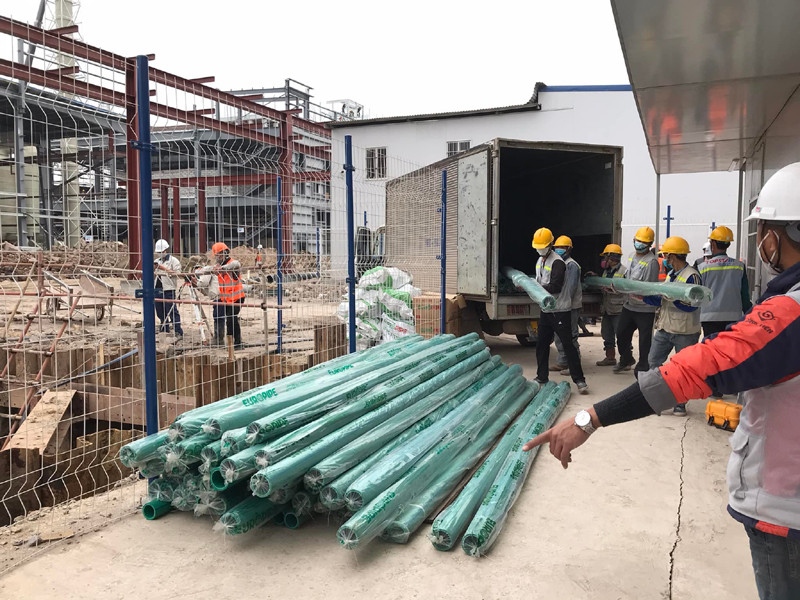 Opportunity to break through in a new situation
While the products of the old brand are already saturated, EUROPIPE has just brought in new technology and quickly added pipes with popular specifications in the markets, it did not take time to become Top choice of construction contractors.
Besides projects, retail customers in many districts, even upland communes also look to buy. Initially, they had to go to the store, to this distributor's warehouse to buy EUROPIPE plastic pipes. Seeing that the neighboring markets are also starting to accept and prefer EUROPIPE's plastic pipes, Mr. Hien has focused on promoting the agent segment.
According to Mr. Hien, at first, agents only tried to sell. After that, because retail and construction buyers are familiar with and assured by the quality of EUROPIPE pipes, it is much easier to sell to agents. "The number of orders from wholesalers is increasing gradually to serve retail customers and projects in the region, culminating in the average monthly consumption in Hue reaching billions of dong," said Mr. Hien.
In particular, when the real estate market recovers after the epidemic, construction on works is resumed, with the same goal of promoting economic growth, the real estate industry is expected to explode in the near future. Along with the rise of the building materials industry in general, the plastic pipe market is also forecasted to grow strongly according to its potential, creating a driving force for the development of dynamic and quality brands such as EUROPIPE.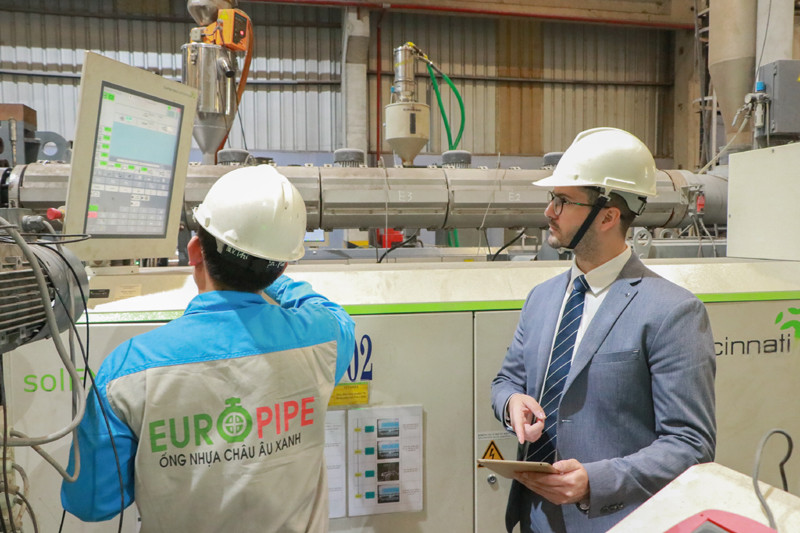 According to Mr. Hien, thanks to the support policy in Hue market applied by EUROPIPE, he is assured to expand the system without having to worry about unfair competition or price manipulation. Mr. Hien said that, in addition to developing strongly in urban areas, he and EUROPIPE will further develop distribution channels in remote areas of Hue, so that people can access and use plastic pipes. European quality but very reasonable price.
Euro Green Plastic Co., Ltd (EUROPIPE) specializes in manufacturing plastic pipes and fittings of European standards. EUROPIPE's products are manufactured on modern machinery lines according to German technology with safe and quality raw materials imported from the UAE and some Nordic countries. In particular, EUROPIPE also commits to a 30-year production warranty for all customers.
Contact as agent, distributor:
Website: https://europipevietnam.com.vn
Hotline: 097 150 2288 or (024) 66 505 581
Representative office: 2nd floor – HH Vuon Dao Building, 689 Lac Long Quan, Tay Ho, Hanoi
Factory: Km 35 – National Highway 3, Thuan Thanh commune, Pho Yen town, Thai Nguyen province
Pearl league
You are reading the article
The 8x boy and his career turning point when he "married" with a big brand

at
Blogtuan.info
– Source:
vietnamnet.vn
– Read the original article
here