Đời sống
The mother's energy to overcome difficulties
The story of mother Tran Thi Ti raising her three children alone is no stranger to the people in Quynh Luu, Nghe An. Thanks to her positive and optimistic lifestyle, she has helped her overcome many difficulties and lead a better life.
In May, the central region was as hot as fire, people still saw a woman tirelessly pedaling her bicycle to go back tens of kilometers to run to the market. Sun and wind cannot be a barrier, Ms. Tran Thi Ti (Quynh Luu, Nghe An) always finds joy in her work and removes fatigue with her own secrets.
Waking up at 3 am, Mrs. Ti started the daily work of a small business. She cycled more than 30 kilometers from her house to the seaport to buy fish to bake and import for wholesalers at the market.
She said she can sell 35-40 kg of fish every day. She is the main breadwinner in the family with three school-age children, but she is rarely seen sighing. Just see her always working hard, spreading optimism to those around her.
Nearly 30 years as a small business, she is busy day and night, but she still finds joy and dispels fatigue. The bicycle has always been her great companion. On the cart, she often keeps a bottle of Number 1 energy drink to drink whenever she is tired or thirsty.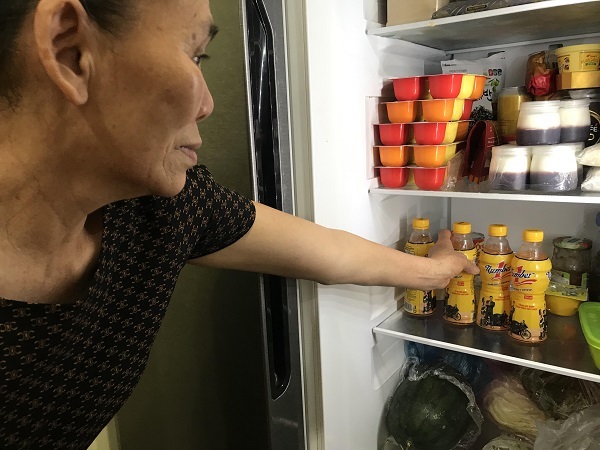 Ms. Tran Thi Ti always chooses Number 1 as a companion in life
Working hard to earn a living, she had enough money to raise her three children, and at the same time saved up a decent amount of money to build a house.
In 2019, a newly built house was erected to replace the old, degraded house. After decades of hard work, she has proven that nothing is impossible, with good health and hard work, one day she will be able to do great things. Her family's new, spacious and clean house was completed to the amazement of many people.
"It is rumored that I was able to build a house with the help of my grandmother's family. They didn't believe that I had just raised my 3 children to school and had money to build a house. In fact, I built it all with one hand. I built a house in 5 months, raised workers to eat at home"Mrs. Ti said.
When her eldest son was 30 years old, graduated from a college and had a stable career, established a career and built a family, Mrs. Ti stopped going to the fish market to trade fish. She stayed at home to take care of her grandchildren for several years. But the working hand got used to it, she couldn't stand it for a long time at home, so she went to apply for a job when he reached the age to go to kindergarten.
"I feel that I still have the ability to work, but I do not want to depend on my children, so I actively look for a suitable job. I don't mind doing anything, I have the energy to work, I can do it. I just got a job at a restaurant 7 kilometers from home."Ms. Ti shared. Many people expressed their admiration for her spirit of always looking ahead and not being afraid of difficulties.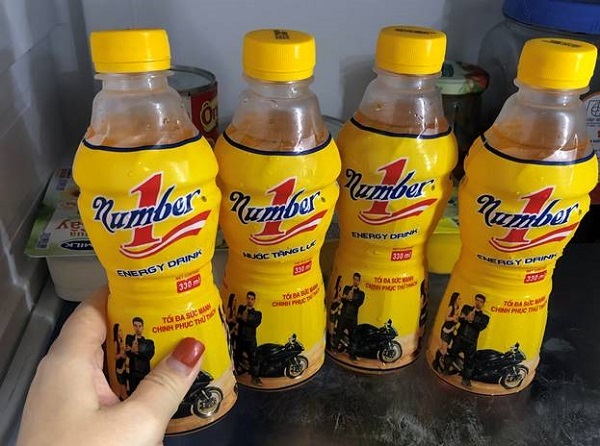 Number 1 Energy Drink – The secret to helping Ms. Tran Thi Ti always be full of energy and mentally alert
She is hardworking and clean, so everyone appreciates her. Every day, she gets up at 5am, cleans the house, has breakfast, and then rides a bicycle 7km to the restaurant. She said it took 30 minutes, it was sunny as well as rainy, making friends with a bicycle every day, ice on the asphalt road. One day, against the wind, pedaling was more tiring, it took about 40 minutes to get there.
At such times of fatigue, Number 1 energy drink is always her reliable friend, helping to stay mentally alert and excited to start work. After cleaning up in the evening, she left at 7:00-8:00. She also did not forget to drink number 1 energy drink to be stronger, cycle faster to return home.
Life is constantly moving and so is Mrs. Ti. Whenever she is tired, she stops to recharge with positive energy and then works for a better tomorrow.
Number 1 energy drink helps to increase strength, instant alertness, easy to buy at all stores, supermarkets nationwide and on e-commerce sites to be delivered by shipper to the place such as: Satrafood, Tmart.vn, Okono, Ministop.vn, GS 25
Pham Trang
You are reading the article
The mother's energy to overcome difficulties

at
Blogtuan.info
– Source:
infonet.vietnamnet.vn
– Read the original article
here