Khỏe - Đẹp
The number of Covid-19 cases has dropped sharply, is it time to drop the 5K regulation?
Before the number of Covid-19 cases dropped sharply, the Ministry of Health decided to stop making medical declarations at domestic and border gates. The question is, is the current application of 5K still necessary?
Translation never ends
Assessing the current epidemic situation, Assoc. Prof. Dr. Tran Dac Phu, former Director of the Department of Preventive Medicine, said that Vietnam has passed the peak of the epidemic, the number of cases and deaths has decreased sharply, even for many days without recording. receive any deaths.
However, the epidemic cannot be over, even if Covid-19 becomes an endemic disease, the number of cases can still increase but remain stable.
"With the current domestic epidemic situation, we are not too worried about the number of cases may increase again. We still forecast possible scenarios, I myself lean towards the scenario of a milder epidemic, the number of cases may decrease and then increase, but the epidemic will never end", Assoc. Prof. Dr. Tran Dac Phu Nguyen Director of Preventive Medicine Department emphasized.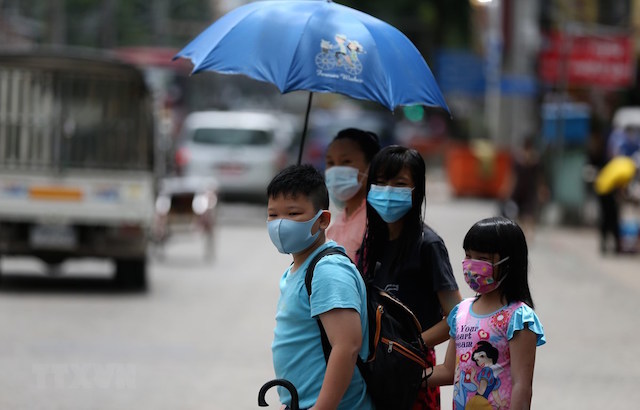 Illustrations
He also said that currently it is not possible to consider Covid-19 as an endemic disease, switch from group A to group B but need to be monitored for a while longer. This is the transition period to "listen" and evaluate the translation situation accurately.
"It is important that we properly assess the risk. Along with the opening of activities, tourism, bringing children back to school, no longer isolating F1… it is still necessary to control risks.
Where the epidemic progresses, the response to that, it is necessary to assess the risk accurately to have the most appropriate response. If the situation is really stable between now and the end of the year, then the decision should be made to move to group B. This is a decision that requires certainty, so there needs to be a transition period," emphasized Assoc. Phu.
Should 5K measures be maintained?
However, recently, the Ministry of Health has decided to stop making domestic medical declarations, previously also abolishing the regulation on border medical declaration, so the question is whether the application of 5K is still necessary?
Answering this question, Assoc. Prof. Dr. Tran Dac Phu said that medical declaration is one of the international regulations in the context of an emergency and has been effectively applied by Vietnam in recent years.
However, up to now, the removal of medical declaration is completely appropriate because we no longer carry out tracing, blockade as well as the number of imported cases is not much compared to domestic. The decision to suspend medical declaration by the Ministry of Health is also reasonable because when the epidemic has new developments and more severe scenarios, it can be applied again, contributing to effective disease control. There are special assessment and preventive measures for people returning from epidemic areas.
First of all, it is necessary to understand the nature of 5K as non-specific preventive measures against Covid-19 as well as other infectious diseases. Before Covid-19 appeared, we still regularly applied the measures included in the 5K regulation to prevent other infectious diseases, especially respiratory and digestive diseases.
During the application of 5K to prevent Covid-19, other infectious diseases such as influenza, hand foot and mouth disease, food poisoning, etc. have also decreased significantly. Therefore, Prof. Dr. Tran Dac Phu emphasized that, although Covid-19 has been controlled, maintaining the above preventive measures, except for removing medical declarations, is still necessary and valuable.
Specifically, people with cough, fever, difficulty breathing should not go to crowded places, actively keep a distance from others. In contrast, healthy people do not come into contact with people with cough and fever symptoms to prevent illness.. This is also the problem of "distance".
"I think we should not be too concerned about the application of 5K or 2K, 3K… but need to apply it flexibly and flexibly in accordance with each condition, situation and each locality. Instead of forcing, people should be advised to practice and form good habits such as wearing masks to not only prevent Covid-19 but also many other infectious diseases circulating.
If right now, we remove all 5K regulations, it can cause subjectivity. For well-ventilated areas, people go to exercise, jog, etc. wearing masks is not necessary, but in crowded places, closed spaces such as taking a bus, it should still be applied.
We also should not because the epidemic is slowing down to completely remove the regulations that are valuable in terms of health for the people. Localities need to be flexible in recommending appropriate forms of application, avoiding coercion, especially unreasonable sanctions before changing the previous legal regulations," Assoc. Dr. Tran Dac Phu emphasized.
N. Huyen
You are reading the article
The number of Covid-19 cases has dropped sharply, is it time to drop the 5K regulation?

at
Blogtuan.info
– Source:
infonet.vietnamnet.vn
– Read the original article
here