Giải trí
Xem ăn chơi
The restaurant that sold specialties to the king for a while, nearly 40 years, still attracts a large number of customers
Hoa Dong mussel rice restaurant – 40 years old, still attractive and crowded
To talk about Hue cuisine, it's hard to say it all if you spend 3 days and 3 nights. But there are dishes that just mention Hue, people can name it right away, and Hue mussel rice is such a dish.
Having come to the ancient capital without enjoying mussel rice is considered as if you do not know anything about Hue. Few people know that this dish was once used to advance the king and become a royal dish. Many people think that mussel rice is simply rice eaten with fried mussels or mussel soup, but cooking this dish is very laborious, especially to create the right quality of this royal dish, it is even more difficult.
Therefore, to find a really good and excellent mussel rice restaurant, the locals will immediately direct you to Hoa Dong mussel rice restaurant – a restaurant that has been open for nearly 40 years. The taste of the restaurant's mussel rice is extremely rich and unique, which is hard to match.
Located on Ung Binh Street (Vi Da ward, Hue), Hoa Dong mussel rice restaurant is quite close to the city center so visitors can easily find it.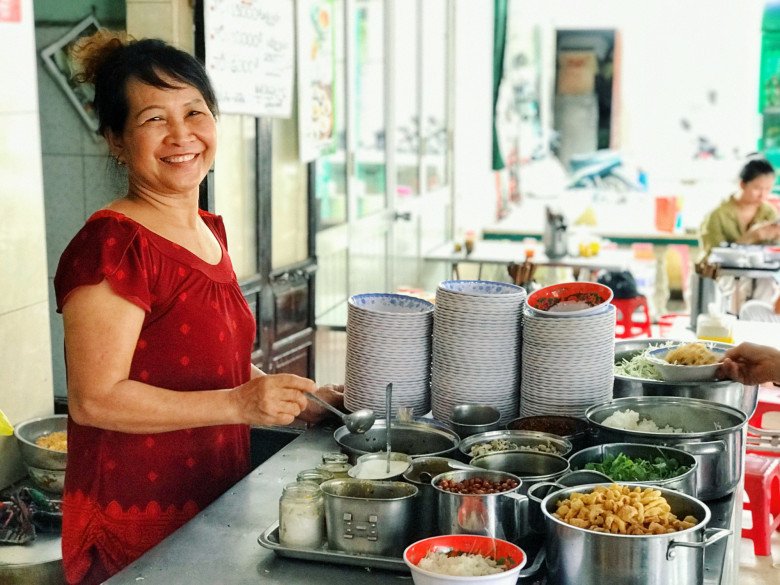 Coming here, you may be surprised by the very simple shop, just a small stall inside an old house with 3 original Hue rooms. At the shop there are a few low tables, a few small plastic chairs. Hoa Dong mussel rice always hangs a sign to publicize the price at the restaurant. The items of the shop are also very simple but clean and neat, noodles are placed in a plastic basket, cold rice is placed in a tray, raw vegetables and vegetables are prepared. Next to it is a glass jar containing peanuts that have been lightly roasted with cooking oil. A special and indispensable ingredient in this small space is a jar of fish sauce and hot chili sauce.
Although mussel rice is extremely rustic, it is not a delicious food, but it becomes a dish that makes many people sob when remembering Hue. According to the owner, mussel rice must be used cold to stay overnight, the rice grains are separated and processed. This characteristic comes from the thrifty character and life philosophy of Hue people: nothing is wasted. Besides, when the rice has cooled down, it will be the foundation for the crunchiness and sweetness of other things.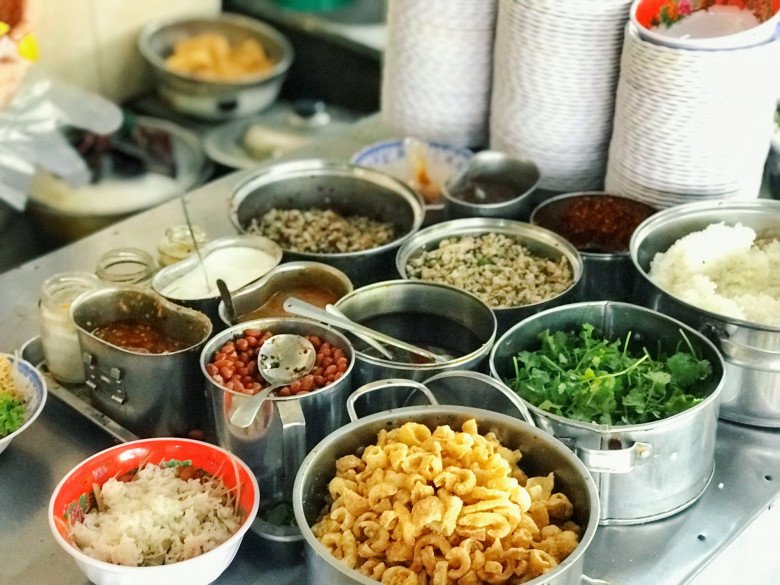 When the rice is ready, the mussels are quickly stir-fried with rice vermicelli, shredded dried bamboo shoots and thinly sliced ​​pork belly. Boil mussels in a hot pot, pound a few pieces of ginger and add some seasoning to taste.
Additional ingredients for a bowl of mussel rice are equally sophisticated, such as chili sauce, chili pickled with fish sauce, fish sauce, shredded rice paper, roasted salt, crushed peanuts in fat or oil and then coarsely pounded, roasted sesame, pork skin (balloon). ) deep fried, greased…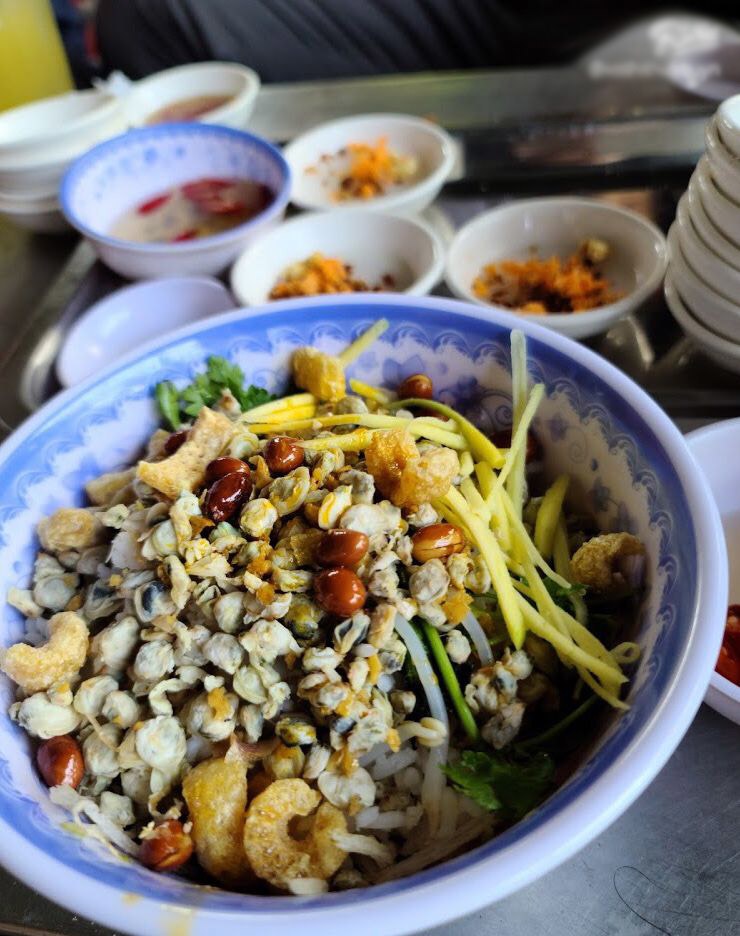 The raw vegetables served here are banana stem, thinly sliced ​​banana cabbage, bean sprouts, bamboo shoots, herbs, pineapple and chopped star fruit. The acrid, sour, numb, pungent, cool taste of raw vegetables will make the taste of the mussel rice bowl more passionate.
When ready, the seller takes a clean medium-sized bowl and stirs the cold rice in, then pours the fried mussels over the rice, in turn stacking other things such as pork skin, pounded peanuts, roasted sesame, and grease. on top and drizzle a spoonful of fish sauce. Next is a layer of vegetables including banana flowers, bamboo shoots, pineapple, star fruit and herbs, fried chili.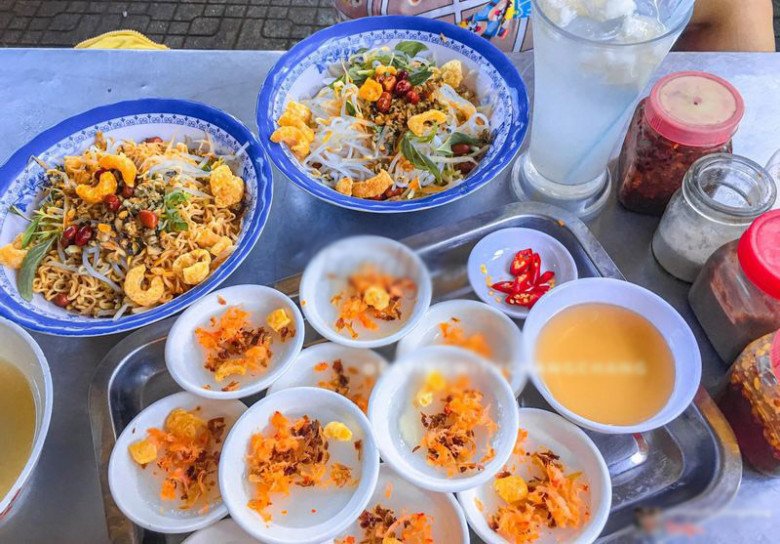 When enjoying, you will clearly feel the cool taste in the mussels mixed with peanuts, fish sauce, vegetables along the mosquito net to create a delicious and unforgettable dish. A small note when enjoying, you should not mix mussel soup in a bowl of mixed rice but should separate two separate bowls. At that time, the rich taste in fried mussels and the cool taste in mussel soup will be preserved. The restaurant's accompanying water has a rich flavor of mussels, a little bit of spicy taste.
At Hoa Dong restaurant, they not only sell mussel rice but also many other typical Hue dishes. From mussel rice to Hue vermicelli or filter cake, banh xeo… just looking at it, it's very attractive. If you are wondering where to find a "delicious, beautiful, cheap" culinary address in the area, Hoa Dong mussel rice is really a better suggestion.
Opening hours: 07:00 – 22:00
Reference price: 7,000 VND – 10,000 VND
You are reading the article
The restaurant that sold specialties to the king for a while, nearly 40 years, still attracts a large number of customers

at
Blogtuan.info
– Source:
Eva.vn
– Read the original article
here