Kinh tế
VN-Index "evaporated" more than 62 points, securities investors sold-out like selling bottles and scraps
Mr. Truong Hien Phuong, Senior Director of KIS Securities Vietnam, exclaimed: "The current stock market is really not understood by anyone. Investors are oversold, selling like stocks is money. It's property, but it's even sold out more than bottles and scraps," said Mr. Phuong.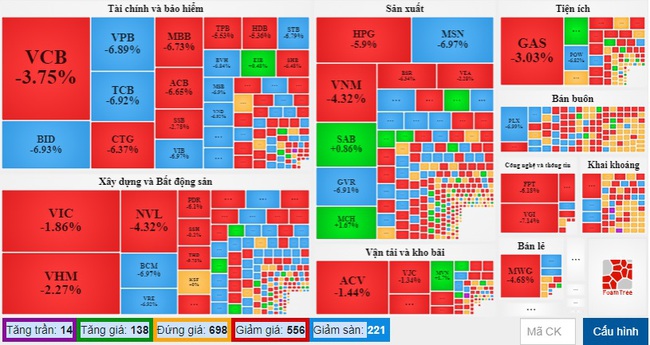 Stock investors sold off again, VI-Index dropped by more than 62 points
Observing market movements, at the end of this morning session, VN-Index dropped deeply by 25.24 points, or 1.94% to 1,276.29 points.
Market liquidity was "flat" at VND 6,676 billion, much lower than yesterday. The width in favor of the number of codes decreases when the number of red codes is 3.5 times more than the number of blue codes.
On HoSE, there were 51 gainers and 381 losers. Total trading volume reached more than 212.7 million units, worth 5,854.4 billion VND. The put-through transaction contributed more than 15.1 million units, worth 495.7 billion dong.
On the HNX, there were 38 gainers and 151 losers, the HNX-Index fell 4.97 points (-1.49%), to 328.06 points. Total matched volume reached more than 26.7 million units, worth 609.4 billion dong. The put-through transaction added 0.3 million shares, worth 10.7 billion VND.
UpCoM-Index closed the morning session also down 0.49 points (-0.5%) to 98.29 points. Total matched volume reached more than 11.1 million units, worth 187.5 billion dong. The put-through transaction had an additional 1.24 million shares equal 14.7 billion dong.
Entering the afternoon session, after a slight recovery at the beginning of the session, near 14:00, the selling momentum appeared again with increasing intensity.

By 3pm, the VN-Index dropped to 62.69 points, to 1,238.84 points (-4.82%); Meanwhile, HNX-Index also dropped 17.51 ​​points (-5.26%) to 315.52 points. Similarly, the UPCoM-Index also dropped 2.35 (-2.38%) to 96.44 points.
In the whole market, there were only 138 stocks increasing, while 556 stocks decreased, of which 221 stocks fell to the floor. The total trading value of the whole market at this time was only 17,962.81 billion VND.
Liquidity declines, securities investors turn to derivatives to "remove capital"
Regarding the reason for the recent drop in liquidity, Mr. Phuong said that some investors are afraid because the market is declining and unstable like today. Therefore, they do not participate much, or if they do, they participate in moderation and in the spirit of "hit quickly and quickly" is a lot. This is the first cause of the decline in market liquidity.
"For example, before they participated in 10 parts, now they only participate in 2-3 parts, causing the liquidity of the whole market to decrease," said Mr. Phuong.
The second reason is that in the past time when the market dropped, many investors suffered losses, from F0 investors to Fn investors. So they stop the game and don't enter the market anymore. This group of investors also makes up quite a lot.
The third reason, investors currently still have money but are "waiting". When the market is really stable, they will join.
"These are the three main reasons why the liquidity of the whole market has dropped so much. That means the cash flow is not much involved in the market," said Mr. Phuong.
In addition, according to Mr. Phuong, there is an additional reason that investors leave the base market to join the derivatives market in the hope of "removing capital" faster.
"The underlying market also needs time to increase, while the derivatives market only needs a few points to have a certain profit, if investors buy many contracts, they will have a profit. Not to mention the derivatives side, investors can buy and sell two-way, so the turnover rate is fast, the leverage ratio is high… so this is the choice of many investors who want to withdraw their capital quickly. ", Mr. Phuong added.
According to expert Phan Dung Khanh, Investment Advisory Director of Maybank Investment Bank, the short-term and medium-term trend of the market is still bad.
The retracements here are of a technical nature, that is, short-term declines but still mixed with short retracements, it is difficult for the market to bottom and then rise in the current context. Therefore, bottom-fishing investors should not expect the market to go up immediately.
According to Mr. Phan Dung Khanh, Vietnam's stock market is less affected than other countries; Because of monetary tightening, inflation in Vietnam is not too serious, policies are still supportive for the economy, some small banks have raised interest rates, while large banks have not.
However, this expert still recommends that investors should not rush to debug. Because the psychology of debugging is very dangerous, it leads to over-trading as evidenced by the continuous inversion of positions during the session that many individual investors are doing.
"Futures are a great product, but need to be approached in the right way and are not meant for beginners. High leverage and being traded in the session is one of the advantages of the derivatives market, but it is also a good thing. creates risks and psychological traps that are difficult to control without experience," said Mr. Khanh.
You are reading the article
VN-Index "evaporated" more than 62 points, securities investors sold-out like selling bottles and scraps

at
Blogtuan.info
– Source:
danviet.vn
– Read the original article
here