Ẩm thực
A few simple steps, familiar ingredients into delicious, cool dishes
Steamed egg tofu – strangely delicious shrimp
Material
3 eggs
3 pieces of young tofu
10 peeled shrimp
Green onions, tapioca starch, sugar, sesame oil, soy sauce, seasoning seeds, fish sauce, pepper…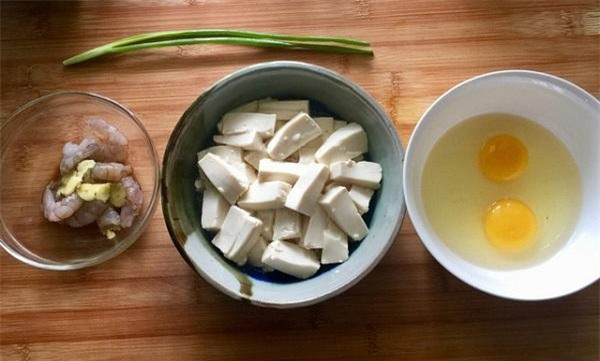 Making
Process materials.
Shrimp washed, peeled, halved, gutted and marinated with soup powder for a few minutes.
Young tofu cut into bite-sized pieces.
Crack 3 eggs into a bowl and beat them (add a little water to make the eggs spongy and tastier).
Make the sauce
In a bowl, add 1 tablespoon oyster sauce, 2 tablespoons fish sauce, 1 teaspoon sugar, 1 teaspoon sesame oil, 1/2 cup of small filtered water, stir well, pour into a pot to boil.
Mix 1 tablespoon of tapioca starch with filtered water and pour it into the sauce pot to create a consistency, then pour into a bowl to make dipping sauce.
How to steam
Place eggs and tofu in a large bowl and steam for 8-10 minutes.
Tofu – steamed eggs, then pour shrimp on top and steam for another 5 minutes.
Pick up a bowl of tofu – egg – shrimp, pour sauce over, garnish with onions, coriander
Tofu is healthy, high in protein without fat.
When tofu is combined with eggs, shrimp and sauce, it creates a delicious feeling without being bored, the rich sauce is very tasty.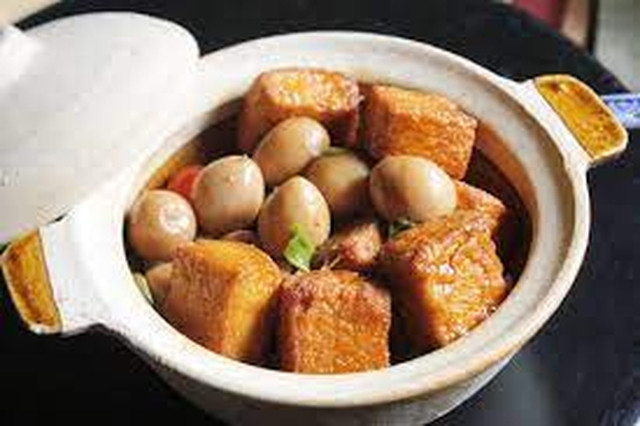 Braised tofu with meat – quail eggs – coconut water
Material
1/2 kg pork belly
4 pieces of tofu
20 quail eggs
1 coconut
Onion, pepper, garlic, chili, salt, sugar, fish sauce, cooking oil, soy sauce.
Making
Preliminarily clean pork belly, deodorize, cut into bite-sized pieces and marinate with spices (fish sauce, garlic chili, little sugar, pepper, minced red onion, chili, soy sauce) for about 30 minutes.
Put the pot of meat on the stove, on the hunting island, pour fresh coconut water over the meat and cook until cooked. If the water is dry, add coconut water (how to put beans and eggs in the coconut water and meat stock is still enough to penetrate).
While waiting for the meat to cook, boil and peel the quail eggs.
Tofu cut into small pieces.
When the meat is cooked, put the quail eggs, beans in the same warehouse on low heat until the coconut milk is almost exhausted, then turn off the stove, scoop out into a bowl, decorate with green onions to make it fragrant and beautiful.
This is the most sophisticated of the delicious dishes with tofu and eggs, but it is not new and because it is stocked with coconut water, it is very delicious.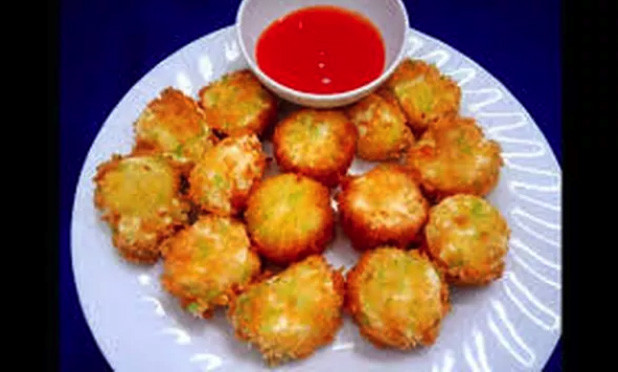 Strange fried egg tofu
Material
Tofu
Egg
Deep fried dough
The ingredients for this dish can be adjusted to your liking.
Making
Crack the eggs into a bowl and separate the whites and yolks.
Cut the beans into pieces (the size of a matchbox), lightly dip the beans into the egg whites, then lift them out, drain them, then roll them in the breadcrumbs.
When the oil is boiling, drop the beans into the pan and fry on medium heat, when the dough turns golden, flip and fry until both sides are golden, then remove to a plate lined with paper towels to absorb the oil.
The finished product has a crispy yellow bean skin, soft and smooth inner bean, greasy taste, and has a characteristic aroma. This dish is easy to make, very quick and delicious.
Strange fried egg tofu
Material
1 egg
1 box of tofu
Onion, little salt, pepper, cornstarch, oil for frying.
Making
Tofu cut into slices 1cm thick.
Finely chop the onions, break the eggs into a bowl and mix well, so add a little salt and pepper, mix well.
Cut the tofu into thick pieces (1.5×4 cm).
Take a clean plate and coat both sides of the tofu with cornstarch (cover one side then flip the other side), then dip the tofu in the egg and onion mixture.
Heat the oil and gently put each slice of tofu into the pan, fry one side until golden, then flip and fry the other side, then remove and place on absorbent paper.
Make the sauce
Put in a bowl 1 tbsp sesame oil, 1 tsp toasted sesame seeds, 1 tbsp soy sauce, 1 tbsp chicken broth, 1 tbsp finely chopped scallions, pepper, 2-3 finely chopped coriander leaves – is a sauce.
Pick up beans on a plate, when eaten, dip with sauce.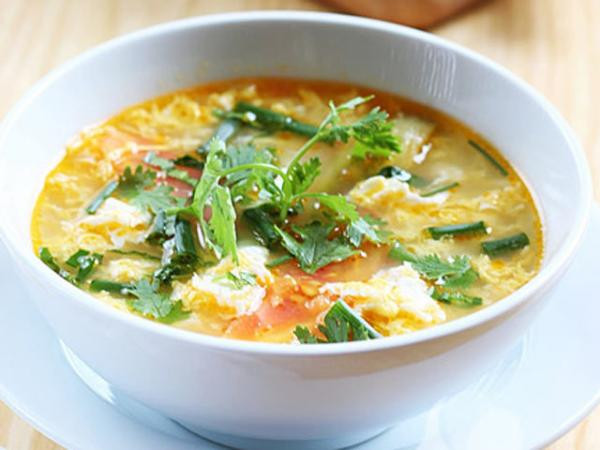 Tofu egg and tomato soup
Material
Tofu 2 covers
Chicken eggs 2
2 tomatoes, 1 red onion, green onions, spices.
Making
– Tomatoes washed, add areca zone.
– Tofu washed and cut into small pieces (younger tofu is more delicious)
– Break the eggs into a bowl and beat them
Stir-fry the purple onion, add the tomatoes with a little salt, and cook until cooked, then pour in the water and bring to a boil.
Add tofu and bring to a boil.
Break the eggs into a bowl, beat them, and then pour them into the soup, while stirring them to make the eggs into beautiful strands.
Season to taste, then turn off the heat, scoop the soup into a bowl, sprinkle scallions on top and serve hot.
The egg tofu soup cooks tomatoes very quickly and is delicious, cool, not boring – very suitable for busy, hot days.
By Family & Society
You are reading the article
A few simple steps, familiar ingredients into delicious, cool dishes

at
Blogtuan.info
– Source:
vietnamnet.vn
– Read the original article
here