Đời sống
Closing the season of gratitude with Danisa is full of emotions
Along with the spirit of gratitude and attachment to many memorable moments between mother and child, Danisa has inspired Vietnamese consumers to actively express gratitude and appreciation to their mothers on Mother's Day this year.
Danisa and the journey to spread the culture of gratitude to Vietnamese consumers
As a brand symbolizing gratitude, Danisa has had a long journey to bring this cultural beauty closer to Vietnamese people over the years. The image of a delicious cookie has been present in the lives of many generations of Vietnamese families for 20 years, especially during the holidays.
Not only that, the Danisa box is also a "witness" for warm and precious memories between mother and child during the journey of adulthood. Thank you teachers for teaching me to be a human being, is a precious gift to give to grandparents on New Year's Day with wishes for good health or simply a box containing mother's needles, a box that mom keeps the image of her child since childhood. was born, encapsulating a mother's love for her children and the whole family.
On Mother's Day this year, Danisa continues to make her mark in the gift market through the program "Mother's Gratitude Box – Opening Golden Memories" to encourage everyone to share the golden moments between mother and child as well as children. Express your love to the special woman in your life. The prize is "Mother's Gratitude Box" which is meticulously crafted, meticulously cared for with many individually designed, valuable and meaningful gifts for lucky mothers, such as gratitude from Danisa to consumers on Mother's Day this year.
Mother's Day is full of "hard" but "cute" gratitude words
In just 2 weeks, the program has spread to millions of consumers with many unique and equally meaningful ways of expressing gratitude to mothers. First of all, hundreds of online cards and meaningful stories about mothers have been expressed by consumers on Mother's Day.
Mai Mai Trang shared with her mother what she has always kept in her heart. "Mother deserves love. When you love someone, you want to protect them, make them the happiest person." Every love needs to be expressed, and Danisa accompanied her children to relive the emotional moments of a special day dedicated to their beloved mother.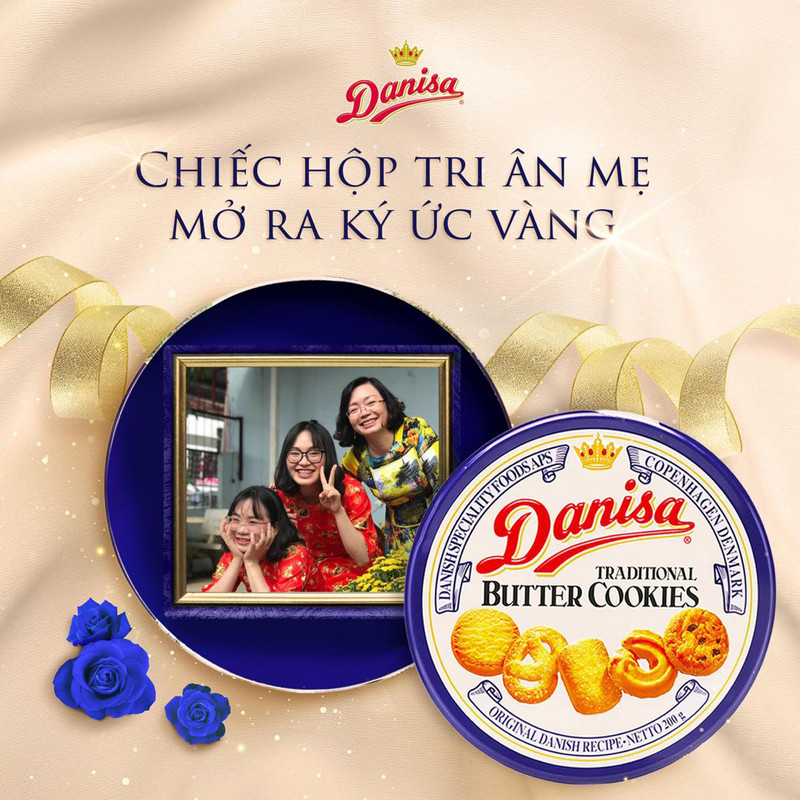 And more surprising is the presence of many unique creative works from talented young people on social networks on the familiar Danisa blue tin box. Young artist Le Duc Hung showed his talent in painting, and at the same time called on his fans to join him in the program "Mother's Gratitude Box – Opening Golden Memories" to show gratitude and love to "female women". king" of his heart.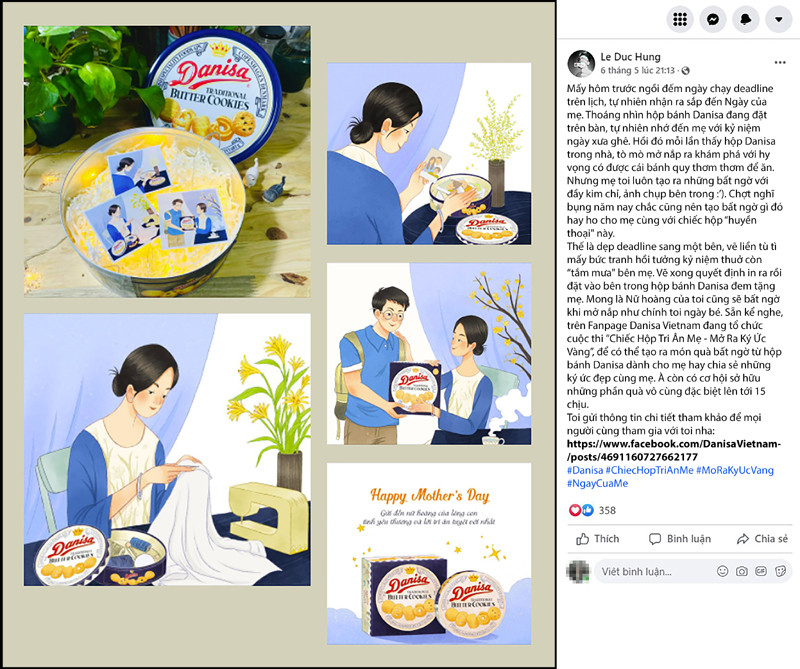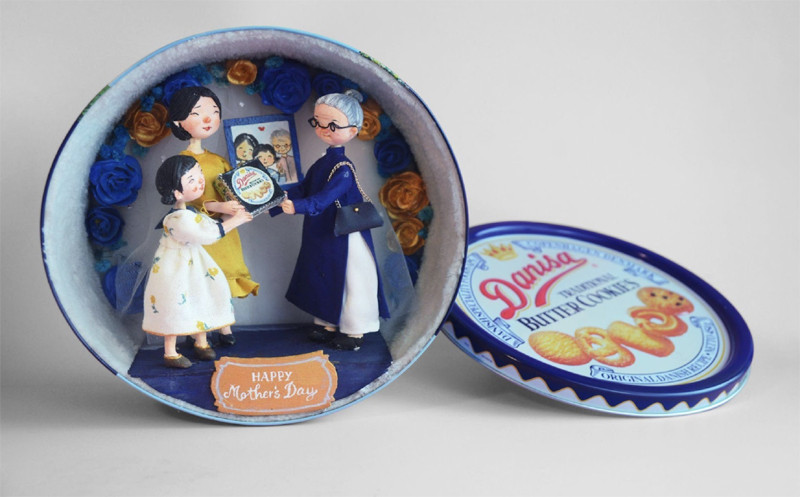 Inspired by that, many consumers have sent Danisa unique handmade works. From sewing needle boxes, flower baskets to model bicycles, wall clocks and even potted plants… are all created by consumers based on the "national" butter cookie box material. Mother's farmer, friend Tran Thi Ly Nhu made a potted plant to simulate the image of her mother and her beloved home on a box of Danisa butter cookies that are very close to the family's memories. This meaningful work helped Ly Nhu win the Mother's Gratitude Box award from Danisa brand.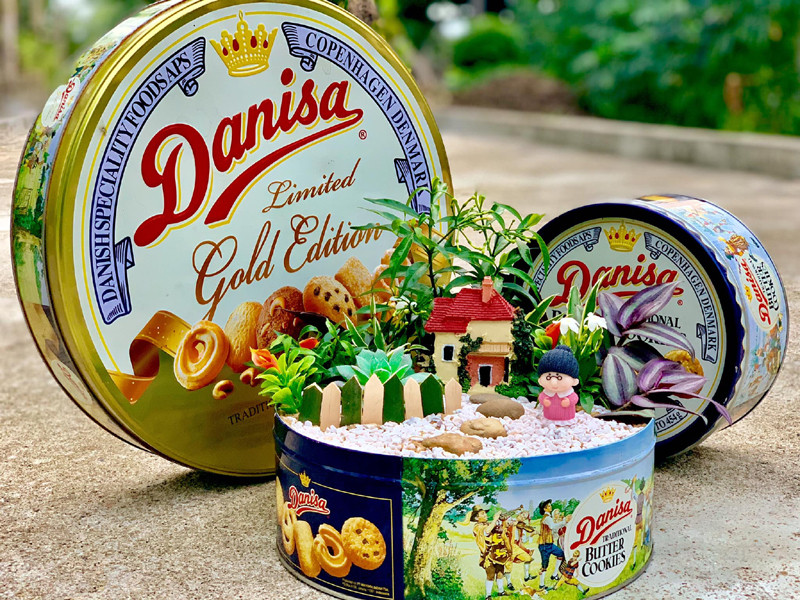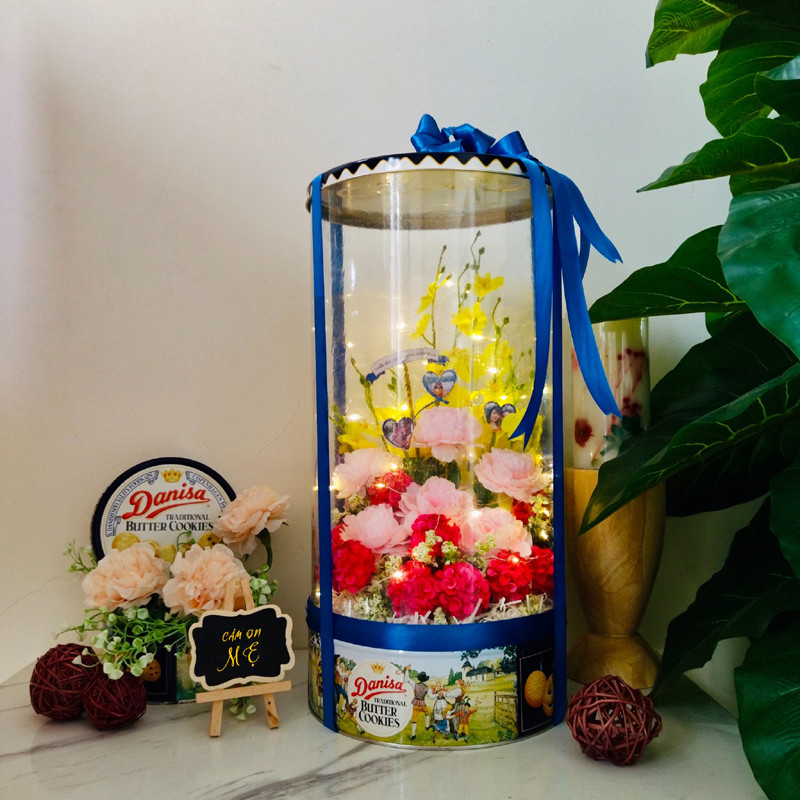 The loving expressions of children through the brand are a symbol of the gratitude culture that has warmed the hearts of thousands of Vietnamese mothers. Ms. Le Thi Tien, Ly Nhu's mother is one of the first 4 owners of the Mother's Gratitude Box. Tien happily shared: "Very surprised when my daughter gave me a small potted plant to recreate the lovely house, the feeling is so familiar. The blue tin box brought back a lot of good memories for her. And indeed the joy is doubled when she receives a meaningful gift from Danisa. This valuable gift has shown the spirit of gratitude and helped spread the love of children to mothers. She would like to thank Danisa – a familiar and indispensable butter biscuit brand in every Vietnamese family."
Also in this year's gratitude season, thousands of boxes of Danisa cakes were sold nationwide, bringing joy to the recipients as well as opportunities to express from their children whether they are far or close to the butter biscuit brand. Premium from Denmark.
Learn more about your chance to win a Mother's Gratitude Box through the Wheel of Fortune program at https://www.facebook.com/DanisaVietnam. Participation period is until the end of May 31, 2022
Doan Phong
You are reading the article
Closing the season of gratitude with Danisa is full of emotions

at
Blogtuan.info
– Source:
vietnamnet.vn
– Read the original article
here