Business
Cloud technology promotes Vietnamese game industry to reach out to the big sea
The game industry is "immune" to the pandemic

In this complicated epidemic time, users are increasingly looking for online entertainment activities to fill their time at home. Entertainment activities such as music, movies, and online games are becoming more and more popular. But most of all, users are now gradually preferring a long-term and more age-appropriate hobby – online games.
According to data from Newzoo, in 2021, there will be nearly 3 billion people playing games globally, up 5.3% compared to 2020. According to statistics of App Annie Intelligence, Vietnamese game companies ranked 7th in terms of games played. The most downloaded in the world. Vietnam ranks second in Southeast Asia in terms of market share of downloading games on mobile applications. The average daily time spent playing games by Vietnamese mobile users is up to 3.9 hours – 10% more than the average user in the US. The gaming community is not only large, but also very diverse in terms of ages, professions and interests.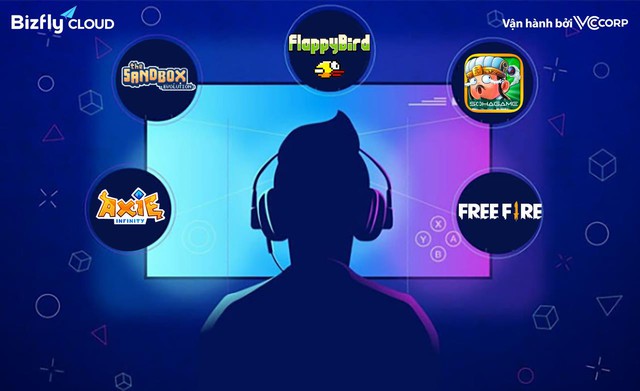 There have been many games developed by Vietnamese people and created global crazes such as: Flappy Bird, Free Fire, Axie Infinity, Sandbox, etc. At the NFT+ GameFi exhibition, Vietnam was predicted by experts to become a prime minister. government of the new generation game. This is also a golden opportunity for game makers to explode in the future. At this time, the strong technology infrastructure will be a solid springboard for the Vietnamese game industry to reach the international level.
Bizfly Cloud accompanies the Vietnamese game industry to develop sustainably
The focus of the gaming industry is gradually shifting from manufacturing hardware or consoles to developing compelling and lasting game content in the cloud. The benefits of cloud technology for both gaming businesses and players have created turning points that change the face of the entire gaming industry and create great opportunities for businesses to take advantage of technology. this. Bizfly Cloud is currently an infrastructure provider for Sohagame – a pioneer online game publisher in Vietnam. With the ability to master technology and a team of highly qualified experts, Bizfly Cloud will be a reliable companion to help game developers accelerate their journey to the big sea.
Bizfly Cloud Server – High availability cloud virtual server solution for online games
Game traffic is difficult to predict, especially when a new game is released in the market or during a big promotion campaign. The biggest challenge for Sohagame in particular and game developers in general is that the server infrastructure must be strong, low latency and almost zero downtime to satisfy the perfect experience for players. A common solution is to upgrade the infrastructure to deal with the massive traffic. However, this is very complicated and difficult with the traditional game operating model using a physical server or VPS. The process of configuration upgrades and scaling can cause downtime that affects the user experience. Furthermore, the cost of upgrading is also quite high and can lead to waste when the peak period is over. At this point, choosing a cloud virtual server with 99.99% uptime, which can adjust resources to actual needs like Bizfly Cloud Server is the key to effectively solving the above problem.
Sohagame representative shared: "There are 3 main factors that we choose Bizfly Cloud Server: the first is good load capacity, higher stability than a physical server or VPS to help reduce data processing latency between users. The game is connected to the game server; the second is the ability to flexibly increase or decrease the number of servers almost instantaneously right on the dashboard; and the third is the payment method where you can pay there. Thanks to that, Sohagame was at the same time. ensure the server always runs smoothly, while optimizing infrastructure costs."
Bizfly CDN – Content Delivery Network that optimizes speed and performance for online games
Even a single second delay can ruin the player's experience. Especially today's online games are played in 4K or ultra HD with huge file sizes that require data download speeds to be optimized and further accelerated. That is also the reason that Sohagame has chosen the Bizfly CDN solution to optimize the speed and performance of its game products. This is a solution to reduce the load on the original server, increase data access speed, overcome lag or server crash, and ensure stable game server operation. This often happens when Sohagame releases new game content or new patches. All game data is cached on CDN instead of centrally stored in an original server, the load bandwidth will be more balanced. This reduces direct requests to the origin server, overcoming server crashes, service interruptions, or slow load times. As a result, operations on the application are smoother wherever players are, even during peak hours with a spike in the number of players.
Bizfly Cloud is a leading provider of IT/Cloud infrastructure for digital transformation, operated by VCCorp – one of the four core businesses in the "Campaign to promote digital transformation by cloud computing technology". Vietnam" of the Ministry of Information and Communications; fully meet all criteria and technical criteria of the cloud computing platform serving e-Government.
Businesses can register for a free experience and receive attractive offers when accessing: https://bizflycloud.vn/.
Hotline support: (024) 7302 8888 – (028) 7302 8888
https://cafebiz.vn/cong-nghe-dam-may-thuc-day-nganh-cong-nghiep-game-viet-vuon-ra-bien-lon-20220512162737642.chn
You are reading the article
Cloud technology promotes Vietnamese game industry to reach out to the big sea

at
Blogtuan.info
– Source:
cafebiz.vn
– Read the original article
here