Gia đình
Dak Lak's mother planted a giant mustard plant, she had to take a ladder to harvest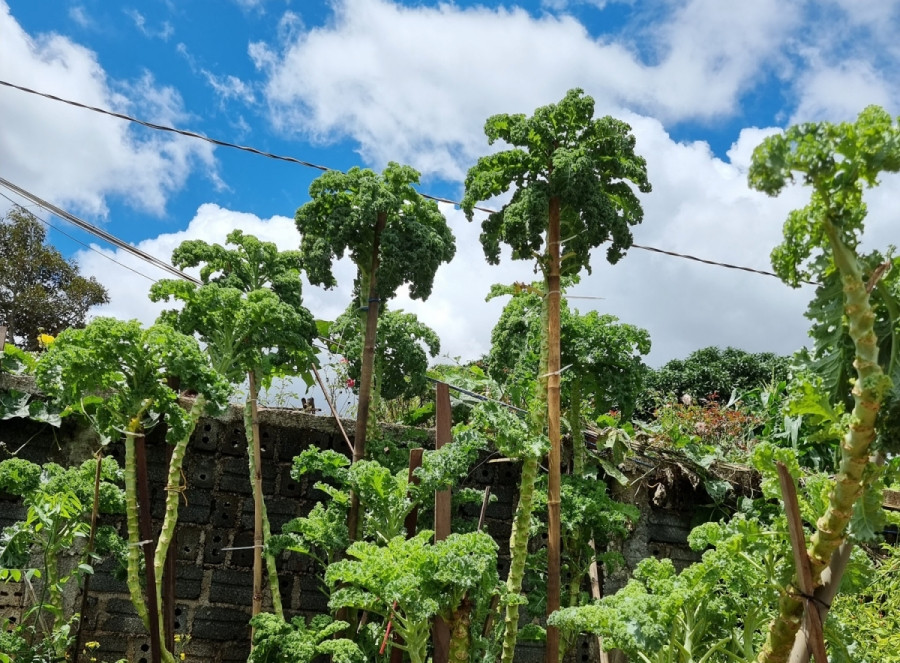 Climb the wall, climb the ladder to pick vegetables
Three years ago, Ms. Dang Thi Thom (SN 1985, hometown of Dak Lak) started growing kale after noticing that the common varieties "had not yet been harvested and were old". Having experience in growing vegetables and ornamental plants, her kale beds are quickly green and tall.
In particular, some kale plants grow unusually fast. They continuously grow tall like trees. Up to now, her garden full of fruit trees is highlighted by 3 kale plants that grow more than 3m high.
From a distance, not many people know this is kale. Many people mistakenly think they are areca, papaya, coconut… Ms. Thom shared: "The tallest tree I've grown since 2020. At first, I also thought the tree would only live and give leaves for 1 year."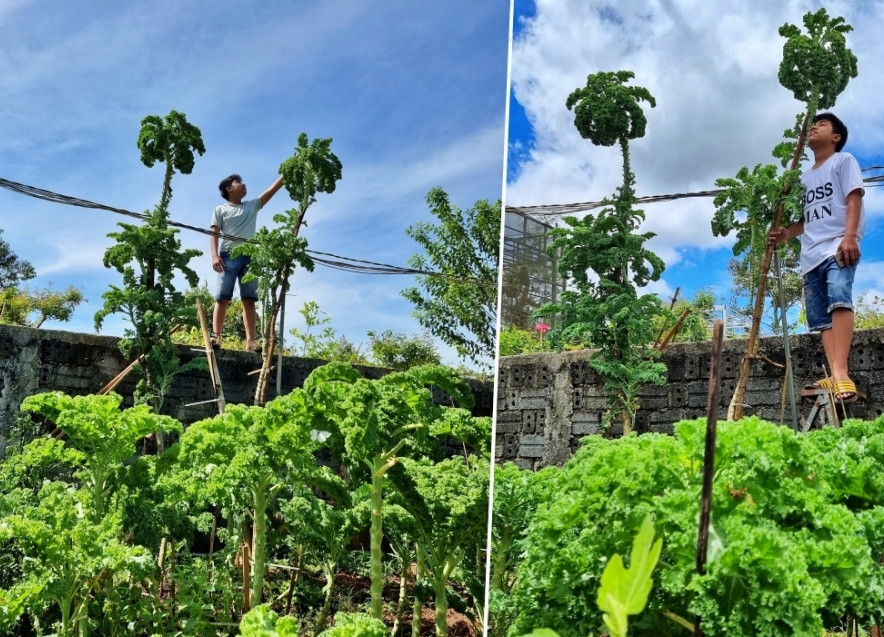 "Unexpectedly, after harvesting, the tree was still growing and continuously tall. Up to now, the tree is more than 3m tall. The stem and trunk are hard like a tree trunk. However, the plant still gives normal young leaves. In particular, picking leaves from this tree to eat is still fresh and delicious like newly planted cabbage," she added.
Owning "giant" cabbage plants, Ms. Thom and her family members also have special ways of caring and harvesting. Every time catching worms, picking leaves, she and her children have to climb the wall or climb a ladder to reach the young green leaves of the tree.
Due to the weak trunk, when the tree is tall, Ms. Thom has to put up a stake and make a support so that the tree does not break or fall. Every day, Ms. Thom spends time observing and taking care of her "giant" kale plants.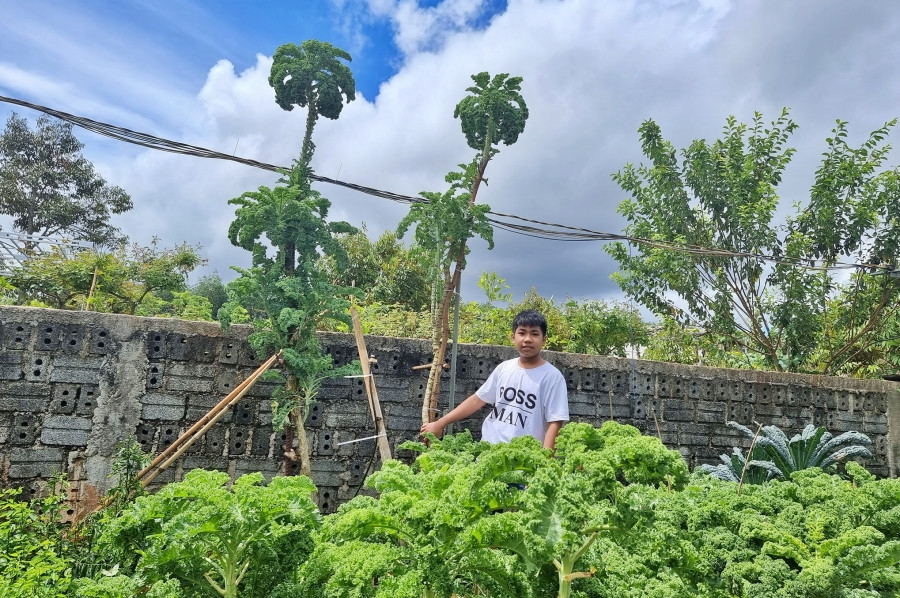 To ensure good plant growth, she tries not to use drugs and chemical fertilizers. She even accepted to climb the wall, climb the ladder to catch the tree worms by hand every day.
Only when it was too deep, and unable to catch it by hand, did she use biological products. However, before spraying, she usually harvests all the big leaves and old leaves and then presses them into water, smoothies… to use.
Two weeks after spraying, the plant gives young leaves again. At this time, she can harvest the leaves to make dishes to her liking. Each time she harvests, she leaves a few young leaves for the plant to photosynthesize and continue to grow.
A virtual place to live, have fun with your children
After 3 years of growing the nutrient-rich mustard seed, Ms. Thom has grasped the basic experiences, helping the plants to get rid of pests and diseases and die from stem rot. Before planting, she treated the soil carefully, free of diseases, well drained …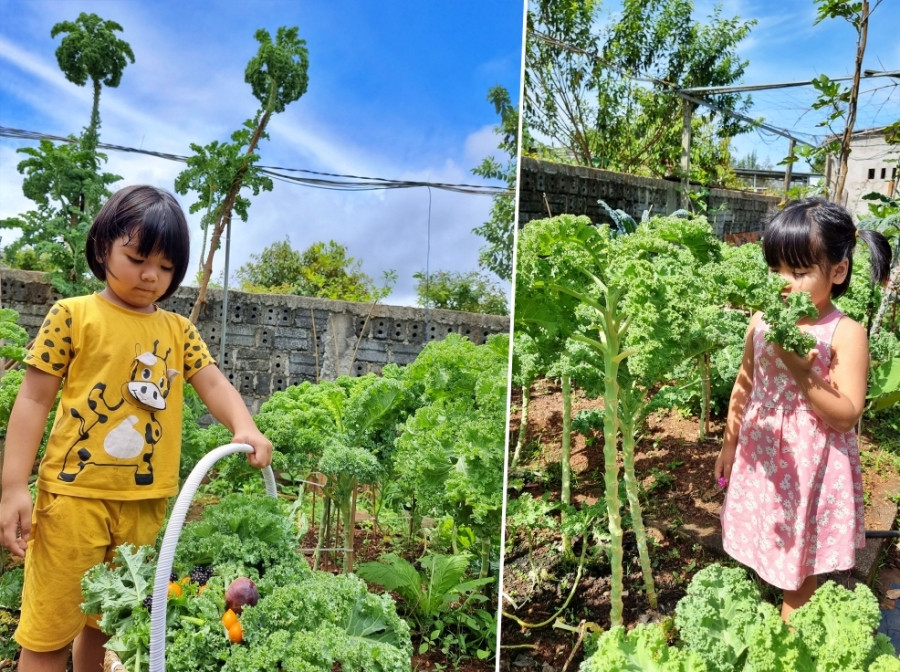 When she discovered that the tree showed signs of stem rot, she removed the rotten part. After that, just apply dry powdered lime to the spot where the tree has just been removed, it will not die. Thanks to this method, she successfully saved and nurtured her 3m tall kale plants.
In addition to the local people, the unusually tall cabbage plants also surprised and delighted Thom's children. "Because the tree is quite tall, my children love to watch and take pictures," she said.
"Every day, my children go to the garden with me to look at trees, catch worms, and pick fruits. My older children often climb the walls, ladders to catch worms, pick leaves on kale plants over 3m high. The children showed great interest in this work."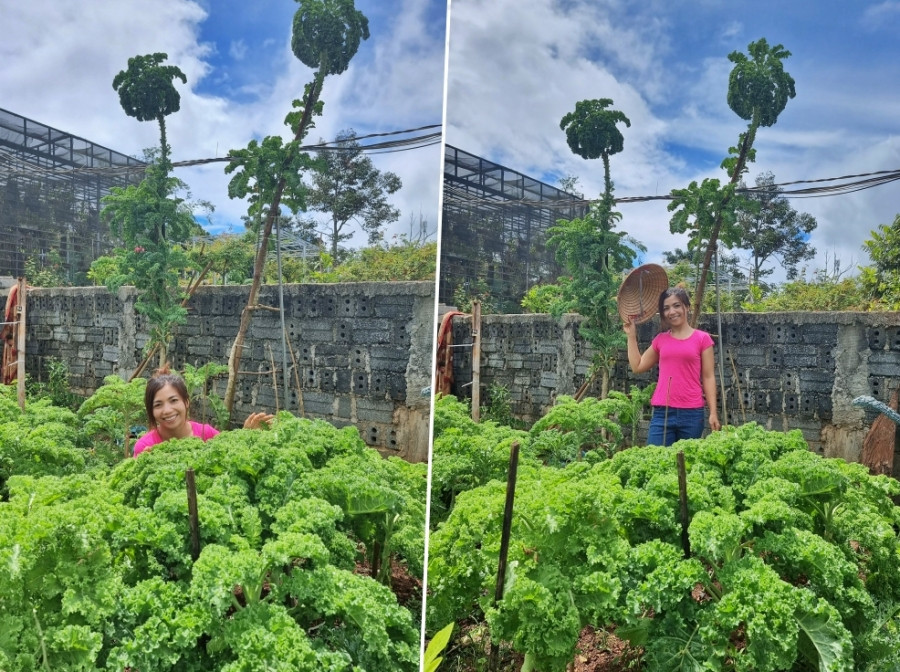 In addition to growing tall kale plants, Ms. Thom is also famous for being good at growing fruits. Before having a garden full of vegetables and fruits, she made everyone admire when she successfully planted a colorful rose garden.
At that time, her garden was covered with roses from native to imported. Later, she realized that just planting flowers in the garden would be a waste of land. She thinks it is advisable to grow more vegetables and fruit trees to supplement natural sources of vitamins for the whole family.
After that thought, Ms. Thom embarked on renovating her rose garden. She grows more vegetables and fruit trees. After a few years, the garden was filled with fruits and young vegetables and became a place for her to play with her children.

She shared: "Every day I am outside in the garden to plant and take care of trees. The hard work, I will ask my husband. The rest, such as weeding, fertilizing, harvesting, etc., I do all by myself."
"I have a passion for planting, watching and harvesting fruit trees, so even if I were to dry in the sun or rain in the garden, I wouldn't feel extreme. On the contrary, I feel happy because there is a garden for the family to have vegetables for year-round use as well as a place for the children to play and get acquainted with plants," she added.
Item: Ha Nguyen
Photo: Character provided
You are reading the article
Dak Lak's mother planted a giant mustard plant, she had to take a ladder to harvest

at
Blogtuan.info
– Source:
vietnamnet.vn
– Read the original article
here