Nhạc
Dong Nhi lost 1 cup, walked 1 mile with continuous PHOT from fans
Dong Nhi probably didn't expect that there was a time when she had to suffer when facing the biggest "fan exit" in Vbiz history; appeared a series of accusations against the female singer from her own fans.
On the evening of May 12, Dong Nhi suddenly had a harsh reaction to fans on her personal page, stemming from the fact that her company was accused of "robbing" a YouTube channel set up by a longtime fan.
The singer affirms: "FC Dong Nhi belongs to the company from the beginning, there is no robbery here. The company has never asked you to help build it, it's all voluntary. Why do you say otherwise now? ".
In addition, the female singer hinted that this person intentionally caused division between fans and the company, and expressed dissatisfaction when fans attacked and attacked members of her crew.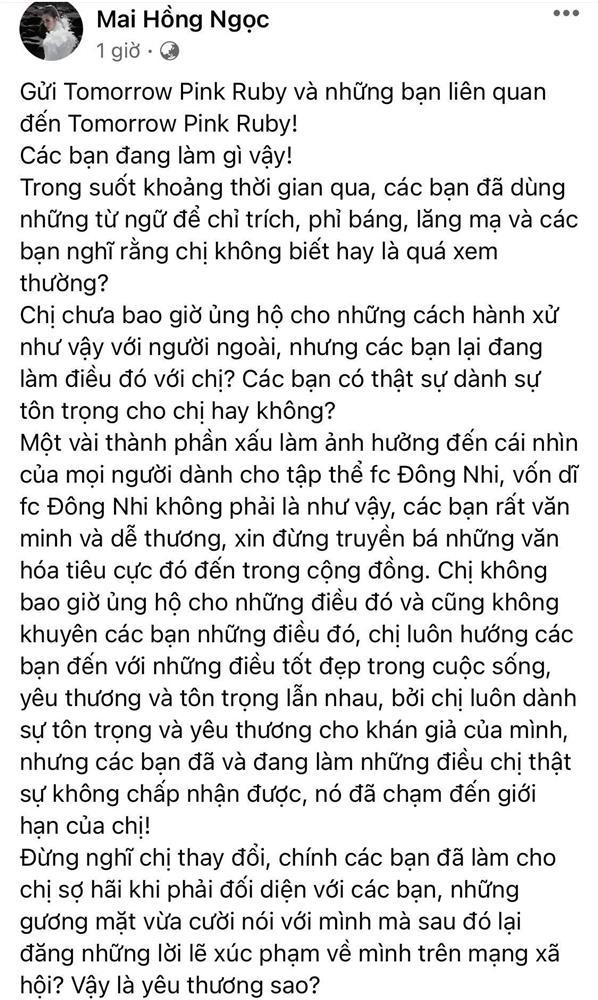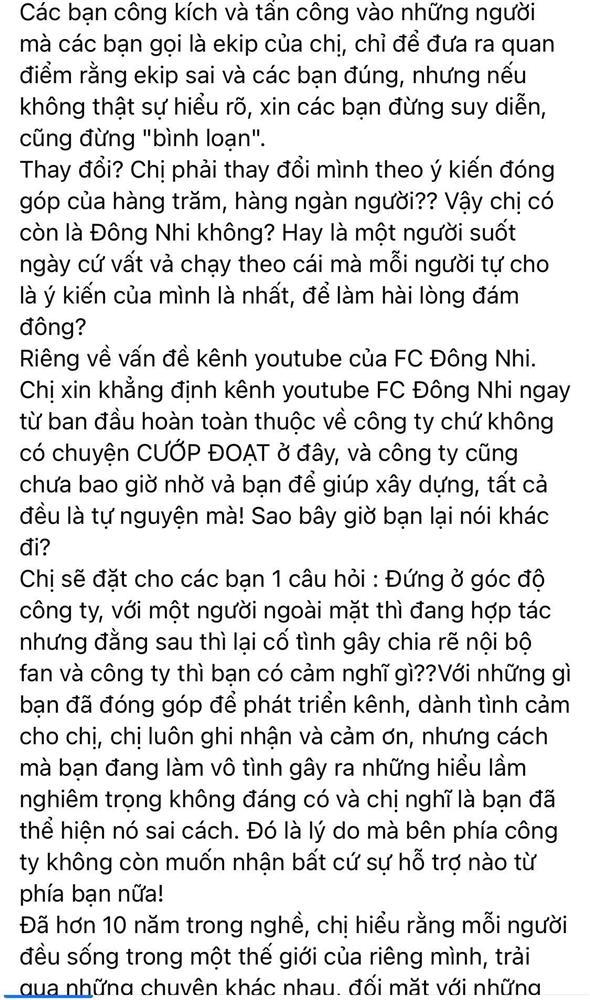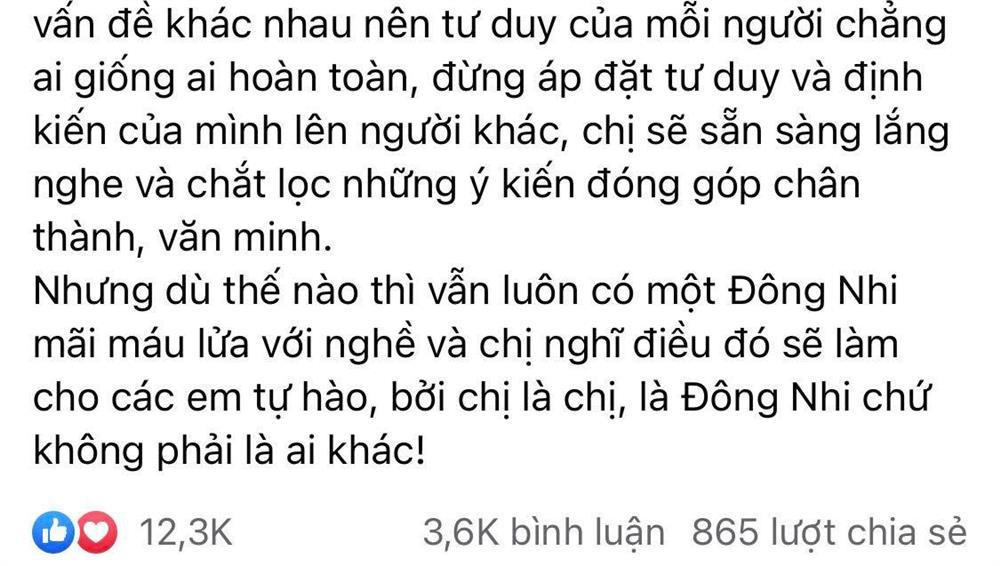 The biggest "fan escape" in Vietnamese music history
Immediately after posting, Dong Nhi's post sparked controversy. Many fans were surprised and disappointed by the way she and her team handled it. Many disgruntled comments said that Ong Cao Thang's wife was deliberately making excuses for the crew and disregarding the fans.
Even, a series of statements "escape fans" despite having accompanied Dong Nhi for more than 10 years: "Hello to the person who was my youth", "Sorry, sister, I decided to turn the car", "From now on, please put your poster in a corner"…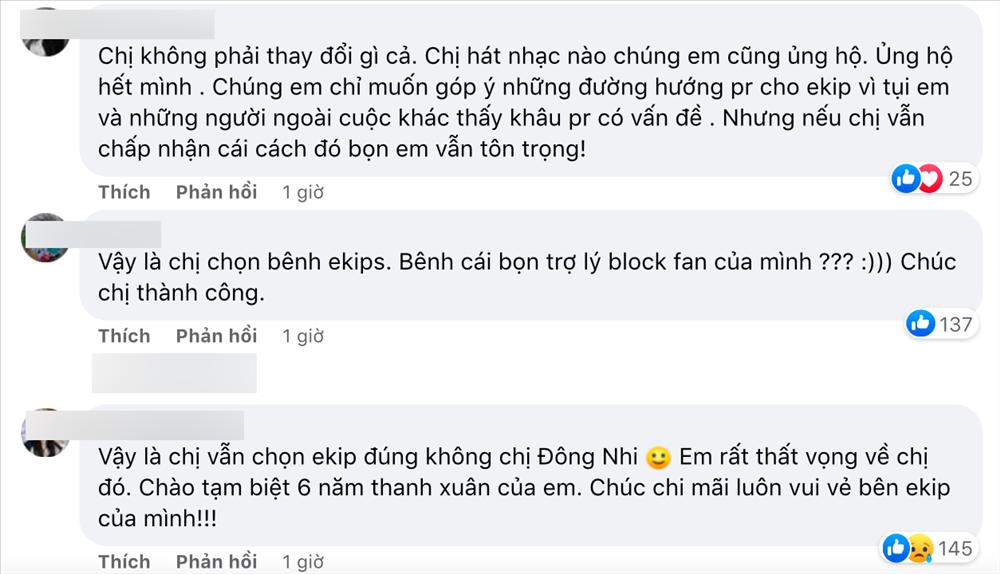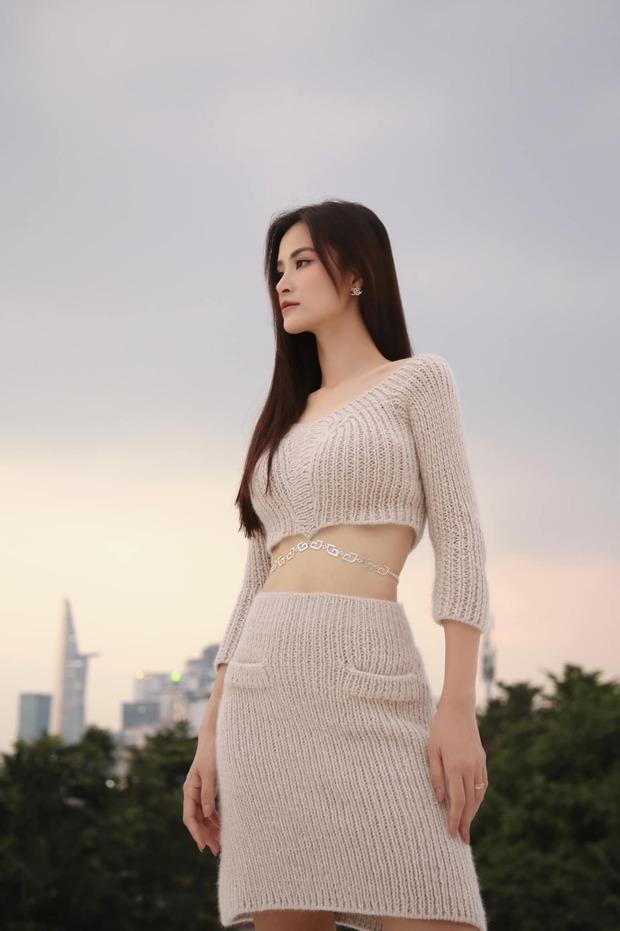 Not to mention, the number of followers on Dong Nhi's fanpage also shows signs of decreasing. As recorded, there have been more than 1,000 accounts unfollowing the page, showing that the voice My Eyes Are Sorrowful are making fans unhappy about their unsophisticated behavior when they are in trouble.
The wave of "boycott" broke out
Quitting fans, peeling off… not enough. Currently, the online community is asking for the song to be removed Vinawoman (Vinawoman) of the Dong Nhi from Miss Universe Vietnam 2022.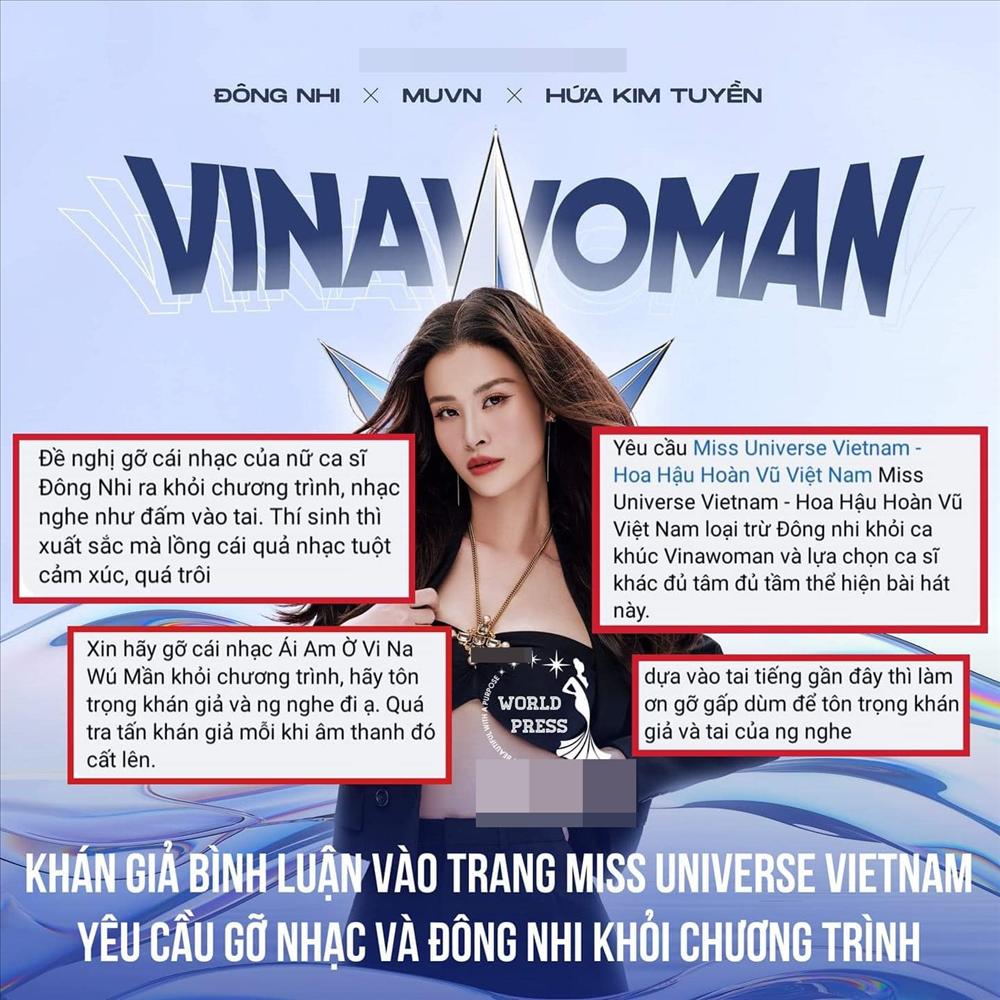 Below the post on the contest's fanpage, some viewers left comments:
– Suggest to remove the song of female singer Dong Nhi from the program
– Ask Miss Universe Vietnam – Miss Universe Vietnam to remove Dong Nhi from the song Vinawoman and choose another singer with enough heart and ability to perform this song.
– Dong Nhi looks down on fans, without fans, fans don't need Dong Nhi now
– I hope the organizers remove the song of a certain singer. If you do not respect the audience, you do not deserve to participate in a national beauty contest. Consider the image of the contest.
It seems that Dong Nhi's career is being affected more or less after the "ruffled" letter. Not only Dong Nhi but any artist needs to remember that a media incident can completely take away everything from a star, if the crisis management method goes the wrong way!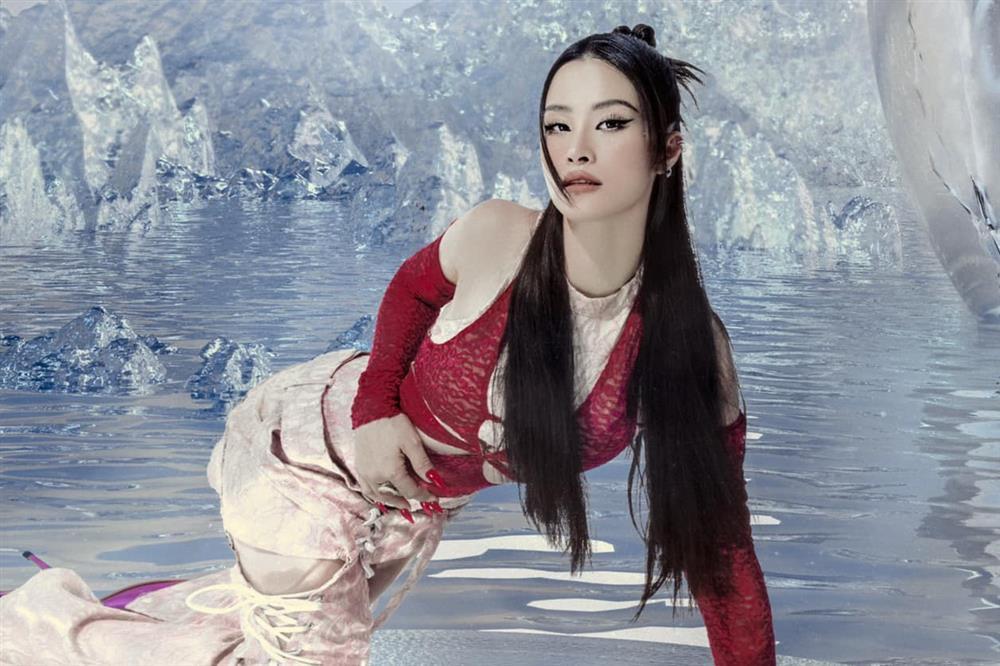 Fan turned antifan: The most "failure" of an artist
Not only stopping at "escape fans" and "boycott", Dong Nhi also has to face a storm of "peeling out" from the position of a true fan. Currently, on social networks, there are many songs "accusing" of the female singer in the past.
Specifically, fans re-released the clip "peeling" Dong Nhi who used to hire people to cheer at The Voice 2017 in FC groups.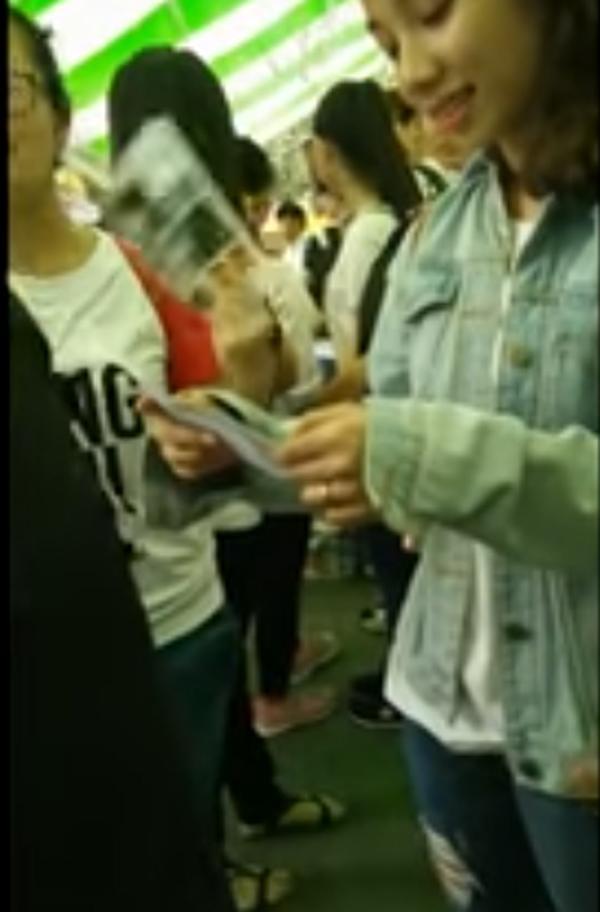 In the clip, a female audience member introduces everyone around what to do during the recording session is to wear FC (fan club) shirt and cheer for Dong Nhi team. This person also emphasized that if you do not follow the instructions and are reminded many times, the audience will be asked to leave the studio.
"Today I participated in The Voice program and we are Dong Nhi team. I will give FC shirts to some friends to change. When you receive shirts, you change and go in, return them to me at the end of the day. Hope you guys can change them. cooperation, when I lead an activity, for example clapping or calling singer Dong Nhi's name, please follow me".
Below the clip, there are many comments from netizens:
– Anti is not scary, the scariest thing is that longtime fans turn to anti
-There's nothing scarier than fans turning to antis
– Dong Nhi fan turns the car and is uploading the clip slowly. It's not the antifans that are scary but the true fans who turn their backs on
– After 10 years as a fan, when it's time to become an antifan, I'll show it all to the world
– Tomorrow Pink Ruby is traumatized
– Next time, let's take a look at it at full capacity
– Dong Nhi self-destructed this trip very strongly, the most afraid is that the fans turn to anti
Not stopping, Dong Nhi's charity noise in 2021 was also "reopened" with a series of questions raised. In particular, the essay has content emphasizing the "Dong Nhi did not spend any money for the people but kept the money from the people for 6 months".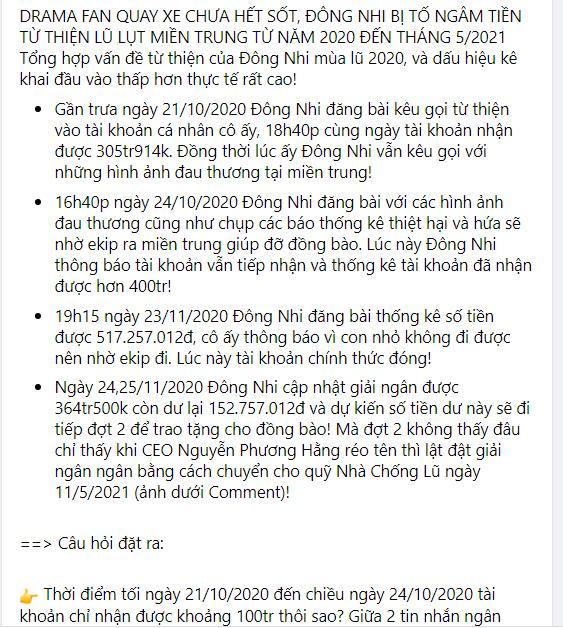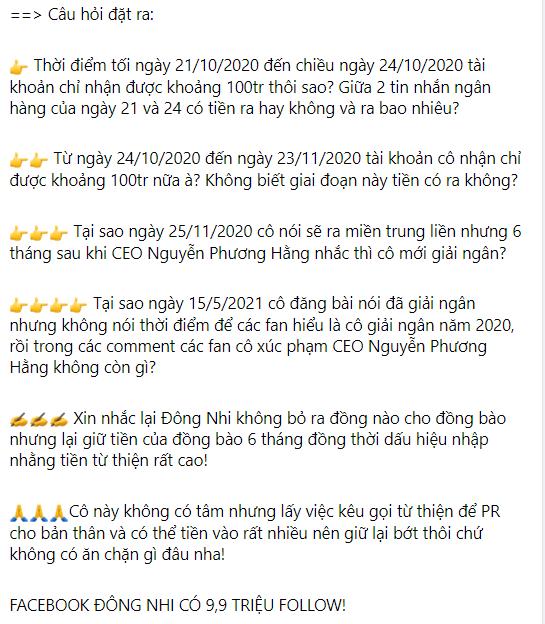 Regarding this, at that time, the East Nhi side spoke out, showing that the charity work was very clear and transparent.
Accordingly, the total amount Dong Nhi has raised is 517,257,012 VND, of which 364,500,000 VND is spent on direct relief activities, accompanied by a specific list of households and relief activities.
The remaining VND 152,757,012 was sent directly to Dong Nhi's program by Dong Nhi, with clear certifications.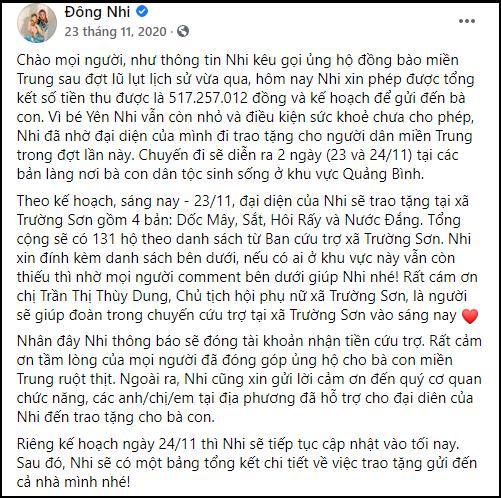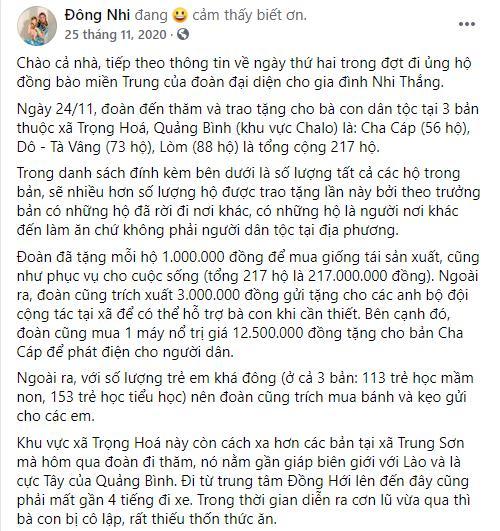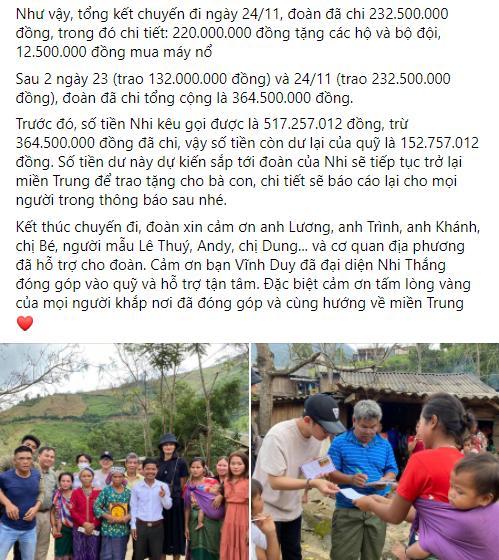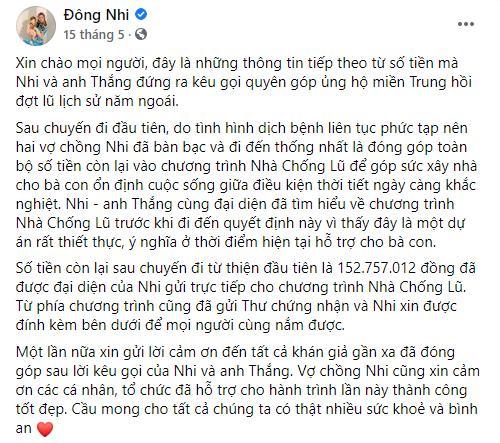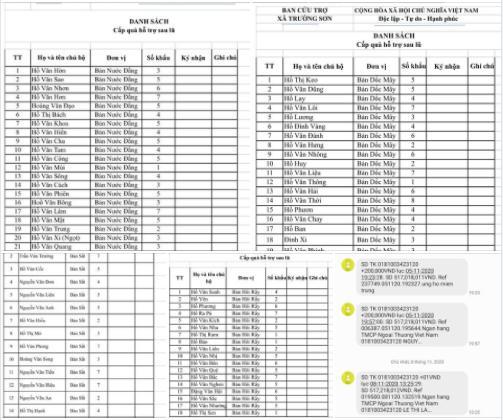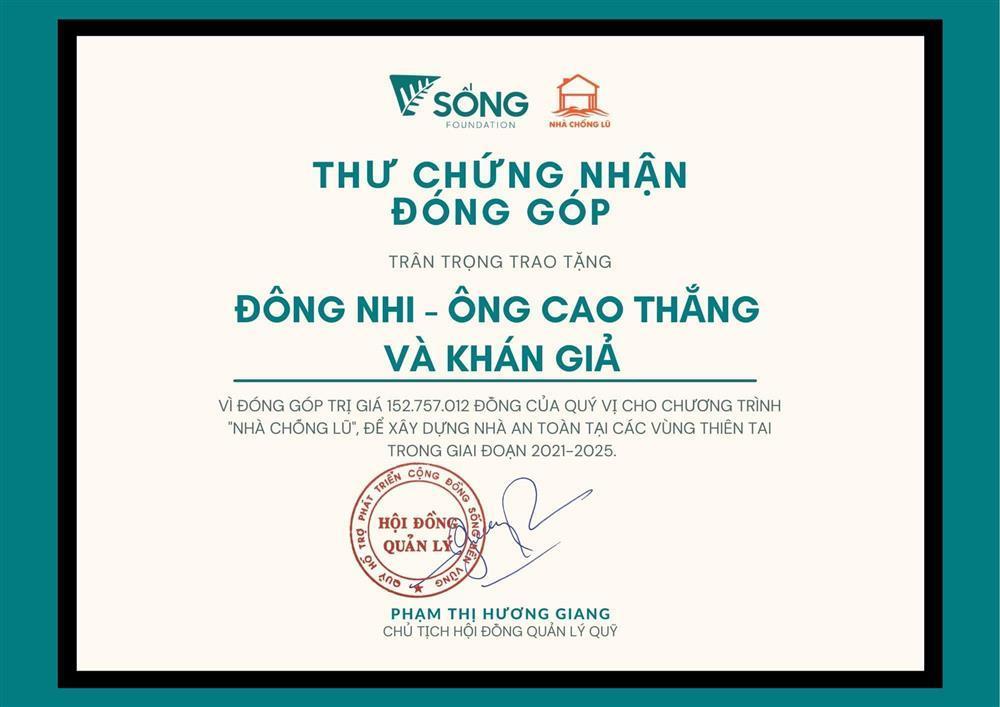 Currently, the noise related to Dong Nhi is the focus of public attention. Artists always need fans, are loved by fans, but unfortunately, Dong Nhi is falling into the case of being "rejected" by her own fans.
Thu Ha
According to VietNamNet
You are reading the article
Dong Nhi lost 1 cup, walked 1 mile with continuous PHOT from fans

at
Blogtuan.info
– Source:
2sao.vn
– Read the original article
here