Tesla and its rivals in the electric vehicle market are racing to dominate the future of electric cars. But there is a kind of green traffic emerging based on the most abundant resources in the universe. It's an electric vehicle powered by a hydrogen fuel cell. However, the CEO of Tesla once expressed his strong views on hydrogen and hydrogen fuel cells.
A few years ago, when this topic was brought up in a discussion with reporters at the Automotive News World Congress event, billionaire and electric car mogul Elon Musk called hydrogen fuel cells "incredible." nonsense".
Elon Musk said: "It's very difficult…to make hydrogen, store it, and use it in cars. The best hydrogen fuel cells can't beat the current basic batteries, so, obviously…it doesn't. what do they mean".
He added: "That will become clearer in the next few years. There is no reason for us to argue about this. I have stated my opinion, with time it will become clear, I I don't know what else to say."
Since making that comment, Elon Musk's views don't seem to have changed much. In June 2020, Elon Musk tweeted that "fuel cells = sell scams". Also in July of that year, Musk added that "the hydrogen scam is pointless".
In an interview with FT at the Future of Car conference on May 10, the CEO of Tesla again reiterated his skepticism about the role of hydrogen in the transition to more sustainable energy. He called hydrogen "the dumbest thing" he could imagine about storing energy. Elon Musk insists that hydrogen is a bad choice.
The first question to ask is what technology background does a hydrogen fuel cell have that makes Elon Musk so skeptical?
The US Environmental Protection Agency (EPA) describes hydrogen fuel cell vehicles, also known as fuel cell electric vehicles (FCEVs), as similar to electric vehicles. Instead of internal combustion engines, they combine hydrogen stored in tanks with oxygen in the air to generate electricity, which powers the wheels. The waste product is water vapour.
The key difference is that electric vehicles have batteries that need to be charged by connecting the vehicle to charging points. Meanwhile, the EPA says that fuel cell vehicles use hydrogen gas to generate electricity right inside the vehicle.
Unlike conventional battery electric vehicles, hydrogen cars are recharged as quickly as petrol or diesel pumps for conventional vehicles. According to the US Department of Energy's Alternative Fuels Data Center, an FCEV "emissions only steam and warm air". But scientists are concerned that hydrogen production can lead to pollution.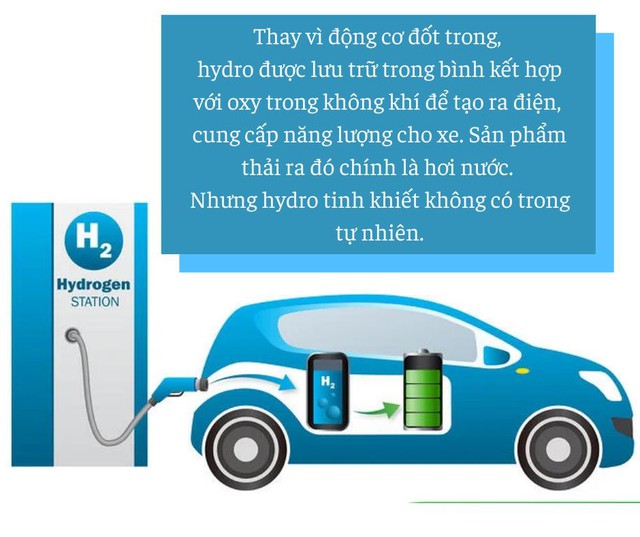 Renewable hydrogen sources are on the rise, but most of the pure hydrogen is not found in nature and needs to be produced from traditional natural gas.
If the electricity used in the process comes from a renewable source such as wind or the sun, some call the resulting green hydrogen or renewable hydrogen. However, the production cost is very high.
Today, most hydrogen is made using fossil fuels such as coal and methane, and these are known as blue or gray hydrogen. Some other production methods include electrolysis of water. Elon Musk argues that the efficiency of the electrolysis of water is very poor and it takes a lot of energy to separate the hydrogen. He also lamented that the amount of energy needed to liquefy hydrogen was immense. As such, Elon Musk has maintained his skepticism and shows no sign of favoring hydrogen in the future.

Elon Musk is not alone in opposing the use of hydrogen in cars.
In February 2021, CEO Herbert Diess of the German auto group Volkswagen, weighed in on the topic. He wrote on Twitter: "It's time for politicians to accept science. Green hydrogen is necessary for steel, chemicals, aviation… and should not be used for cars. Too expensive, inefficient, slow, difficult deployment and delivery. In short: there are no hydrogen cars in my sight."
Musk and Diess are two senior leaders at the top of large companies with far-reaching influence. What they say has weight. However, it seems that their views on hydrogen cars are not shared by many in the automotive field.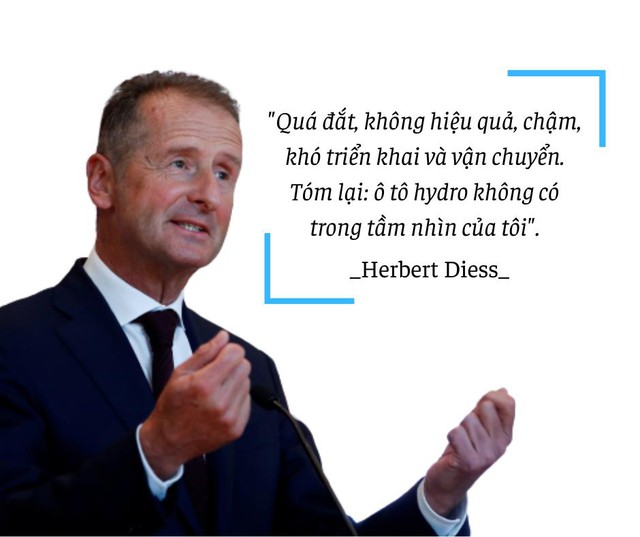 Until now, companies like Toyota and Hyundai have produced vehicles powered by hydrogen fuel cells. Meanwhile, smaller manufacturers like Riversimple are also working on hydrogen-powered vehicles.
In June 2021, the BMW Group said it had begun testing vehicles with hydrogen fuel cell powertrains. The company says hydrogen fuel cell technology has "long-term potential to complement internal combustion engines, plug-in hybrid systems and electric vehicle batteries".
A Toyota spokesperson told CNBC: "Fuel cell cars will certainly play an important role in the decarbonization of transportation. As refueling infrastructure expands, they will provide a more alternative form of electric transport more convenient than electric vehicles".
A Toyota spokesman said hydrogen is being used as an alternative to fossil fuels in heating, lighting, transportation, public transport and heavy industry.
Toyota thinks the range of hydrogen applications will increase, allowing for cheaper and more efficient energy delivery. People will see more and more cars, buses, ships and trucks using hydrogen energy.
The Fuel Cell and Hydrogen Energy Association (FCHEA) also expressed a similar view. Fuel cell and hydrogen-powered electric vehicles offer customers a zero-emission option with the performance they expect without changing daily habits like mileage, quick refueling, FCHEA says. .
Indeed, as governments around the world work to develop low- and zero-emissions transportation systems. The idea of ​​using hydrogen fuel cells in larger vehicles is starting to be explored by many companies.
When asked about the debate between electric and hydrogen fuel cells, Daimler Truck CEO Martin Daum argued that balance is key. "We use both, because both… make sense," says Daum.
He further explained that different technologies are suitable for different situations. If the user needs to use lower power then it is definitely the electric battery. But if they need to go long distances it's a hydrogen battery.

Daum's comments on fuel cells touched on the idea that they could find a place for heavy-duty forms of transport such as long distances, freight and, in some cases, shuttles. people from one point to another.
He is not alone in making this point. For example, European shipping giant Alstom has developed the Coradia iLint ship. The vehicle is described by the company as "the world's first passenger ship powered by a hydrogen fuel cell".
In the aviation sector, plans to operate hydrogen-electric flights between London and Rotterdam were announced in October 2021. The people behind the project hope these flights will take off in 2024.
In the construction sector, industry giant JCB says it has developed a "hydrogen fuel cell" excavator in 2020. With a weight of 20 tons, the company says the vehicle has been tested in more than 12 months and the only emissions that are water.

While there are expectations for using hydrogen fuel cell technology in a variety of applications, the path to mass deployments may not always be smooth.
In early 2021, Honda discontinued production of its Clarity fuel cell and plug-in hybrid models, although the company made the point that hydrogen fuel cell electric vehicles would "play an important role in their zero-emissions strategy".
Elsewhere, the US government has raised some challenges. Factors range from durability and reliability of fuel cells to the cost of the vehicle. The authorities added that the current infrastructure to produce and deliver hydrogen to consumers is not yet able to support widespread adoption.
According to BloombergNEF, just 132 new hydrogen refueling stations will be added worldwide by 2021. Half of them are in China, bringing the global total to 740.
"The number of hydrogen refueling stations is 11,000 times worse than electric vehicle (BEV) charging points," BNEF notes. BNEF adds that there will be around 8.3 million EV charging points globally by the end of 2021.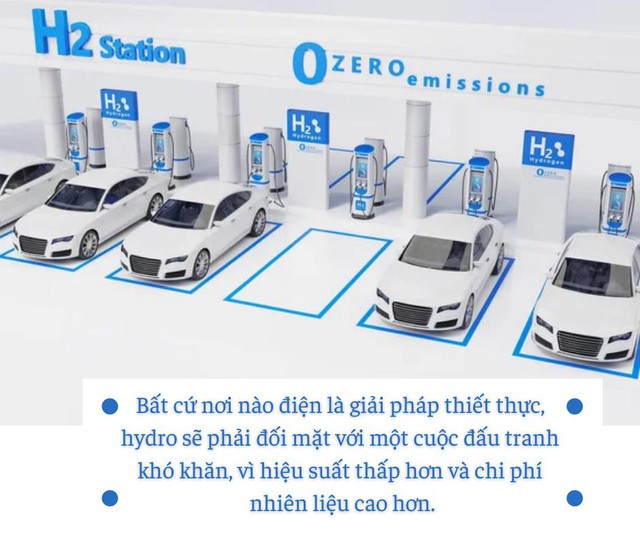 In February 2020, the Brussels-based advocacy group Transport and Environment (T&E) assessed the high level of competition that hydrogen will face in the transportation sector.
T&E makes the point that green hydrogen produced with renewables will have to compete with blue and gray hydrogen produced with fossil fuels. Besides, this fuel will have to compete with gasoline, diesel, marine fuel oil, kerosene and electricity.
T&E says that wherever electricity is a practical solution, hydrogen will face an uphill struggle because of its lower efficiency and much higher fuel costs. For comparison, hydrogen-powered cars are three times more expensive than diesel cars and twice as expensive as electric ones.
According to the International Energy Agency (IEA) global electric vehicle report 2021, bridging the gap between electric and hydrogen fuel cell vehicles will be an enormous task.
The report says registrations for hydrogen fueled vehicles are three places lower than electric vehicles because hydrogen refueling stations are not widely available and cannot be charged at home like conventional electric vehicles.
The race to dominate the low- or zero-emission future of transportation in the 21st century is heating up.
When it comes to cars, battery electric vehicles are firmly in the lead, with automakers topping the sales. But the road to success is never a straight line. Hydrogen vehicles are still appreciated for their future potential.
https://cafef.vn/duoc-ca-ngoi-nhu-xu-huong-moi-elon-musk-lai-goi-xe-hydro-la-ngu-ngoc-co-hoi-soan-ngoi-xe- die-con-baoxa-2022051314343865.chn
You are reading the article
Hailed as a new trend, Elon Musk called hydrogen cars 'stupid', how far is the chance of usurping the electric car?

at
Blogtuan.info
– Source:
autopro.com.vn
– Read the original article
here