Gia đình
Happiness depends very little on the outside, smile
Watch video:
We have dreamed, we have set many goals and we have achieved. We are also happy, but we pass through those happiness very quickly to fall into suffering, pain, confusion, fear. We don't understand why we can't grasp such lasting happiness. Why am I so sensitive to suffering and pain?
And then, after sitting down to deal with our pain, we have grown up, have a new awareness. That is, happiness is not entirely external, it depends very little on the outside. Happiness depends on ourselves.
When we are safe, healthy, and full of energy, wherever we look, we feel happy, everyone looks cute, and deserves to be accepted and supported.
The Buddha once said, "Thousands of dharmas are the only way of mind". All that we see in the outside world is a reflection of our mind at that moment.
Scientists in the mid-19th century said that the world we are looking at only appears to be at the level we are at.
I would say a closer sentence, that is, how our mind is, so we will look at reality. Therefore, practicing meditation is also cultivating the mind.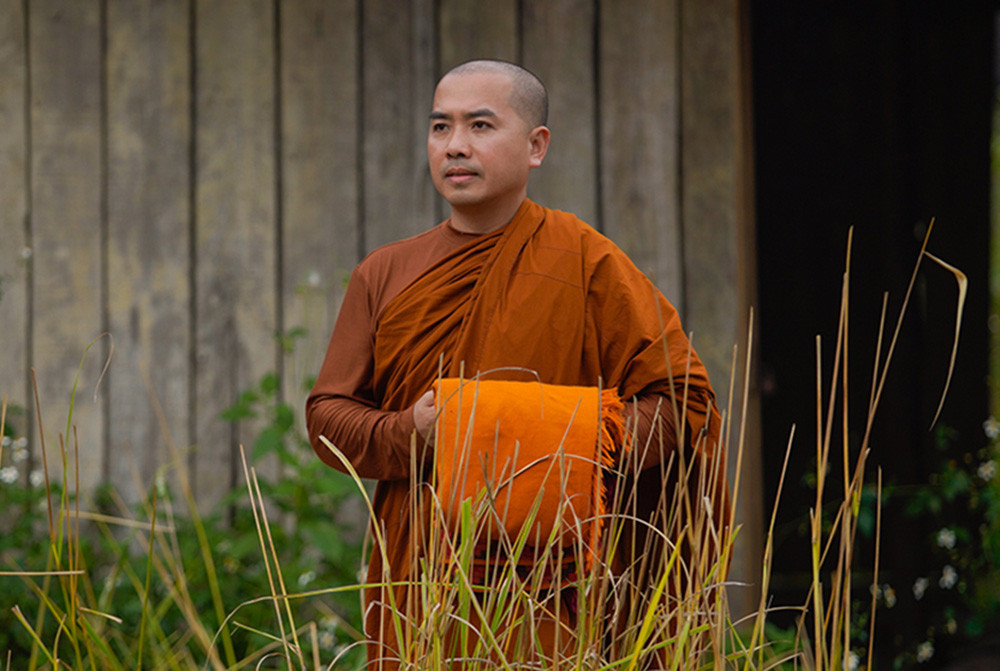 The first three basic exercises of meditation: Be present with the body, relax, and smile.
Present with the body
Every day, let's remind ourselves often to be present in the present moment, to pay attention to the things around us such as trees, flowers, sunlight, babies or any objects around. me. That's me being present.
I feel my body, whether my body is tense or relaxed in this moment means that I am still present.
I know I'm standing, I feel it. I know I'm sitting, I feel that sitting. I know I'm lying, I feel it. I know I bring my arm forward, retract my arm, turn left, turn right, look forward, look behind, then observe the body. It's all about presence.
We can verify, question whether we are present? I am doing something, I am in contact with something, do you know what is happening around me? Can I see anything, can I hear anything, can I smell anything?… Through my senses will I know if I am present or not?
Every day, accumulate as much of your presence as possible, even if 30 seconds is extremely precious. Take advantage when closing the car door, getting in the car, fastening your seat belt, leaning back in the seat to be with yourself. It is also meditation practice, not having to have a round pillow, having to wear a robe, having to burn incense, and having to sit on a lotus position to meditate.
Anytime we are fully present with ourselves, aware of our bodies, aware of everything around us, we are meditating.
Relax, smile: Smile to help deepen the relaxation.
Yesterday, I was talking to a child. I said, "I have no reason to ask you to laugh (because this friend's face is a bit sad)". I said, smile to celebrate life. I'm alive, I'm healthy, I can say "hello" to everything around me. This is not for everyone, not everyone is healthy enough to say "hello", to connect with everything that is going on.
In fact, when we laugh, we'll be more deeply aware of what we're touching and feeling. If we can smile often, our afflictions will be calmer and more positive energies will be invited.
Next is relaxation:
We used to shrug our shoulders, let's relax now. Then relax your fingers, calves, shins… give yourself another minute, then another minute if you can. If someone is good, while manipulating and working, still remember to relax his arms.
Whenever you sit down, remind yourself to relax first, just a few dozen seconds. Whenever you are about to do something, stop and relax for a moment, just a few tens of seconds: smile, relax your shoulders, arms… When you start to say something, relax first. And it would be wonderful to talk and relax at the same time.
Master Minh Niem was born in 1975. Hometown: Chau Thanh, Tien Giang.
1992: Ordained at Hue Nghiem Buddhist Institute, Ho Chi Minh City. Here, absorb the traditional thought of Mahayana Buddhism.
2001: Officially stepped on the path of meditation. Practicing the Zen lineage "Showing Dharma Lac Tru" under the teaching of Zen Master Thich Nhat Hanh, in France.
2005: Stepping into the practice of Vipassana Meditation, the Quan Tam lineage, under the guidance of Zen Master Sao Tejaneya, in the US.
2010: Published her first book, "Understanding the Heart". Considered a phenomenon because it is the first best-selling book on psychology by Vietnamese people for many years until now, once voted as the most popular book, translated into many languages.
2011: Undertake a 3-year "dust-cultivation" journey, walking through 25 US states. Live alone in the wilderness and volunteer at crop farms and psychotherapy centers.
2014: Returning to Vietnam, sharing methods of psychotherapy and enlightening the mind with meditation practice for many universities, businesses…
2016: Published the book "Doing it like playing" – also the best-selling book.
2021: Launching a project to train Zen psychotherapists in Da Lat, Lam Dong. This is a completely new and groundbreaking model, because it trains psychotherapists by the path of meditation, transformation and self-enlightenment continuously for 2 years.
Recently, Thay and the Awakening Region community have developed many projects that nourish the soul and raise the spirit of the masses near and far during the moment in human history in the face of the Covid-19 pandemic. Typically, the radio series "Peace in the midst of turmoil", "Raise the soul", and "Only love stays" are broadcast on Youtube and Spotify.
Master Minh Niem
(Excerpt from Dharma talk: Be present, relax and smile – Life course of mindfulness and wisdom)
You are reading the article
Happiness depends very little on the outside, smile

at
Blogtuan.info
– Source:
vietnamnet.vn
– Read the original article
here