Sức Khỏe
How to prevent acute hepatitis in children according to the guidelines of the Ministry of Health
On May 13, the Ministry of Health sent an official dispatch to the Institutes of Hygiene and Epidemiology, Pasteur; Departments of Health of provinces and centrally-run cities on the surveillance of acute hepatitis cases of unknown etiology in children.
According to information from the World Health Organization (WHO), as of May 7, the world has recorded more than 300 cases of acute hepatitis of unknown cause in 23 countries in Europe. Americas, Southeast Asia, Western Pacific. Of these, there were 9 deaths.
The disease occurs in children from 1 month to 16 years of age, most children recover completely. However, some cases turned severe, nearly 10% of cases required a liver transplant. According to WHO, a possible case (surveillance case) is a child under 16 years of age presenting with acute hepatitis (not caused by hepatitis A, B, C, D, E virus) with elevated liver enzymes above 500 IU/ l (SGOT or SGPT) and symptom onset from October 1, 2021 to present.
The Ministry of Health further information, currently, the exact cause of acute hepatitis in children mentioned above has not been determined, investigations and studies on acute hepatitis of unknown etiology are being conducted. onion.
In order to actively monitor cases of acute hepatitis of unknown cause in Vietnam and promptly implement measures to prevent and minimize the number of cases and deaths, the Ministry requested the Department of Health to focus on directing a content number.
That is, the medical facilities in the area are in charge when detecting cases of acute hepatitis, especially in the group of children under 16 years old, must be examined and identified to detect cases of unknown cause (according to the definition of: WHO case meaning). For provinces with border gates, it is necessary to strengthen supervision at border gates in order to detect cases with suspected symptoms early for appropriate guidance and management.
In case of detecting suspected cases, the Department of Health must immediately report to the Institute of Hygiene and Epidemiology, Pasteur in the area in charge to agree on taking samples for testing and identifying the agent when necessary.
The Department of Health must also organize communication to let people know about the situation of acute hepatitis of unknown cause and temporary prevention measures. In the immediate future, we focus on the following measures: Ensuring personal hygiene; Wash your hands often with soap and common antiseptic solutions, cover your mouth when sneezing to prevent hepatitis of unknown cause and some other common infectious diseases.
Due to the emergence of this disease in Asia, many experts said, "It is entirely possible to record cases in Vietnam". Although the etiology of the disease has not been determined, to date, the biggest suspicion has focused on the adenovirus type 41, which causes unusually acute hepatitis in young children.
"If it really is the Adeno virus, we won't be able to stop it, we can't run away from the sun. Adeno spreads through respiratory droplets, so it will arrive in Vietnam quickly. So when the virus comes, what should we do? Only washing hands, wearing masks properly", said Dr. Truong Huu Khanh, Vice President of the Ho Chi Minh City Infectious Diseases Union.
Dr. BS Nguyen Pham Anh Hoa – Head of Hepatology Department, National Children's Hospital also informed that the symptoms of acute hepatitis include: mild fever, fatigue, vomiting, nausea, diarrhea, digestive disorders, scleral jaundice, jaundice… Children aged 0-16 with symptoms should be taken to the nearest medical facility to determine the extent of the disease so that they can be treated promptly.
Also according to TS.BS Hoa, currently it is not clear about the cause of the disease, the way of transmission. "Adenovirus lesions can be transmitted through droplets and contact. It is very important to handle surface hygiene and use personal belongings. Besides, we need to eat cooked and drink boiling water, ensure clean drinking water. That is the immediate way to prevent the source of infection", the doctor recommended.
Ngoc Trang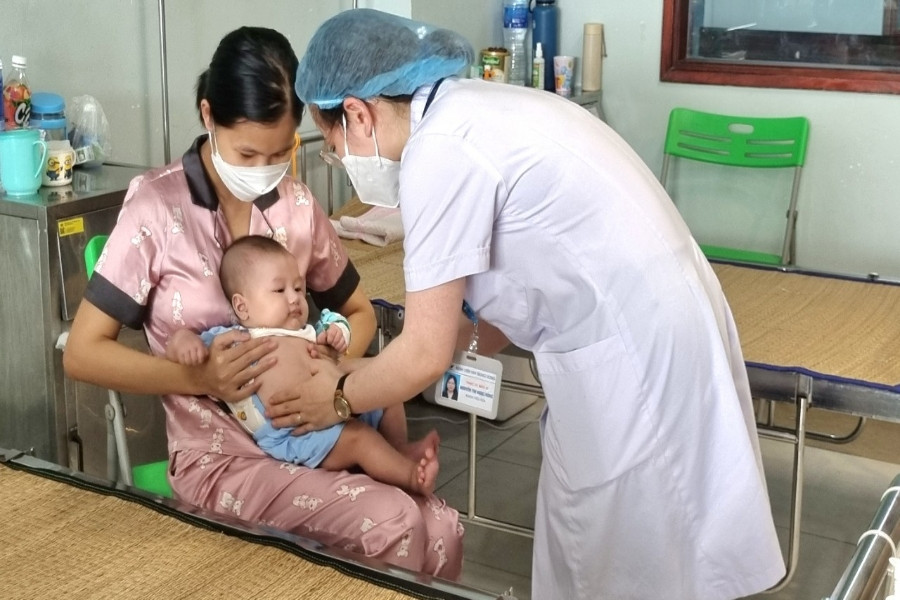 You are reading the article
How to prevent acute hepatitis in children according to the guidelines of the Ministry of Health

at
Blogtuan.info
– Source:
vietnamnet.vn
– Read the original article
here