Khỏe - Đẹp
Just one teaspoon of sugar can save lives
Hypoglycemia is extremely dangerous, can cause death for patients if not treated promptly. Hypoglycaemia promotes cardiovascular events leading to sudden death.
Ms. Le Lan Huong – Hanoi still can't forget the emergency 1 week ago. Ms. Huong said she was diagnosed with diabetes 2 years ago, since she was 41 years old. After being sick, Ms. Huong was very compliant with her medications and eating.
A week ago, she returned to her hometown to cook for her father-in-law's death anniversary. According to the schedule of taking blood sugar-lowering medicine, Huong finished taking it, but then forgot to eat because of many things. When she finished cooking, she felt her limbs were weak and her heart beat fast. Despite his best efforts, he still fainted beside the finished rice tray. Fifteen minutes later, her mother and husband came out and found her unconscious. The whole family was rushed to the emergency room.
At the hospital, the doctor said that she had an acute hypoglycaemic attack due to taking blood sugar-lowering drugs but forgot to eat.
In the case of Mr. Nguyen Van Can – 65 years old, Thai Binh also had a sudden drop in blood sugar. Mr. Can went to the doctor and said that he had diabetes and prescribed medicine to take. Taking medicine, but Mr. Can was still afraid and on a diet. All day, he only eats 3 bowls of boiled vegetables. Eating too much, the grandfather was always shaking and tired. The next day, he had a stroke because of low blood sugar.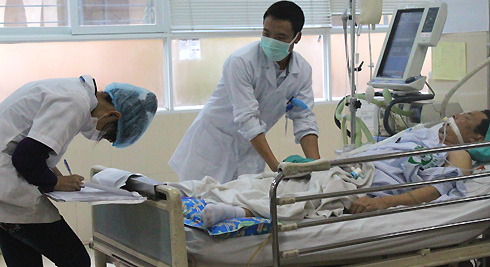 Diabetic coma is a dangerous complication.
Dr. Le Hoang Bao – Department of Endocrinology, Diabetes – Ho Chi Minh City University of Medicine and Pharmacy Hospital, said that blood sugar that is too high or low affects human health.
Hypoglycemia is a reading below 4mmol/l. A sudden acute onset of hypoglycemia can lead to cardiovascular events such as myocardial infarction.
Dr. Bao said prolonged hypoglycemia, recurrent episodes of low blood sugar in diabetics can cause patients to have psychological disorders and depression. If low blood sugar when the patient is participating in traffic or working, it can cause an accident.
The cause of hypoglycemia is due to the patient using the wrong drug, taking the wrong dose of the drug. Older people are more likely to have low blood sugar. People who eat poorly, have vomiting, diarrhea can also lower blood sugar or patients who have fasted for a long time and exercise vigorously.
Symptoms of low blood sugar:
First, early symptoms: The patient has a feeling of hunger, trembling, palpitations, anxiety, sweating, pale, pale. Patients themselves find muscle movement weaker. If detected at such an early stage, it will quickly improve hypoglycemia.
Second, late symptoms are headache, blurred vision, confusion, excitability seizures, convulsions and possibly complete coma or even death. Hypoglycemia can lead to cardiovascular events and death.
Dr. Bao emphasized that in hypoglycemia, it is necessary to treat when detecting early symptoms to save the patient within a short time. If delayed, the patient can become comatose and die.
When hypoglycemia, if the patient is awake and can eat, mix 15-20 grams orally. You can take 3 sugar tablets, 1 teaspoon of honey, half a can of soft drink or take a pre-packaged sugar pack for the patient.
If the blood sugar is not raised, repeat again. The use of sugar has a short-term effect, so you must eat a snack immediately after to avoid the recurrence of hypoglycemia. You need to monitor for the first 30 to 60 minutes. If sugar is still not effective, the patient is more tired and weak, they should be taken to the hospital.
For people with hypoglycemia who are no longer awake, do not give sugar or eat sugar when eating or drinking. If you try to open your mouth to drink sugar, it can cause choking, dangerous to life. It is best to take the patient to the nearest medical facility. According to Dr. Bao, it is not necessary to go to a large medical facility, which can lose the patient's chance of emergency. Maybe the medical station or office has intravenous infusion to monitor the patient's blood sugar.
Dr. Bao said that in order to prevent hypoglycemia, it is necessary to educate people with diabetes about the causes, risk factors of hypoglycemia and common symptoms so that patients can detect hypoglycemia early for effective management. . Patients need to eat and drink in moderation.
Patients need to know how to measure their own blood sugar at home to detect hypoglycemia. The patient uses the correct medicine prescribed by the doctor, not the wrong dose.
Khanh Chi
You are reading the article
Just one teaspoon of sugar can save lives

at
Blogtuan.info
– Source:
infonet.vietnamnet.vn
– Read the original article
here