Thị trường
Real estate multi-level warning – Lesson 1: The trick of "throwing bombs" to "pull chickens"
Many people can't help but be "dizzy" by the commitment to invest and receive "terrible" profits from Nhat Nam Company, with this interest rate bomb attack, Nhat Nam Company began to emerge like "a kite in the wind". "…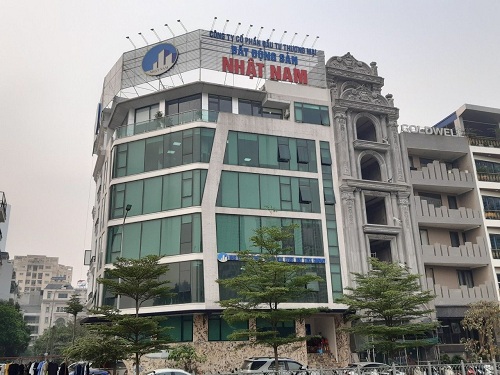 Nhat Nam Company Headquarter 54 Ngo Thi Thu Minh, Ward 2, Tan Binh District, City. In Ho Chi Minh City, the legal representative is Ms. Vu Thi Thuy. Photo: KN
"Explosion" has trillions of assets?
Introduced on its website, Nhat Nam Real Estate Joint Stock Company (Nhat Nam) said that with a new business direction and a long-term sustainable development orientation, Nhat Nam will become the top 5 enterprise in the market. Vietnam real estate market. At the same time, Nhat Nam builds a strong development investment community, repels fraudulent forms of investment. Strong development not only in the country but also reaching the international level.
Nhat Nam Group introduces its own solid assets in a variety of industries such as restaurants, karaoke, hotels, high-class coffee chains, etc. In which real estate is still the mainstay.
Specifically, for the real estate sector, Nhat Nam also introduced that it owns a land fund stretching from North to South Hanoi, Thanh Hoa, Buon Me Thuot, Phu Quoc, etc. Nhat Nam's land funds are located in prime locations. Nhat Nam owns many red books with a large area.
Of which, notably in Buon Don, Dak Lak, Nhat Nam advertised as owning an area of ​​23,000m2, there were 41 books; in Phu Quoc with an area of ​​70,000m2 of land, there are 35 lots with red books. Each book has a very high value, about 6.7 billion / lot with an area of ​​​​300m2. At Ben Cau, Tay Ninh, with an area of ​​120,000m2; in My Duc, Hanoi with 20 land lots of great value; at Loi Thuan 1,2,3,4 – Tay Ninh, Nhat Nam has 4 land funds Nhat Nam luxury villa area in Hanoi with a total area of ​​16,318m2, including 39 books.
Thus, it can be seen that the property that Nhat Nam introduced Real Estate holds is up to trillions of dong. However, many information shows that, by the end of 2020, Nhat Nam's total assets are more than VND 593 billion, the company's assets have increased rapidly (doubled) compared to just one year ago.
Notably, along with the development of total assets, Nhat Nam's liabilities also "blown" from the threshold of VND 100.5 billion in 2019 to VND 388.5 billion in 2020, corresponding to an increase of 74 .5% after only 12 months.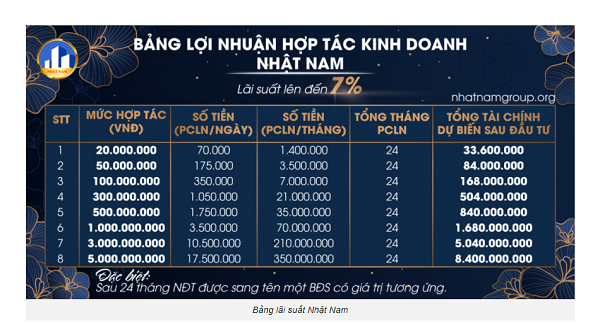 The interest rate table of Nhat Nam Company makes many people dizzy and dizzy. Photo: KN
"Throw bombs" to mobilize capital – pay "huge" interest rates by day
It is known that this enterprise is launching capital mobilization programs with "terrible" interest rates, under the name of "business cooperation program and daily profit sharing", such as investment packages. worth 500 million dong, Nhat Nam commits to pay 1.75 million dong/day (from Monday to Friday only, including interest and principal), equivalent to 35 million per month for partners. Thus, after 24 months, the total profit distribution value received by investors is VND 840 million, 1.68 times higher than the initial investment.
Not stopping there, Nhat Nam once launched an investment calling package with a committed interest rate of 44%/24 months, with a discount card when buying real estate products of the business with the equivalent value of the house. investment has been spent. In case of not receiving the coupon, Nhat Nam will convert to a new committed interest rate of 92%/24 months.
Sharing with the Business Forum, an investor said that Nhat Nam once promised to pay interest from 92-144%/24 months, depending on the participating program. Note that this is only a rough estimate, the actual number is significantly higher, because previously the business was expected to pay the principal and interest regularly day by day, week by week.
In general, the interest rate that Nhat Nam has been offering for capital mobilization packages is very "terrible", even showing "unusual" signs when it is ten times higher than the deposit interest rates of banks. trade (12-14%/24 months), making many people skeptical about the business strategy of this business.
It should also be noted that, usually with efficient businesses, valuable collateral, high liquidity, and clear and specific repayment plans, getting a bank loan is not too difficult. not to mention the interest rate is only about 8-10%/year.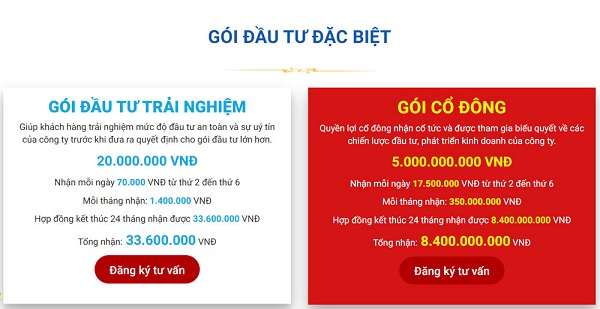 Attractive advertisements of Nhat Nam Company. Photo: KN
Why not get a bank loan?
Analyzing the capital mobilization method of Nhat Nam Company with the press, Mr. Bui Van Khoa, Director of the State Bank of Vietnam branch in Thai Nguyen province, said: Nhat Nam Company committed to pay 68% profit. /2 years, equivalent to 34%/year, the essence is to pay interest to investors many times higher than the current capital mobilization interest rate of commercial banks.
However, the capital raising has been legalized by business cooperation contracts, so it is very difficult to handle. In fact, the "profit division" which is essentially the interest Nhat Nam pays to investors is even higher than the 68% as advertised, because investors have been paid both principal and interest on a daily, weekly, and daily basis. month. The principal amount after each payment period has been reduced. If the interest is calculated according to the reduced principal amount, the interest will also decrease, but Nhat Nam keeps the same and equal expenditure for investors. This is Nhat Nam's way of attracting investors, because the profit of 68% is already very high, but investors also find themselves benefiting more than this level.
Besides, Mr. Khoa also said that, if the chain of restaurants, hotels and a series of real estates are of the right value as advertised, the company can completely mortgage to borrow capital from banks. Because, the average bank loan interest rate is only 9-11%/year, the capital source is stable, there is no continuous loss by day, week, and month due to having to pay investors as the above plan.
"In addition, in the current economic conditions affected by the COVID-19 epidemic, investment activities, especially real estate investment, are facing many difficulties. Therefore, the question is, why does Nhat Nam not borrow from banks or other sources of capital with low interest rates, but only focus on mobilizing capital from investors with very high interest payments? – Mr. Khoa is skeptical.
There's more…
Mr. Nguyen Quoc Hung, General Secretary of Vietnam Banks Association (former Director of Credit Department for Economic Sectors – State Bank of Vietnam) said that the method of capital mobilization of Nhat Nam Company is multi-level deposit – using money from the first sender to pay the sender later – there are many "problems".
"In normal market operating conditions (not affected by COVID-19), businesses cannot achieve profits of more than 30%/year to pay depositors, let alone in epidemic conditions. At some point, this company will not be able to raise capital anymore, leading to default. At that time, the sender will not know who to call "- Mr. Hung said.
According to DDDN
You are reading the article
Real estate multi-level warning – Lesson 1: The trick of "throwing bombs" to "pull chickens"

at
Blogtuan.info
– Source:
infonet.vietnamnet.vn
– Read the original article
here