Business
Spreading the news that plastic water bottles kept in the refrigerator produce cancer-causing toxins: What is the truth?
Recently, on social networks, an influencer LHA businessman with a following of more than 1.3 million people shared some scientific information related to human health, especially about human health. cancer prevention and treatment. After just over a day of posting, this article information has more than 1000 shares.
It is worth mentioning that the information Ms. LHA shared in addition to the content of ways to prevent and treat cancer, there is a content that causes a lot of attention related to dioxin.
Specifically, the shared content is explained as follows: "Chemicals like dioxins cause cancer, especially breast cancer. Dioxin is very harmful, especially to body cells.
Do not keep plastic water bottles in the refrigerator because plastic will "sweat" dioxin and contaminate drinking water. Recently, Dr. Edward Fujimoto, Wellness Program Manager at Castle Hospital, appeared on a TV show explaining the dangers of dioxins.
Previously, it was recommended not to keep plastic bottles of drinking water in the refrigerator because plastic will "sweat" dioxin and contaminate drinking water, making many people very worried. Because of the fact that plastic is a very convenient product, every family has plastic products and the use of plastic bottles for drinking water in the refrigerator is quite common in many families, especially in the summer months.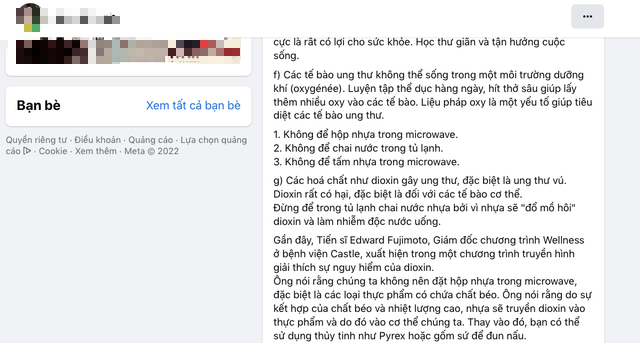 LHA's share is going viral on social media.
Inaccurate information about "sweating" plastic
Assoc. Prof. Tran Thi Tuyet Hanh, Lecturer of Environmental Health, University of Public Health, said that it is unlikely that drinking water put in plastic bottles in the refrigerator will "sweat" out dioxins. Anyone who has studied dioxins will realize that this information is scientifically fundamentally wrong. This information will cause confusion for many people and make many people dare not keep the water bottle in the refrigerator.
Dioxin is an impurity found in Agent Orange and some other herbicides used by the US military during the Vietnam War. There are 75 different substances of the dioxin family, of which 2,3,7,8 Tetrachlorodibenzo-p-dioxin (TCDD) is the most toxic substance in the dioxin family and is considered the most toxic substance ever created by man. . This substance is classified as a Group 1 carcinogen – a human carcinogen. Long-term exposure to dioxins, especially 2,3,7,8 TCDD, even in small amounts, has the potential to cause health problems in humans.
Where does dioxin usually come from? Prof. Hanh said: dioxin is an impurity present in about 76.9 million liters of herbicides used by the US military during the Vietnam War. In addition, dioxins are also released into the environment from industrial activities that use chlorine and when burning plastic and plastic waste at low temperatures by manual incinerators or spontaneous combustion in residential areas…
Assoc. Hanh emphasized: "BILLIONYes, until now, Vietnamese people only know that dioxin is extremely toxic contained in Agent Orange and other herbicides used by the US military during the war, nLong-term exposure increases the risk of birth defects and increases the risk of cancer letter and many other diseases.
According to the American Institute of Medicine, there is now enough scientific evidence to conclude "there is an association" between dioxin exposure and blood cancer (chronic lymphoma), soft tissue cancer (including heart), non-Hodgkin's cancer, Hodgkin's cancer, and acne caused by chlorine… On February 20, 2008, the Ministry of Health of Vietnam also issued a list of 17 diseases, diseases, deformities, and anomalies. associated with exposure to toxic chemicals/dioxins.
In themselves, plastic water bottles usually do not contain dioxins. There is no such thing as leaving a plastic bottle of water in the refrigerator to "sweat" to release dioxins. I learned about dioxins for quite a few years and did my doctoral thesis in Australia on dioxin-related environmental health risk assessment at 2 hot spots at Bien Hoa and Da Nang airports. absurd, not true to science.
But for people who do not have enough knowledge, when they receive this information, they will be very afraid".
Sharing the same opinion with Assoc. Hanh, Assoc. Prof. Dr. Nguyen Huy Nga, former Director of the Department of Preventive Medicine (Ministry of Health) also confirmed that dioxin is extremely toxic to the body. Information that water bottles are kept in the cold word "sweat" to dioxin is not true. Dioxin is a by-product that occurs in the production of chlorine-related industrial chemicals such as pesticides, bleaches and some substances used in the leather and footwear industry. Dioxin can be generated when burning medical waste, plastic waste at low temperature.
Remember to use plastic correctly
Assoc. Prof. Dr. Nguyen Duy Thinh, former lecturer at the Institute of Food and Technology, Hanoi University of Science and Technology, said that when using plastic items, it is necessary to pay attention to the symbols and numbers that are typed on each plastic bottle to help identify them. whether the bottle can be reused or not.
Note: Do not use plastic wrap to wrap food to cook, store fatty items…, unless the product's box says it's safe at high temperatures (or in the microwave). Do not heat/reheat foods stored in plastic containers that are not designed to hold hot foods (such as ice cream jars/jars). Do not store food in plastic containers not designed for food storage.
https://soha.vn/lan-truyen-tin-chai-nuoc-nhua-de-trong-tu-tinh-sinh-chat-doc-gay-ung-thu-su-that-la-gi-20220513075940222. htm
You are reading the article
Spreading the news that plastic water bottles kept in the refrigerator produce cancer-causing toxins: What is the truth?

at
Blogtuan.info
– Source:
cafebiz.vn
– Read the original article
here