Business
The one who holds 20 red books to find a wife for his children, the one who takes sleeping pills because his 29-year-old son is unmarried

Recently, according to Jimu News, a man living in Hebei province (China) brought more than 20 red books to a matchmaking center to help his 24-year-old son find a wife. It is known that all of the above properties are located in the inner city and owned by this man.
An employee of the Shijiazhuang city matchmaking center shared: "On May 5, he brought a lot of red books. He introduced his son, born in 1998, who is kind, has a stable job, so want the right person and then get married."
This person also added: "He doesn't want to show off his wealth, but rather wants to show that his family is really sincere and wants to find a daughter-in-law who is 'post-confrontational'."
Finding the right life partner for your child is not an easy task. Therefore, matchmaking services in China also flourished. The matchmaking center is a place that Chinese parents often go to to find their child a suitable life partner. Professional "brothers and mothers" also attended to connect parents with each other. This is a fairly active activity in many large cities as well as small towns across China.
On a Sunday morning in Xi'an, matchmaker Wang was ready to "dress up" to get to work. Although she didn't expect to have many clients, Wang was surprised how many parents turned to her matchmaking service. These people are about 50, 60 years old, they constantly talk and complain that their children do not want to get married.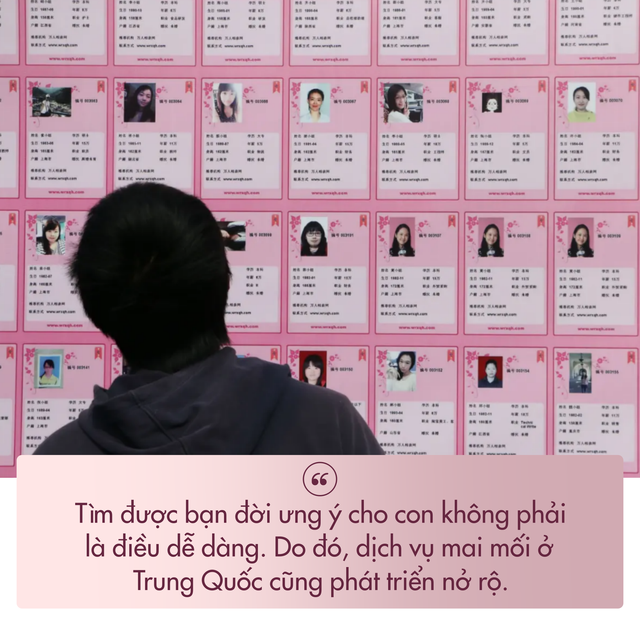 The "matchmaking district" in Revolution Park is very popular with the locals. The event is held every Wednesday and Sunday and has a website for unmarried people. Most of the parents admit that they don't really believe in matchmaking and the success rate is also extremely low.
However, they come to the park because they consider this as a way to fulfill their obligations as parents. Moreover, they also have the opportunity to share about their dissatisfaction with the fact that their children are not married.
For the previous generation, marriage was considered the foundation of Chinese society. However, more and more young people are delaying marriage and many end their time together by getting a divorce. This is a disturbing and confusing trend for many of the older generation in the nation of billions of people.
The matchmaking area in Revolution Park is always buzzing with questions of "boy or girl", "how old are you born" and "how tall". The highlight of this area is the thousands of posters strung between the trees, bushes and branches. These photos are written by the matchmaker or parent, and contain details about each unmarried individual.
However, many people have a rather negative attitude when constantly commenting on individuals appearing on the poster. They make unreasonable demands while trying to find a mate for their child. Even many parents "advertise" their children by saying "married for a short time" instead of "divorced".

Information about a man carrying 20 red books to find a wife for his children quickly became a hot topic of discussion among netizens. They all say that to be able to get married in a country of billions of people, every family must have food to eat.
Many also joked that they would nominate themselves to be the man's future wife, while others said it just showed parents obsessed with watching their children stay at home. .
Another tragic case happened in Shanghai earlier this year. At that time, a 55-year-old man gave the note to the security guard at the train station and said he had just overdosed. The man then fainted on the spot. Reportedly, he wrote in a letter to his son that he was "so ashamed of life" because he was still unmarried when he was 29 years old. Fortunately, the man was taken to the emergency room in time.
In China, the most suitable age to get married is before 30. Therefore, it is not surprising that parents often push their children to follow that "trail". If young women don't get married after the age of 27, they are considered "old aunties".
For millennials, the pressure to get married is really a burden for them as more and more people want to avoid the "big thing". According to official statistics, China's marriage rate has fallen for eight consecutive years to a 36-year low.
Many women in China share that they are no longer interested in getting married. They see marriage as a barrier to achieving economic independence. In a survey by the Communist Youth League of China of 2,905 unmarried young people last year, 44% of urban women aged 18-26 said they had no plans to get married, while 25% of men gave similar answers.
This situation, along with the gender imbalance and pressure of parenting in the modern era, has led the nation of billions to enter another era, where the millennial generation pursues the goal of financial freedom. main, single life despite pressures from society.
Chen Yu, a 35-year-old single woman from Guangdong, is used to having friends worry that she has no family. She said: "My parents and relatives are worried. They all think that I need to settle down at this age and a lot of Chinese people have the same opinion."
Chen is working as a doctor at a hospital and she shares that she is very happy. She owns an apartment of more than 90 square meters in Zhanjiang city. However, despite owning a private apartment in the city, but Chen said that finding a life partner is not in her life goals. Chen said that she does not want to force herself into the norm that women have to stay at home to take care of the family, wait for their husbands to go to work, and then send money home.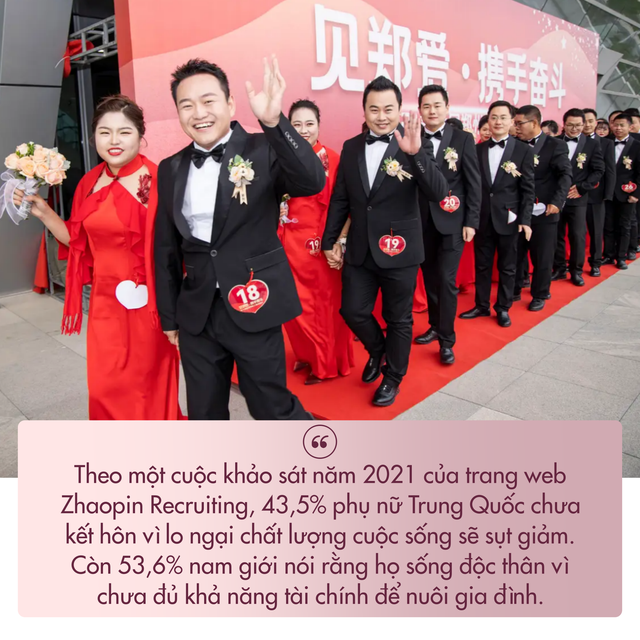 Owning real estate is an important factor for Chinese millennials when considering starting a family. In some cases, soon-to-be-married couples even annul their marriage if the groom's family does not own real estate.
According to a 2021 survey by recruitment website Zhaopin Recruiting, 43.5% of Chinese women are unmarried because they fear their quality of life will decline. And 53.6% of men said that they live alone because they do not have enough financial capacity to support a family.
Stuart Gietel-Basten, a professor at the Department of Social Sciences and Public Policy at the Hong Kong University of Science and Technology, said the high rate of unmarried people is not necessarily an alarming factor but is one of the problems causing social unrest in China.
A society with a high rate of aging is becoming an urgent problem for China, as a shrinking workforce, fewer qualified professionals and millions of elderly people needing care. However, while other Asian countries such as Japan and South Korea have been working to solve the same problem, China will have to wait until 2021 to come up with a solution.
The country has many difficulties in encouraging couples to have more children. In 2021, China will further relax restrictive measures, allowing families to have up to 3 children, and the government will also provide financial support for families with new-born children. But data released in January showed the birth rate would remain at a record low in 2021.
According to Professor Gietel-Basten, basically, the marriage problem in China is not much different than many other countries in the world are facing, especially in places with rapid urbanization. "The age at marriage is going up. It's happening all over the world," he said. "The age at which your parents get married, when your parents should get married, is probably much earlier than the current generation," he said. in."
Synthetic
https://cafef.vn/gioi-tre-trung-quoc-va-ap-luc-tu-be-nguoi-cam-20-cuon-so-do-de-tim-vo-cho-con-ke- child-friendly-29-years-old-school-lap-gia-dinh-20220512162347553.chn
You are reading the article
The one who holds 20 red books to find a wife for his children, the one who takes sleeping pills because his 29-year-old son is unmarried

at
Blogtuan.info
– Source:
cafebiz.vn
– Read the original article
here