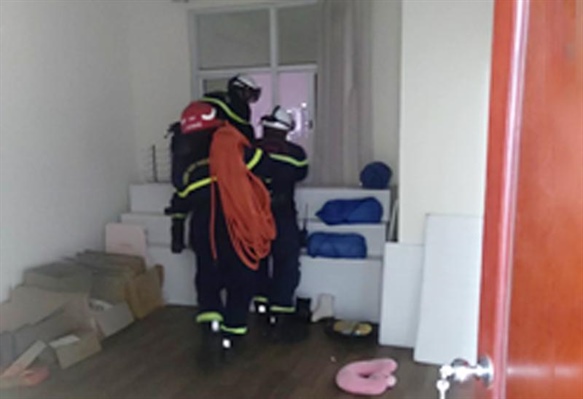 Parents must know how to listen
Around 19:30 on the evening of April 13, a 9th grade male student was successfully rescued by the Hanoi City Police when he was about to commit suicide from the 19th floor of a high-rise building on Khuat Duy Tien street (Thanh Xuan district) in the middle of nowhere. panic state, holding a knife entrenched inside the house. To rescue the male student, the Police Department of Fire Prevention and Rescue (Fire and Rescue) dispatched a ladder truck and an ambulance to quickly arrive at the scene, sending soldiers on the other hand to swing a rope to block the railing. In case the male students jumped down, the bottom was covered with buoys, and a team broke the door to break in. Not long after, the male student was rescued by the Fire and Rescue Police and handed over to his family to reassure him and encourage him to calm down. It is known that the male student, born in 2007, is currently a 9th grade student at a school in Hanoi, due to pressure leading to resentment, a suicidal idea arises. A few days before, an 8th grade girl in Nam Dinh was also saved by a resident when she jumped into the river to commit suicide. Thus, within the past fortnight, 4-5 students committed suicide, which was widely reported, of which 2 were saved.
Opinions at the Workshop on Application of School Psychology in the Context of Educational Innovation taking place on April 14 (organized by the Academy of Educational Management in Hanoi) showed that, at each stage of a child's development, Students with different physical and psychological characteristics must experience certain difficulties and challenges. In order for students to develop comprehensively and improve themselves, schools, teachers, and parents must listen, empathize with and understand students' problems, and share solutions with the right direction for their development. mentality.
According to Dr. Hoang Trung Hoc, Dean of the Department of Psychology – Education (Academy of Education Management), after a long time of social distancing and measures to prevent and control the Covid-19 epidemic, applying online learning measures, Separating students from the school environment has had a great impact on their psychology, even revealing worrying signs of psychological disturbance. Before the pandemic, UNICEF research put the figure at nearly 3% of children having thoughts related to suicide, but the latest research in the post-pandemic period increases that to 24%; This figure in the world is normally 9%. Thus, thinking about suicide becomes a phenomenon.
"Suicide thoughts are just an outward manifestation, but it is triggered by a number of other conditions because of poor resistance to external influences, while wanting to express themselves. When conflicts with parents and teachers lead to frustration while press information and social networks talk a lot about suicides, so they have an intention to follow, many children don't want to die, but in the end lead to dire consequences. Depression in students has spiked recently, about 60% have stress, more than 30% have depression and 40% have anxiety disorders leading to suicidal behavior, "said Dr. Hoang Trung Hoc.
Children must be taught to face difficulties
Pressure and difficulties in family, study, education, and school are always present, but only a few children commit suicide, that is, their ability to accept, cope and solve problems remains limit. In the world, there is a concept called "snowflake generation" to talk about a young generation that is very pure, but very easy to melt, very sensitive and easy to be touched. From there, it can be seen that the phenomenon of student suicide, if blamed entirely on the education sector, is one-sided. However, the responsibility of the family and the school is to increase internal resources, increase the capacity of students, and help them have the skills to receive and respond and handle in an appropriate and scientific manner. Do not bring children into the virtual world with games, smartphones, but must educate children to face difficulties, train the will to overcome difficulties, not snowflakes that fall and disappear immediately. A child whose strength, low standing strength plus signs of Covid-19 and a little impact on learning and parents' expectations will be the factors that push the child to commit suicide.
Dr. Hoang Trung Hoc also said that, for adolescents, which is a transition period with psycho-physiological development, an imbalance of the nervous system, for example, for secondary school students, the feeling of excitement is very strong but The internal inhibition is poor, the circulatory system is rapid, the heart volume is fast, but the blood flow is not timely, leading to ischemia, leading to sudden fatigue in children and easily leading to agitated, impulsive, and impatient behaviors. controllable. In order for the child to increase the load, increase the endurance, let the child from childhood to adulthood experience and stumble in possible circumstances and for possible problems. Do not expect to have a seasoned, strong person who does not experience difficulties in life.
"On the family responsibilities side, there is a generation gap that makes children feel pressured and parents feel stuck in their children's care and education. Most of today's parents are 7X or 8X generations or earlier, considering learning as a standard measure of an adult. Learning in that generation is not only to be a human being, the standard of an adult, but also to learn to escape poverty and overcome poverty. Even studying is a symbol of a successful person. But the perception of young people today is different. A student who finished high school, even just graduated from junior high school, can work in companies that only need unskilled labor with a salary of 7-8 million/month. While people with university degrees, master's degrees, monthly income may be only 7-10 million/month. This causes a part of young people to have a change in their conception of learning, success, and seeing society in a different light. This leads to contradictions and conflicts in education and learning goals", emphasized Dr. Hoang Trung Hoc.
You are reading the article
To increase endurance for children

at
Blogtuan.info
– Source:
Afamily.vn
– Read the original article
here