Thế Giới
Vietnam wants to build an independent and self-reliant economy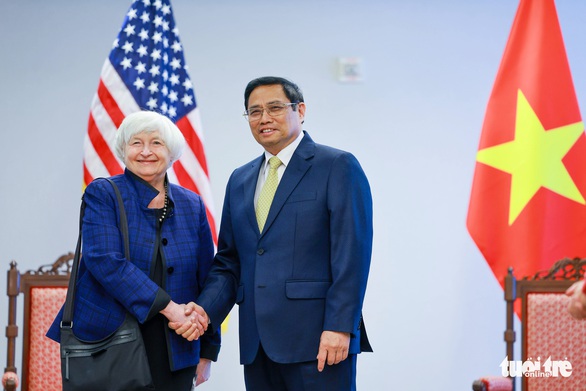 Prime Minister Pham Minh Chinh receives US Secretary of Finance Janet Yellen – Photo: NGUYEN KHANH
Prime Minister Pham Minh Chinh spent the first working session with Trade Minister Gina Raimondo.
In a world full of turbulence, strategic competition and many choices, Vietnam does not choose a side but chooses justice, fairness, justice and righteousness on the basis of principles of international law, the Constitution of Vietnam and the United Nations. United Nations chapter; equality, mutual benefit, win-win.
Prime Minister Pham Minh Chinh speaks at CSIS
Sharing economic benefits
"I'm very pleased and honored to meet the female minister, she is the first person I worked with on my business trip, hopefully this will bring me luck," said the Prime Minister and Minister Gina Raimondo. laughed merrily at his opening words.
The meeting took place in an open and sincere atmosphere. The Prime Minister thanked the support of the US Department of Commerce in general and the minister in particular in promoting trade exchanges between the two countries over the past time, as well as promptly removing obstacles so as not to disrupt them. trade between the two countries. He highly appreciated the remarkable development in economic – trade relations, in which the two-way trade turnover from 400 million USD in 1995 to nearly 112 billion USD in 2021.
In response, Minister Gina Raimondo highly appreciated the vision and economic development plan of the Vietnamese Government, especially the transformation to a digital economy, a green economy, and diversified supply chains.
At the end of the meeting, Prime Minister Pham Minh Chinh and Minister Gina Raimondo witnessed the awarding ceremony of cooperation documents between the ministries, branches and enterprises of the two countries in many fields such as energy, infrastructure, telecommunications. communication, digital technology, response to climate change, contributing to support Vietnam to soon achieve its commitments set out at COP26.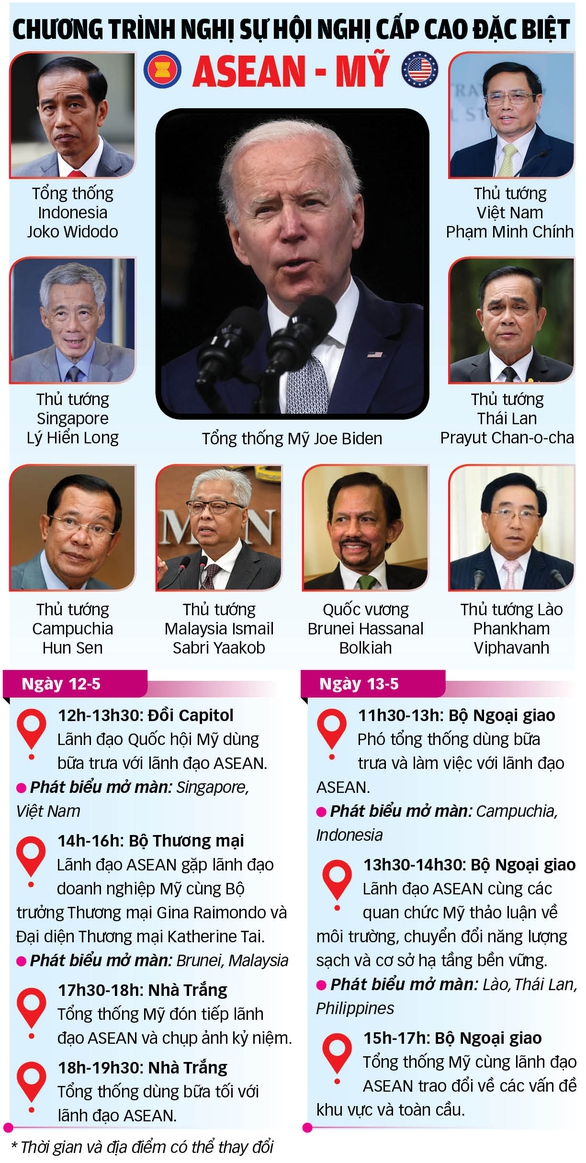 The cooperation for the future
At a meeting with Permanent Chairman of the Senate Patrick Leahy and some key senators of the US Senate, the Prime Minister highly appreciated the tireless efforts of the senators, especially the leadership role of the Senate. Congressman Patrick Leahy for strengthening the consensus in the US in favor of relations with Vietnam. In particular, it is worth noting that supporting cooperation in overcoming the consequences of war – an important and very meaningful part in the process of reconciliation, healing and building trust between the two peoples.
Senator Patrick Leahy said that the senators present had special and lasting feelings for Vietnam, appreciating the two countries' overcoming differences and war pain to jointly build a good future. more beautiful. He affirmed: "The US Congress always has generations of congressmen who support Vietnam – US relations".
In the early afternoon of May 11, Prime Minister Pham Minh Chinh had a meeting with US Secretary of Finance Janet Yellen. The Prime Minister emphasized that Vietnam wishes to build an independent, self-reliant economy, sustainable development and deep integration, therefore, stabilizing the macro-economy plays a very important role. He expressed his wish that the US would share its experience in developing the financial market, especially the stock market, and the real estate market in a healthy, safe and transparent manner, contributing to macroeconomic stability.
Minister Yellen affirmed that the US will, through global and regional financial institutions, coordinate with developed countries to support developing countries, including Vietnam, in order to develop infrastructure. infectious disease response and energy transition, making strong commitments to combat climate change.
In the afternoon, Prime Minister Pham Minh Chinh had a policy speech at the Center for Strategic and International Studies (CSIS), had a cordial meeting with Cambodian Prime Minister Hun Sen, and received the CEO of the World Bank. Axel van Trotsenburg and met a number of American economic groups.
Commenting on the Prime Minister's speech at CSIS, Prof. David Dapice (John F Kennedy School of Management, Harvard University) said that the Prime Minister has shown that Vietnam wants to live together among major countries in a constructive, peaceful and responsible way. "He does not want to cause division. The Prime Minister's proposals on cooperation with the US are also reasonable and feasible but not limited," Prof. Dapice said.
"For Vietnam, the US engagement with the region is a way to balance it out on many fronts. Whatever it is, it would be nice to emphasize multilateralism, because in general the collection of nations will carry weight. Currently, Vietnam's main problem is the supply chain in Asia, as well as the delay in shipping, not the bilateral economic relationship, at least for now." , he talks with Youth.
JAPANESE LOG
Vietnam continues to affirm its position in the region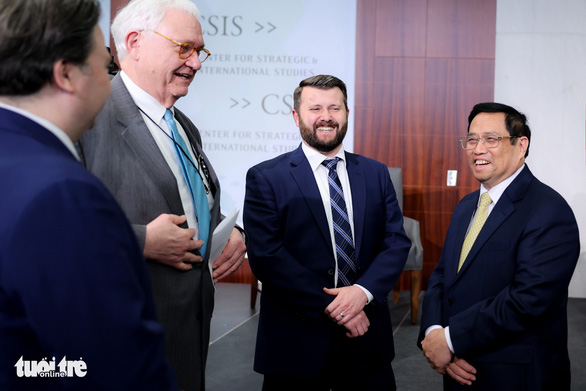 Prime Minister Pham Minh Chinh chats with Mr. John Hamre (second from left) – president, executive director of the Center for Strategic and International Studies of the United States (CSIS) – Photo: NGUYEN KHANH
Among ASEAN countries, Vietnam is far ahead of its peers in economic exchange activities with the US. Therefore, the US-ASEAN Special Summit held in the US is considered to contribute to tightening the relationship between the US and ASEAN countries, and especially with Vietnam.
President Joe Biden once affirmed that he would build sustainable relations with ASEAN countries. This is an important time to talk about worrisome issues such as the global economic downturn following the COVID-19 pandemic. This US – ASEAN conference, organized by President Joe Biden himself, is a good opportunity for Vietnam to develop more in other aspects of economic cooperation.
Vietnam is gradually asserting its position in the export of electronics, information technology and other heavy industries. The economic situation of a number of countries that is stagnant because of the pandemic also creates conditions for Vietnam to further promote cooperative relations with the US in strong industries.
In fact, Vietnamese leaders always put economic development on the top, and it is not natural that Vietnam is always on the list of countries with remarkable economic development, although there are still many problems. The issue needs improvement in several areas. Many Vietnamese people in the US like us now often tell each other that they just need to leave Vietnam for a year and come back and no longer recognize their streets. And that is absolutely correct.
Prime Minister Pham Minh Chinh's visit to the US this time is no exception. Vietnam will remain politically neutral but always intends to build friendly economic relations with world powers. In fact, this is an increasingly difficult task, as political relations always go hand in hand with economics and these relations are gradually deteriorating between the great powers.
However, over the years, Vietnam has always developed quite successfully in a politically neutral position. This is a strategy that many countries like Switzerland and Singapore have successfully implemented. These are all small countries, geographically located near the major powers, but after years of establishing an important position in the economy, they have been able to use their economic ties to ensure their security and development. development of the country. If Prime Minister Pham Minh Chinh takes this position of political neutrality, it will be a very good achievement for Vietnam.
VU AN (from California, USA)
You are reading the article
Vietnam wants to build an independent and self-reliant economy

at
Blogtuan.info
– Source:
tuoitre.vn
– Read the original article
here