Life Style
Sức Khỏe
Women who eat breakfast in these 6 ways will have ageless skin, less wrinkles
Aging can be an inevitable part of life, whoever you are, male or female. But for the skin, you absolutely can do many ways to prevent wrinkles, maintain youthful, collagen-filled skin. It all starts with your diet. While investing in some quality skin care products with nourishing ingredients can certainly help, eating the right foods will help keep your skin healthy from the inside out.
Dr. Melissa Mitri (works at Zenmaster Wellness) said, studies show that certain nutrients in the diet can regenerate skin cells, reduce wrinkles and protect your skin from UV damage. These include vitamin C, anti-inflammatory omega-3 fats, and vitamin D.
Women who eat breakfast in these 6 ways will have ageless skin, and less wrinkles in old age
1. Start your breakfast with a glass of water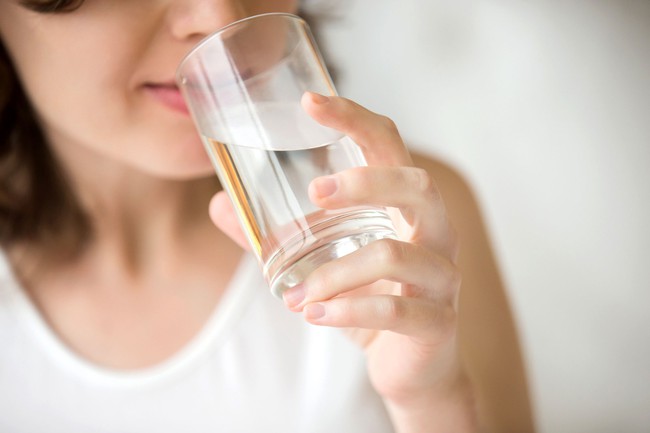 Instead of starting your day with iced coffee, change it up with a cup of warm filtered water. Dr. Sara Chatfield (working at Health Canal) said that drinking enough water has a big impact on the appearance of the skin.
Filtered water not only helps to remove toxins from the body but also helps to increase the elasticity of the skin. Elasticity is what makes your skin look plump and youthful. Therefore, as you age, your skin begins to sag and wrinkle partly due to loss of elasticity.
If you can't start your day with a glass of water, you can add a little lemon to enhance the taste. They both make a glass of water more delicious and add vitamin C to help produce collagen. However, you should only give a little to avoid stomach damage.
2. Add avocado to your breakfast menu
You can spread avocado slices on top of egg toast, toast… Theo HealthlineAvocados are high in omega-3 fatty acids, which may help protect skin from premature aging. These fatty acids can help reduce inflammation and increase skin hydration.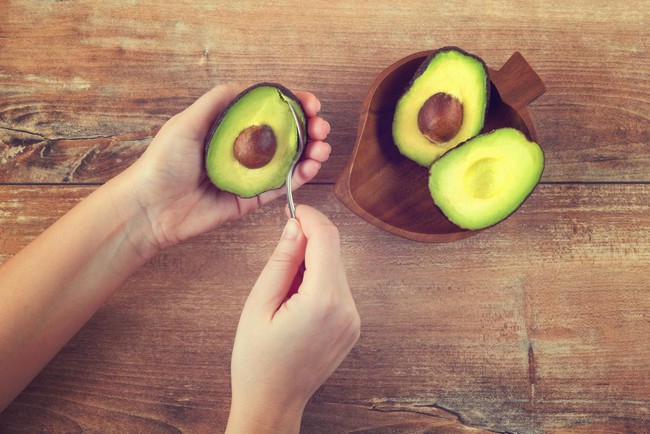 Sun exposure is one of the main causes of premature skin aging. Meanwhile, studies have shown that omega-3 supplements can reduce skin's sensitivity to UV rays. Adding omega-3 fatty acids to your diet may reduce your risk skin cancer. It is also beneficial for the treatment of psoriasis, atopic dermatitis and acne.
3. Add more fresh fruit
Adding fruit to your breakfast is one of the smartest ways to support your skin health. Especially as you get older. Dr. Janet Coleman (founder of TheConsumerMag) says that fruit is full of antioxidants that help reduce inflammation and protect skin from sun damage.
Fruits rich in vitamin C such as citrus, strawberries, kiwi, melon or mango are both delicious and very beneficial for the skin. The high vitamin C content in these fruits helps to reduce the signs of skin aging very good.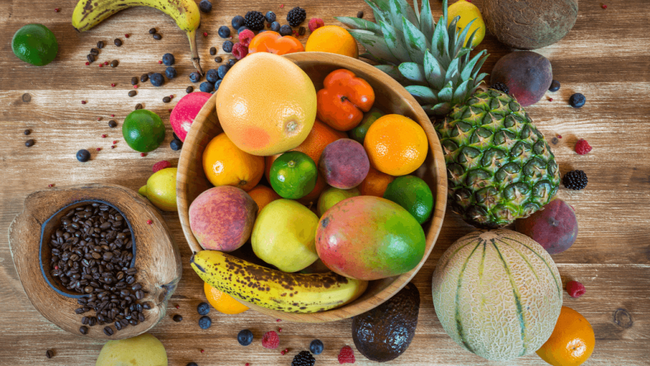 In addition, vitamin C can help boost collagen production in the body. Thus helping to maintain skin elasticity even as you age.
In addition to fruit, you can also add vegetables like bell peppers, tomatoes, and broccoli. They can absolutely be added to omelettes to increase skin-protecting vitamin C.
4. Eat Oats
Oats contain beta-glucan. This is a type of soluble fiber that promotes skin healing and slows down skin aging.
A 2014 review in the Journal of Phytotherapy Research found that beta-glucans offer a variety of skin-restoring properties. It includes restoring immune cells in the skin, regenerating collagen-producing cells, fighting wrinkles. It also strengthens the skin barrier to avoid environmental damage.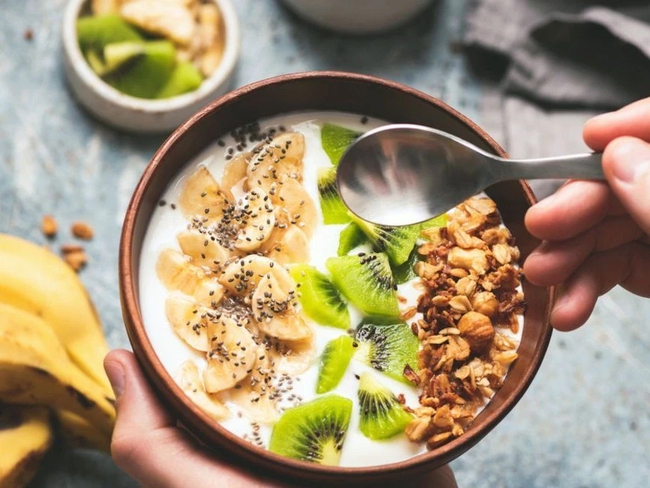 For additional skin benefits from omega-3 fatty acids, consider adding some walnuts or flaxseeds to your bowl of oats.
5. Eat eggs
Whether you like to eat boiled eggs or omelets, eating eggs for breakfast is always a powerful weapon to keep your skin youthful over time.
According to Health, eggs contain high-quality protein, vitamin D. All of which have been shown to support skin health. Vitamin D in the diet can protect against sun damage. Thus reducing the appearance of wrinkles.
6. Eat cereal
As long as your cereal is made from whole grains, with little added sugar, it's safe to eat for a long time. The dish will provide a healthy dose of vitamin B2 and zinc – substances that have some extremely important effects on the skin.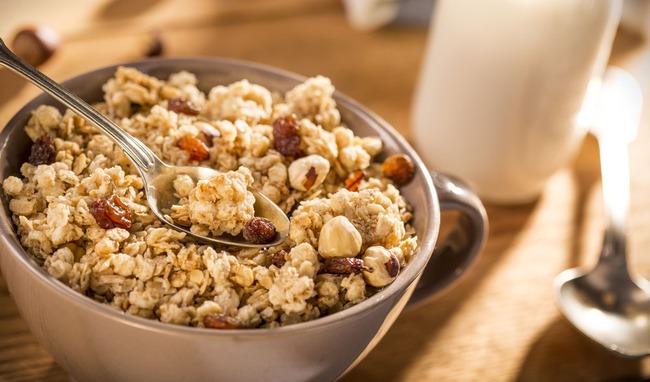 They help reduce wrinkles by promoting collagen production and tightening the skin. In addition, milk is rich in vitamin D, which protects the skin from damage caused by UV rays.
3 breakfast foods that make you age faster, your skin degrades even when you're in your 20s
1. Breakfast with pancakes
Pancakes are high in butter, sugar, and processed flour. They are not good for your overall health as well as your skin.
In particular, the added sugar and fat to pancakes can lead to weight gain. This is a popular recipe for accelerating skin aging.
2. Breakfast with bacon and sausages
Bacon and sausage are two popular breakfast items, but processed meats in general have been linked to accelerated aging.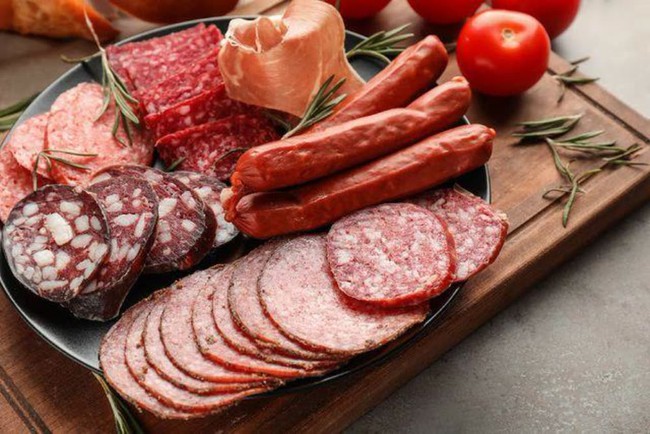 They often contain a preservative called nitrate, which has been linked to an increased risk of cardiovascular disease. A report published in the British Medical Journal found that eating processed red meat is associated with a higher overall mortality rate.
Research has also shown that regularly eating processed meat can increase the risk of type 2 diabetes, cardiovascular disease and some types of cancer.
3. Breakfast with cakes
Breakfast foods with added sugars like cakes and pies contribute to faster aging because consuming a lot of added sugars over the long term can lead to weight gain. Over time, weight gain can increase your risk of type 2 diabetes, heart disease, chronic inflammation, and other serious illnesses.
Abuse of added sugar during the day of course makes your skin age more due to the formation of AGEs.
https://afamily.vn/phu-nu-an-sang-theo-6-kieu-nay-se-co-lan-da-khong-tuoi-ve-gia-cuc-it-nep-nhan-20220513113636173. chn
You are reading the article
Women who eat breakfast in these 6 ways will have ageless skin, less wrinkles

at
Blogtuan.info
– Source:
Afamily.vn
– Read the original article
here