Giáo dục
Life Style
Doan Di Bang is controversial with the idea that spending time learning a foreign language would rather work and earn money
Doan Di Bang and a huge fortune have never been a hot story. The starting point is a young female singer with certain success, but what makes netizens talk about Doan Di Bang the most is her point of view of making money and her business successes.
Recently, the female giant in District 7 has had a remarkable opinion about learning English, causing people to split into many controversial opinions. Specifically, Doan Di Bang refused to learn English even though many people advised her to learn this language. If she spends the same time studying English and making money, she chooses to earn money because it brings more value and money.
Originally shared by the female giant in District 7:
"There are many people who recommend that Bang should go to school to learn English so that she can go out on the street to know other people. Actually, that's how it is. Learning English requires that talent, do you believe it? Bang has no aptitude, before he went to school. There is no way to learn forever.
At the present time, if she spends a few hours a day to study English, she finds that the money she earns in those few hours is better than the fact that she knows English. […]".
Doan Di Bang's statement caused two debates about the value of learning English. In fact, this foreign language has long been considered a tool to help young people succeed and achieve rapid career advancement.
Specifically, one side agrees with the opinion of the female giant in District 7 because she thinks that now she does not need English to have a rich and happy life. Besides, with business talent like Doan Di Bang, learning English is not necessary, because she always earns business contracts or communicates freely with external partners.
– Thinking is also realistic, whatever I like, I promote it, what I don't need is fine. If Ms. Bang's job really needs English, she should still try to learn, but if it's not necessary, reduce her head.
– If you are rich, you can ask a translator to communicate with foreigners. If you are rich in the size of Doan Di Bang's family, then you don't need to study hard anymore.
– The most important purpose of learning English is to earn money. But since she found a way to make money without learning English, she left to ease her mind.
– It's fine to have money to hire an interpreter when needed. The important thing is that I know what I'm good at, focus on it to make money, and what I'm not good at, hire someone else to do it. What's wrong with forcing yourself to study too much?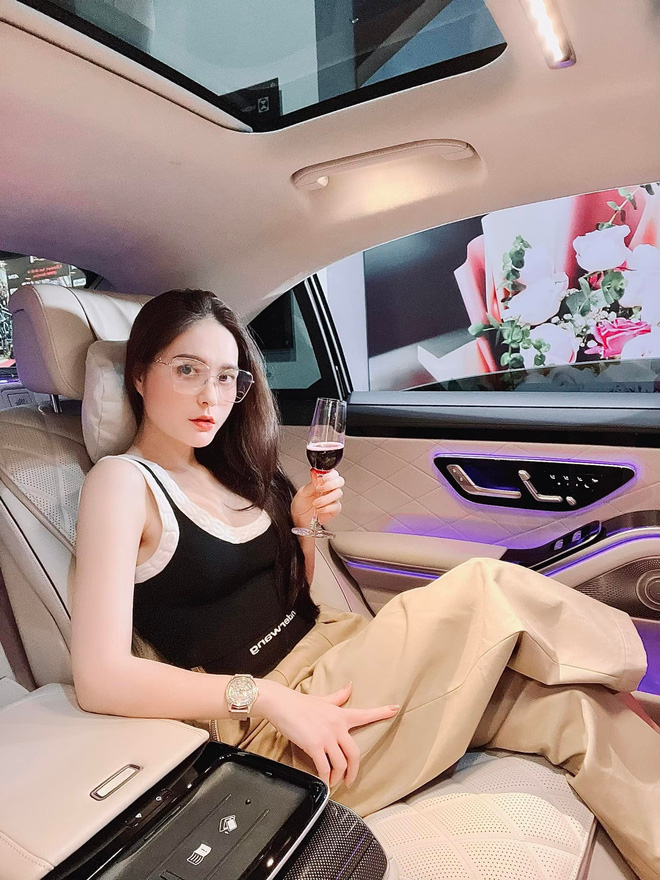 Doan Di Bang did not need to learn English to close billions of contracts and have a rich life admired by many people
In addition, the other half of the opinion said that famous people like Doan Di Bang should not make statements that discourage young people and feel that they do not need to improve their English anymore. Because English is a necessary tool, at any age, it is necessary to cultivate to achieve success faster.
– This friend teaches young people to be rich without learning. While young people are not all born and raised in a rich house.
– She said she didn't need to learn English, but she hired a nanny who needed to know IELTS about teaching English to her children. If you're a celebrity, you shouldn't post a post telling young people not to learn English.
– That's why she's good at making money, that's why she can say that. For those of you who have no talent, but are also lazy to study, you will not be successful.
When seeing many controversial comments below the post, Doan Di Bang made his point more clear: "It's because I didn't like it when I was young, so I didn't come in. Now, when I'm older, I don't have time to work, but when you're young, you need to worry about studying." Besides, she also emphasized: "That's just my opinion, I'm not blaming everyone."
After all, learning a foreign language is like any other skill. It is only really necessary for those who need it to work, study, study and communicate every day. Learning English is everyone's right and if you don't have that need, you probably don't need a headache to memorize tons of new words and formulas every day.
You are reading the article
Doan Di Bang is controversial with the idea that spending time learning a foreign language would rather work and earn money

at
Blogtuan.info
– Source:
Afamily.vn
– Read the original article
here