At a conference on May 10, Saudi Oil Minister Abdulaziz bin Salman said: "The world needs to wake up to an existing reality. The world is running out of energy at all levels."
Crude oil prices have risen more than 50 percent from a year ago to about $105 a barrel, but prices for refined products like diesel have increased even more. News agency data Bloomberg showed that in the US, the price of diesel oil increased 78% – to 5.5 USD/gallon.
Meanwhile, the European Union has just announced an embargo on Russian oil because of "special military operations" in Ukraine. When the ban takes effect, one analyst predicts Russia will have to cut oil production in 1-2 years.
This situation has led many countries to call for "austerity" for energy. In the capital Tokyo – Japan, the idea of ​​saving energy is creeping into people's living rooms, bathrooms and kitchens.
Bloomberg said authorities encourage households to keep the air conditioner temperature at 28 degrees Celsius, watch TV for less than 1 hour a day, turn off the keep warm mode on the rice cooker and limit the use of the heating function. of the toilet bowl (except in winter).
Both residents and businesses are advised to use solar power while the Tokyo government urges the capital's main electricity supplier to restart decommissioned power plants. Prime Minister Fumio Kishida also suggested considering using more nuclear energy to limit dependence on fuel imports.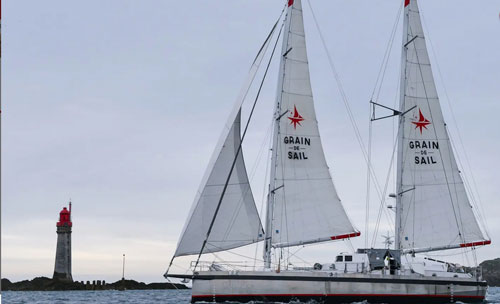 The ship Grain de Sail Photo: GRAIN DE SAIL
Before that, in March this year, the electricity crisis almost caused the Japanese capital to lose power and the amount of electricity supplied for the next summer and winter is also not much. Not only Tokyo, severe weather from Texas – USA to New Delhi – India also strained the power grid.
In addition to saving energy, the search for alternative energy sources is being focused. The New York Post newspaper early May 2022 reported about the Grain de Sail ship about 24 meters long, built by French twins Jacques Bareau and Olivier, 54 years old, to transport wine and chocolate to New York. York – USA. It is equipped with mini wind turbines, solar panels and hydraulic generators to utilize clean energy.
Some places have switched from cargo ships – which generate huge emissions – to ships/sailboats in order to partially or completely eliminate the environmental impact caused by diesel engines.
For example, the Grain de Sail wine company (France) used canvas sails on a similar boat in the 19th century, using 100% wind energy to operate. OceanBird, an experimental cargo ship from the Wallenius Company (Norway), uses a modified sail that resembles an airplane or helicopter wing instead of a canvas sail to maximize maneuverability.
As for aircraft, CNN on April 26 quoted the International Air Transport Association (IATA) as saying that sustainable aviation fuel (SAF) – which consists of used cooking oil or agricultural emissions – promises to reduce global carbon emissions by an average of 80%. The first commercial flights using SAF took off in 2011.