Giải trí
Hong Dang fell face down on her female co-star, Lan Phuong rolled on the field in the cold weather
It turned out that Lan Phuong, Hong Dang, Huyen Lizzie… all had to rely on this "secret" to play authentic roles.
Hong Dang – movie "Love the sunny day"
"Love the sunny day" part 2 is a film that receives a lot of attention from the small screen audience when exploiting the family theme revolving around the life of Mrs. Nga and her three daughters Khanh, Van, and Trang. In which, the most notable is the story revolving around the marriage of Khanh (Lan Phuong) – Duc (Hong Dang). In the movie, Duc is a weak husband who doesn't know how to protect his wife from his mother and harsh sister-in-law, and still has many bad habits such as being lazy, passionate about raising birds, and binge drinking.
Drunk German scene
In episode 4 of part 2 of the movie, there is a scene where Duc gets drunk, yells loudly, pushes his biological mother down… and vomits on his wife Khanh. Looking at this scene, some viewers will think that these are just fake drunk scenes, Hong Dang just pretended to put his face in his body. Lan Phuong never mind.
The crew cleaned up after the scene
However, the behind-the-scenes clip reveals this scene with Hong Dang being asked by the director to take… about a cup of porridge in his mouth. When entering the official filming, just shout "3, 2, 1… start", the actor rushed over… sprayed directly at Lan Phuong. After completing the scene, the staff had to come and clean Lan Phuong and clean the "scene" carefully.
Clip: Behind the scenes of Hong Dang's drunkenness
Lan Phuong – movie "Love the sunny day"
Not only Hong Dang, Lan Phuong also has a "forever" drunk scene in this movie when playing the role of Khanh's daughter-in-law who suffers many disadvantages because of her terrible mother-in-law. "The water broke the bank", in episode 13 of part 1, Khanh was drunk, accidentally met his mother-in-law on the road, so he said all the frustrations in his heart, even vomiting on his mother-in-law.
Lan Phuong has a drunk scene "for a lifetime"
To complete this scene, Lan Phuong had to practice many times, rolling on the brick yard in the cold weather. When filming for real, Lan Phuong was given a sip of porridge by the director to… "still vomit". The actress also discussed with People's Artist Lan Huong (who plays mother-in-law): "Now I have to wait for my mother to drop this, the personality to spray… for nature".
Huyen Lizzie – movie "Love the sunny day"
"Love the sunny day" part 2 increasingly shows the audience the complex psychological and emotional development of Van Trang (Huen Lizzie). She always appears to be a tough and strong person, but inside she has a hard-to-share heart. Therefore, in a sad time, Van Trang went to drink wine to relieve her sorrow and was comforted and carried by Duy (Dinh Tu). To do this scene well, Huyen Lizzie and Dinh Tu decided to drink some light wine to create a more realistic acting emotion.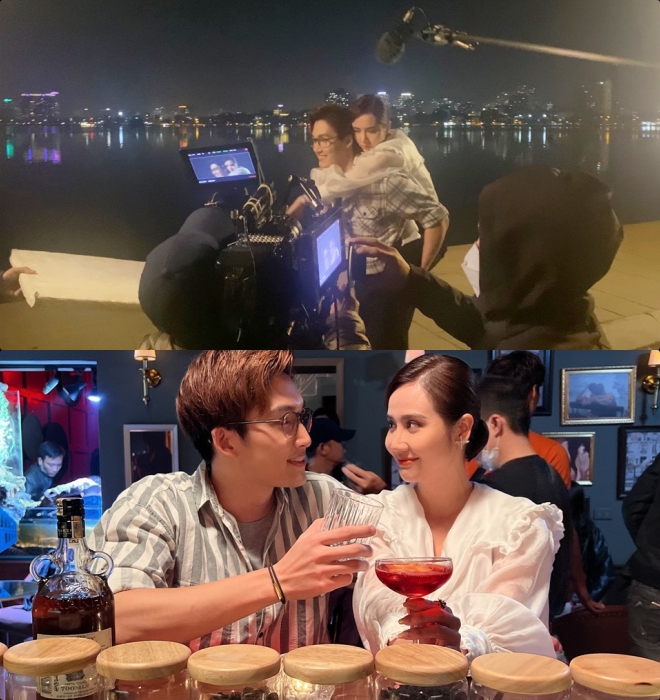 Huyen Lizzie and Dinh Tu had a light drink before filming the drunk scene to get better feelings
In the behind-the-scenes clip, the actress happily called it "sacrifice for art" because filming the scene was not easy, if she remained sober, the audience would find out that it was fake:When there is a little yeast, the eyes will also have a dreaminess different from normal times, the way they look at each other is also more affectionate, expressing feelings is also more emotional than just acting. Viewers will also feel the sincerity of the actor's acting and empathize with the story."
Nha Phuong – movie "Love, don't be afraid"
In "Love, don't be afraid", Nha Phuong plays an eccentric girl from personality to appearance. During filming, Truong Giang's wife had to "isolate" herself from the film crew so that she could get the best emotions for the character.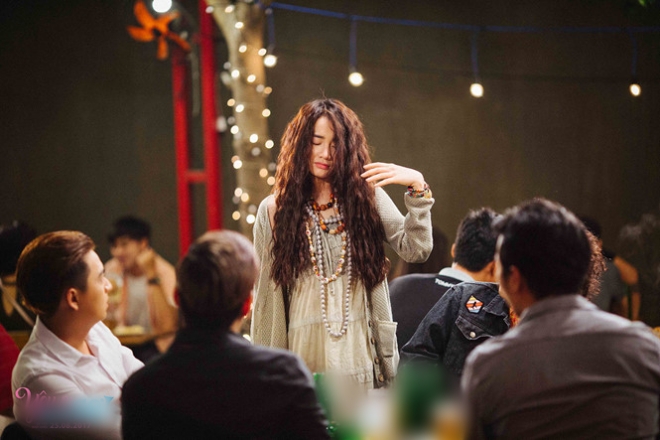 Nha Phuong took the initiative to ask for a drink to complete the scene well
The beauty born in 1990 said that she was most afraid of the drunk scene. Therefore, to complete this scene well, she asked the director to let her drink real wine, even though she was afraid that if she drank too much, she would faint. "I felt like every time I acted in a drunken scene, it looked fake, so I asked the director to drink real wine that day. Fortunately, Kieu Minh Tuan and Ngo Kien Huy supported me and gave me more, so I finished the scene well." Nha Phuong shared.
You are reading the article
Hong Dang fell face down on her female co-star, Lan Phuong rolled on the field in the cold weather

at
Blogtuan.info
– Source:
24h.com.vn
– Read the original article
here