Business
Hybrid Event – "magic wand" bringing perfect customer experience for Vietnamese businesses
While the event industry in the world has reached its peak since the late 1980s, in Vietnam, this industry has only begun to be accepted by the public in the past 10 years. Since then, organizations and businesses have also begun to pay more attention to the organization of events and gradually consider this as a tool to promote the success of marketing campaigns. From initial forms such as talkshow, gameshow, up to now, events have had more attractive and attractive colors.
In the context of the complicated development of the Covid-19 epidemic, many event organization activities were affected or delayed, causing significant consequences to the economy of the world in general and Vietnam in particular. Here, it is the rapid development of tools to support marketing activities that has helped the event industry game as "reset" to create an equal starting point for everyone to adapt, on the other hand, offer new solutions. initiatives to reach the public more effectively, more creatively, such as Hybrid Event.
Hybrid Event – a new trend of the Marketing industry
Recently, the program KOC VIETNAM 2022 – a reality TV program invested by VCCorp and co-organizer Lazada Vietnam, has been deployed on the Hybrid Event platform with the Mega Livestream method in the organizing method. organization, attracting the right audience is young people. When it was "launched", the Hybrid Event platform quickly created a "phenomenon" in many Vietnamese businesses, especially media businesses.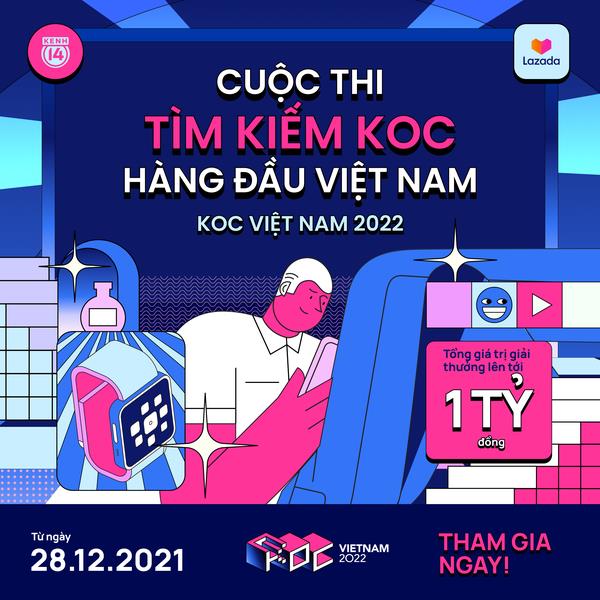 Specifically, Hybrid Event is a solution for organizing offline events combined with powerful online activities to create large coverage and increase interaction with readers across multiple platforms for a long time. Besides, Hybrid Event also has resonance from multi-channel, cross-platform and is creatively implemented. Along with that, there were many support activities around the event by combining resources from partners and sponsors. This is not simply a cooperation in funding the budget, but also can optimize the strengths of the parties to create common benefits for each participating unit.
Through Hybrid Event, businesses will have more opportunities to communicate their products and brand images to the public, maximize the impact of the business on the audience, and listen to feedback through throughout the duration of the event, thereby making appropriate adjustments to each communication goal. It is for these reasons that Hybrid Event promises to become one of the new trends, bringing outstanding efficiency to the marketing industry in Vietnam in the near future.
The fastest and best approach to customers
As VCCorp's first experiment in organizing a television program when applying the Hybrid Event platform, the KOC VIETNAM 2022 program has received a warm welcome from young people and interest from Vietnamese businesses. This demonstrates VCCorp's ability as a leader in the media industry in Vietnam with a large media ecosystem, strong technology platform and highly qualified human resources.
Accordingly, the program KOC Vietnam 2022 is a demonstration of its outstanding capacity when it is broadcasted at the same time, stable simultaneously on all platforms from newspapers and social networks to newspaper reading and commercial apps. e-commerce partner Lazada with a total of more than 100 press websites, 35 cooperative fanpages, program microsites, 5 press apps owned by VCCorp, MXH Lotus and Lazada e-commerce app. As a result, KOC Camp had 1.6 million viewers watching the show's livestream in just 1 hour of broadcasting, exceeding many standard milestones for a reality TV show in Vietnam today.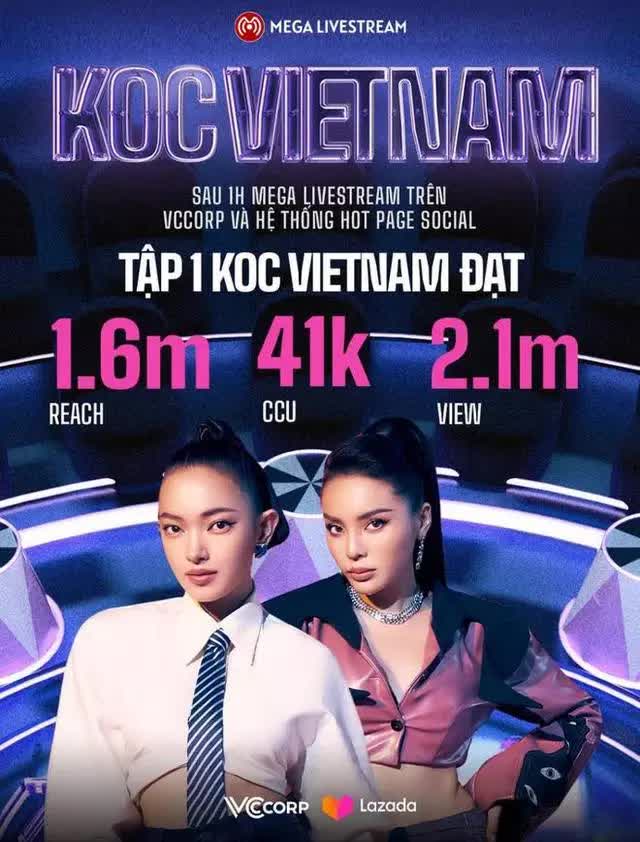 From the perspective of being an expert in understanding users, possessing big data about users, VCCorp continues to develop reality TV shows with appropriate formats, affirms its bravery in the market, and helps the market at the same time. The media industry is increasingly developing, creating its own mark for the Vietnamese market on the world map.
An effective tool to help create an explosive Marketing campaign
Not only is the solution to the efficiency problem in TV shows, Hybrid Event is also a solution for the explosive marketing campaigns of many businesses. Specifically, by becoming a partner or program sponsor, businesses can enjoy a number of perks that allow them to instantly expand their reach and maximize customer engagement. Businesses can access all responses, recorded sessions and data received during the event. This also means that they have the ability to analyze that content and, if the results are satisfactory, can use that content to create marketing campaigns to promote the next event.
Compared to the traditional form of event organization, Hybrid Event will help businesses save costs but still create attractiveness and achieve the expected effect. Moreover, with Hybrid Event, the barriers of time and space as in traditional event organization are removed, and limitations on interaction in virtual events have also been overcome.
However, in terms of cross-platform access and super user optimization, it also requires a Hybrid event organizer like Vccorp to have the ability to coordinate creative scenarios and interact with users right away. at the program as well as the background infrastructure is not small to create a successful and explosive event.
It can be seen that in Vietnam, the event industry is still young but full of potential, so the application of Hybrid Event at events of many businesses will be an ideal stepping stone to help units seize the opportunity to speed up, conquer your customers with perfect experience.
VCCorp is a pioneer in investing and developing the Hybrid Event trend in Vietnam today. With available resources in terms of technology and technical infrastructure, and a strong communication network, a team of content experts, media experts, etc. VCCorp will contribute to helping businesses create effective events, continue cross-platform multi-channel approach to target customer groups.
KOC Vietnam 2022 – a typical reality TV show for Hybrid Event invested and implemented by VCCorp and co-organizer Lazada Vietnam, is officially released on Kenh14 and other multi-channel media systems are receiving great attention. interest of young people, the KOC community and especially brands.
Contact VCCorp production team for support on content, how to deploy Hybrid Event:
Person in charge: Tran Vinh Thai
Email: [email protected]
Phone: 0974916963
https://cafef.vn/hybrid-event-dua-than-mang-trai-nghiem-khach-hang-hoan-hao-cho-doanh-nghiep-viet-20220514142403832.chn
You are reading the article
Hybrid Event – "magic wand" bringing perfect customer experience for Vietnamese businesses

at
Blogtuan.info
– Source:
cafebiz.vn
– Read the original article
here