Cư dân mạng
World
Life as a Korean bride of a Hai Phong female student, her mother-in-law behaves wonderfully
People have a sentence "Love each other because of fate, marry because of debt, live together because of people's hearts". The love story between Van Anh (born in 1999, Hai Phong) and her Korean husband – Mr. Woo Sang Jin (born in 1993) is associated with two words of predestined. They met in Korea, but officially fell in love when they happened to return to Vietnam at the time of the Covid-19 outbreak. After all, the sudden appearance of son Woo Ji Han (born in 2021) is the link connecting the Vietnamese – Korean couple to the same house.
Van Anh opened up about the story of being a mother for the first time, becoming a bride in a foreign country, receiving the love of her husband's family and raising a baby son.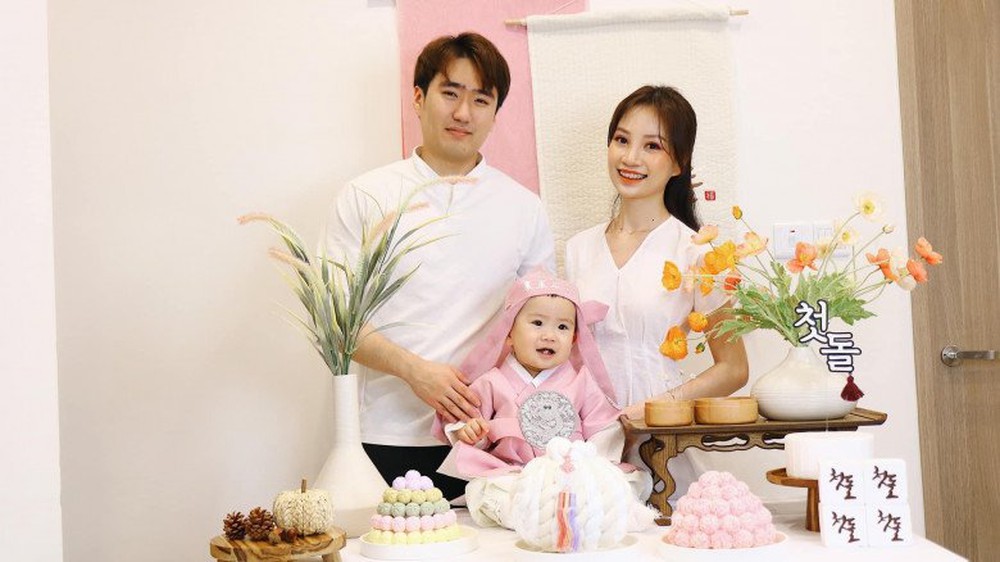 The family of Ms. Van Anh and Mr. Sang Jin.
Son is the bridge of love between Vietnam and Korea
Van Anh went to Korea to study Tourism at Sejong University – one of the famous private universities in Seoul and also one of the schools with the best teaching quality in Asia since 2014. At that time, Vietnamese female students both study and work part-time at a barbecue restaurant to cover expenses. She happened to meet Mr. Woo Sang Jin at the end of 2019, while working part-time.
Van Anh says: "At first, I didn't have any special impression on my husband. He suddenly asked for my number and then the two talked online, sometimes meeting and hanging out when the opportunity arises. Later when I asked, he said I look pretty too, so I want to ask for your number." However, the two just stopped at the relationship of friends, not going any further. At the beginning of 2020, the Covid-19 epidemic broke out, so Van Anh returned to Vietnam. Coincidentally, Mr. Sang Jin had worked in Vietnam for many years and was in the same Hai Phong city as Van Anh at that time.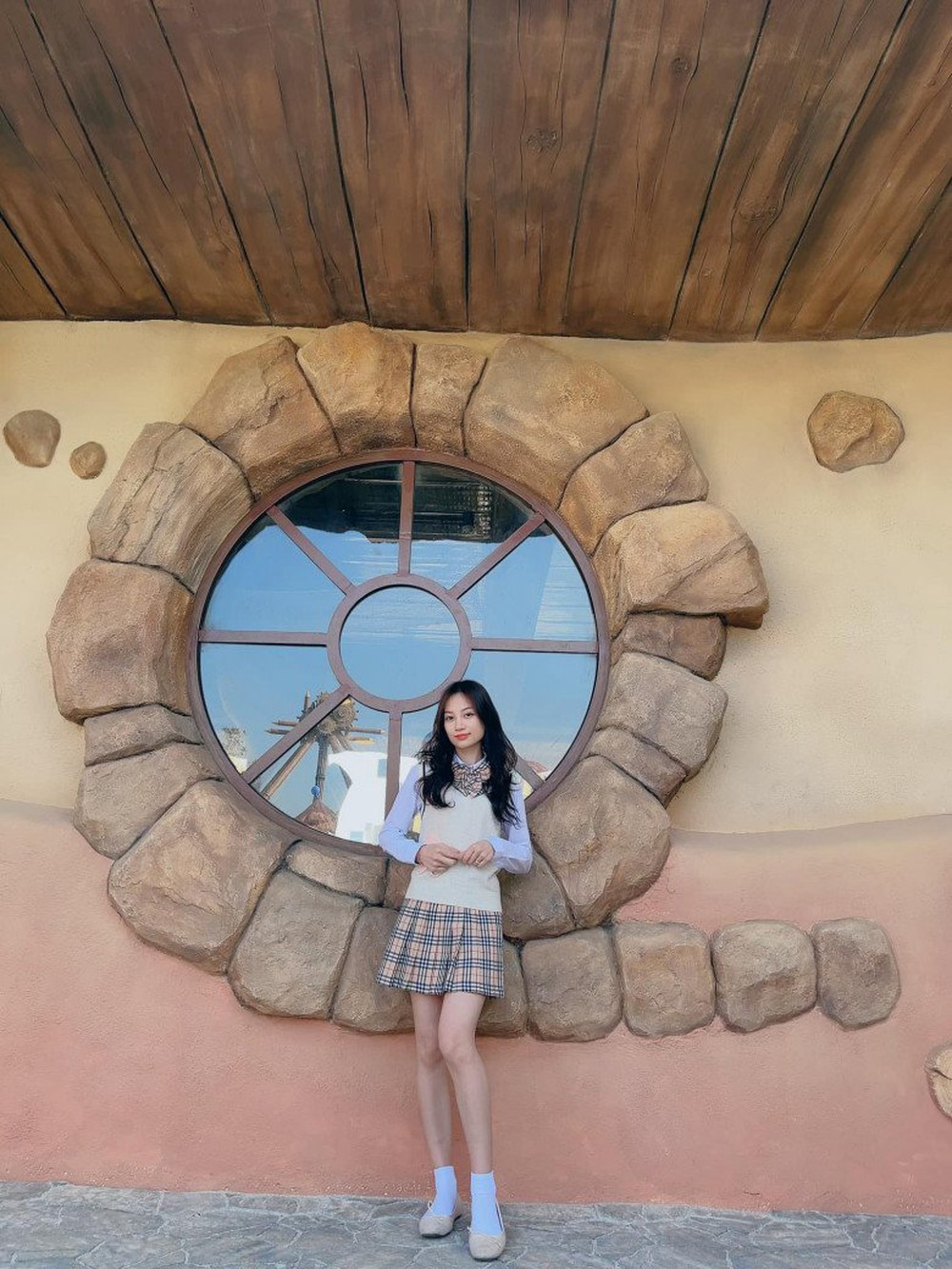 When I first met Mr. Sang Jin, Ms. Van Anh is an international student in Korea.
Meeting acquaintances in Vietnam was like a charm, prompting Van Anh and Sang Jin to get to know each other and officially date. On the anniversary of love, Mr. Sang Jin bought a couple rings and gave it to Van Anh. "It's not an engagement ring but suddenly he told me I'm the type of girl he wants to get married to, and then said, "Marry me later." At that time I didn't say anything, just hug you" 9X Hai Phong recalls.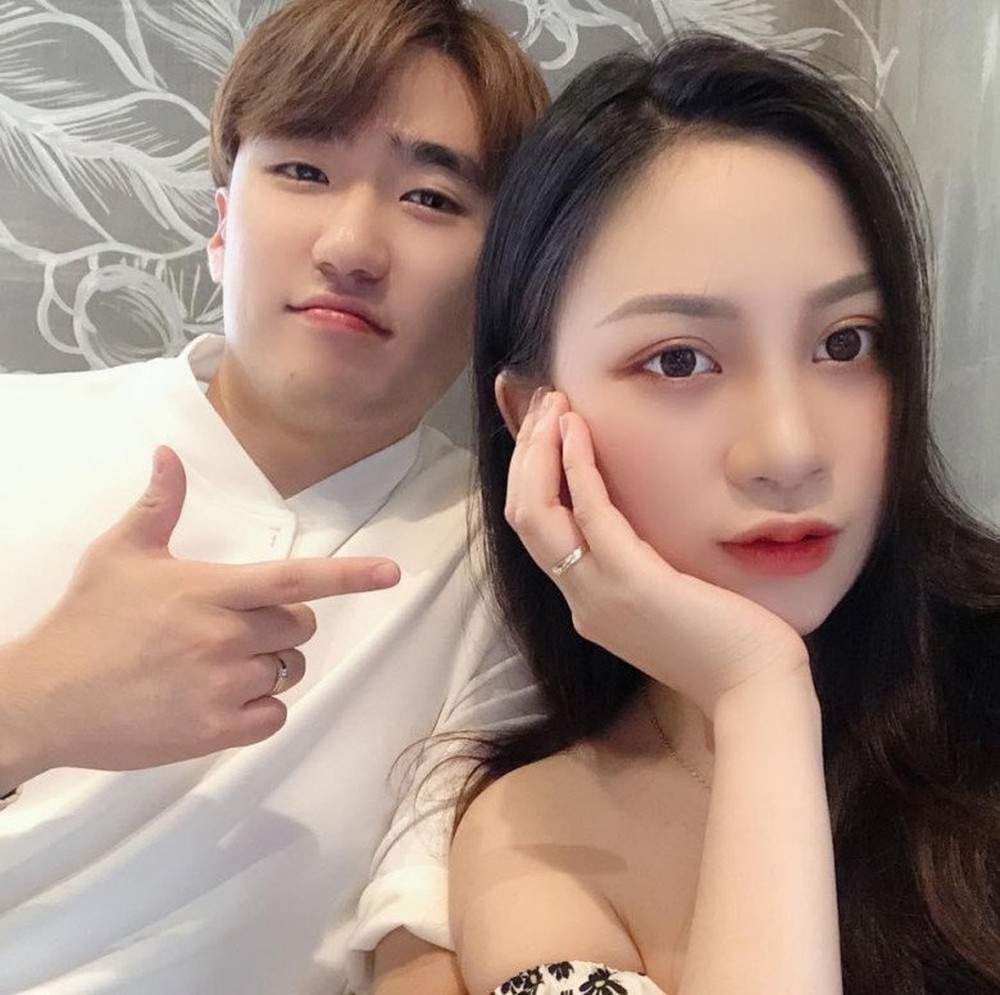 Although they met in the land of kimchi, the two were destined to live in Hai Phong.
August 2020 marks a big turning point in the relationship of the Vietnamese – Korean couple. At that time, Mr. Sang Jin's visa had a problem, so he was forced to return to Korea. Also around this time, Van Anh discovered she was 6 weeks pregnant. She recounted: "At that time, I was so scared, I got pregnant just when my husband had to return home, so I didn't know what to do. Up to now, my wife and I still believe that the child is the predestined relationship that binds us to a married life. My husband often said: "You are the string connecting the two ends of Vietnam – Korea." Thanks to her, I have more trust in my husband in Vietnam, and both also decided to get married earlier than expected.
Mr. Sang Jin's visa had a problem and he couldn't go to Vietnam for a while. While pregnant and having to be in a long-distance relationship for many months, there were times when Van Anh felt extremely insecure. A mother of one said: "At that time, I cried a lot, because I was still thinking about the baby in my belly. When my husband told me that I couldn't go to Vietnam, my trust dropped to about 50%. My husband promised him and his family. I will take responsibility.My mother-in-law also called to reassure me: "Don't worry. My parents and my husband are taking care of the papers to sponsor the child." My mother-in-law often calls to inquire, so I also try for 3-4 months. Van Anh and her husband registered their marriage on December 13, 2020. After that, she was sponsored by her husband's family to go to Korea to prepare for the birth of her son.
Although they met in the land of kimchi, the two were destined to live in Hai Phong.
Being a perfect mother, loved by the whole husband's family
She went to Korea to give birth alone without her biological mother and relatives by her side, but Van Anh never said she felt sorry for herself. Because, she always receives the attention and thoughtful care of her husband's family. Van Anh said: "When I gave birth in Korea, I was inherently thrifty, so I only intended to register for a regular room of 4-6 people. But my mother-in-law wanted me to be comfortable, so I booked a VIP room for 1 person. Besides, My mother also signed up for a 1-month maternity package like staying in a hotel, so that mother and baby can be taken care of. From the day I came to Korea, my mother-in-law always gives me the best. From wedding dresses, jewelry, accessories, … every mother wants her daughter-in-law to be the most beautiful. She is a psychology lecturer, so she is very attentive and cares about her daughter-in-law like her own daughter. I can count on my fingers."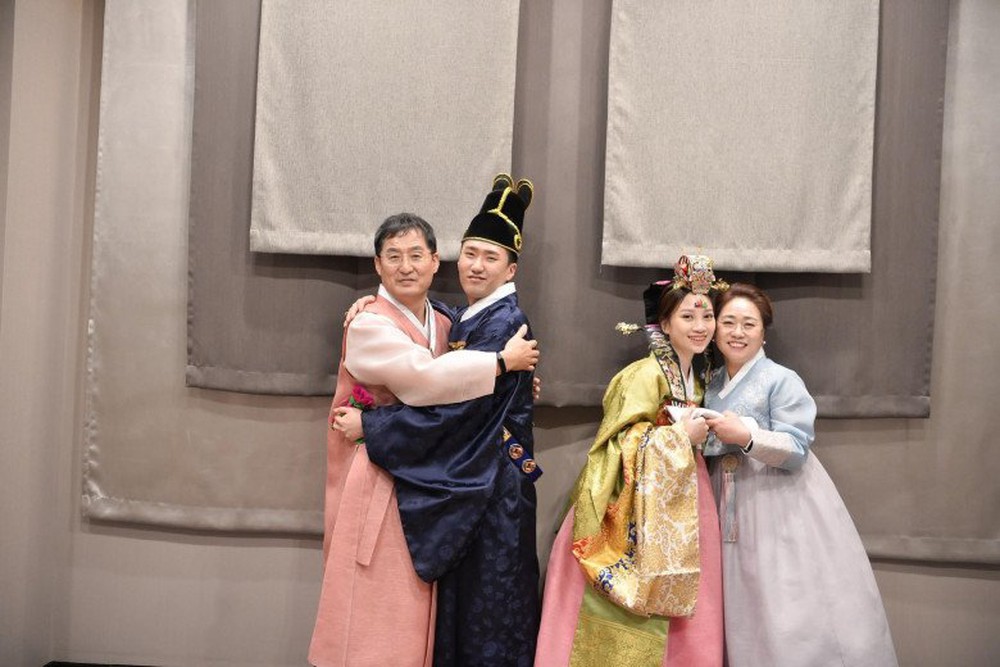 Van Anh's husband's family is very psychological and "loving" the Vietnamese daughter-in-law.
Recalling the day her son was born, Van Anh was moved: "Because I had to have an active operation and under general anesthesia, I couldn't see my baby face-to-face when the baby was born, only looked at the baby through the husband's photo. The couple was very emotional, I cried because I was so happy, And the husband is okay because his wife has to go through a lot of pain. Stealing, I'm more like my father."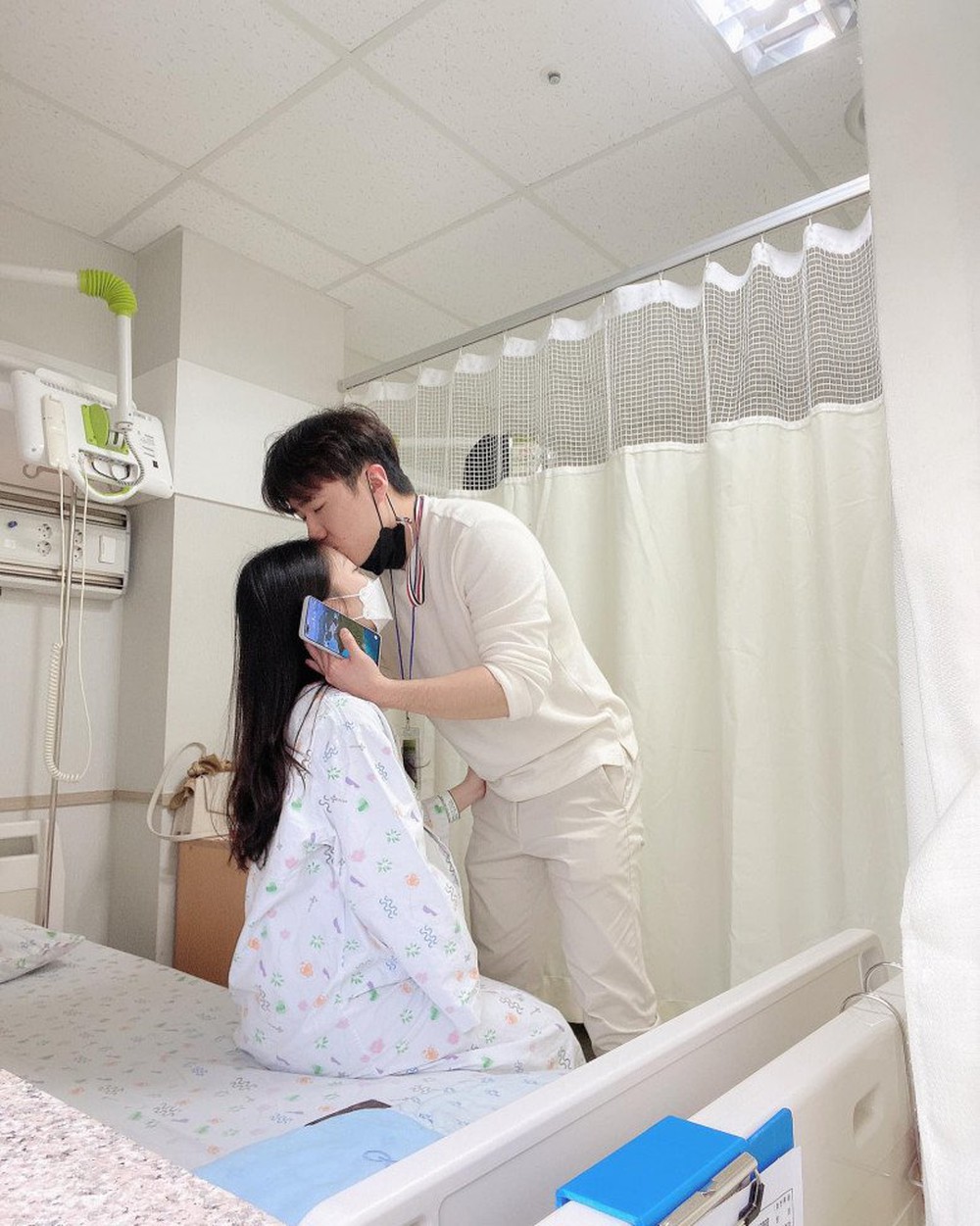 Van Anh's husband loved his wife and worked hard to give birth.
Van Anh's husband loves his wife very much. He works all day, but every night when he comes home, he helps to wash up and play with the children so that his wife has time to rest. On weekends, Mr. Sang Jin "won" the day's care of his son. What makes Van Anh feel the most is that every time she goes out, her husband will take care of the children and feed them, so that the wife can enjoy the meal in the most comfortable way.
Van Anh humorously shared: "I don't know if it's because he's "afraid" of his wife, but so far, he always agrees with his opinion and has never complained or complained. Until now when the couple is dating, He still gives flowers. Every month, when he receives his salary, he buys gifts for his wife."
Sang Jin always "wins" the part to take care of the children whenever he has free time.
When I'm strong enough, I'll go back to school
Ms. Van Anh raised her children according to the EASY method, practicing scientific living habits for her children from a young age, so it was not too hard for her to take care of her children. She also received support from her husband and mother-in-law. Although she helps her daughter-in-law to look after her grandchildren, her mother-in-law never interferes in the couple's child education process, so Van Anh also feels more comfortable when she can teach her children in her own way.
Baby Woo Ji Han has an intimate name Mango, has many similarities with his father, is extremely cute.
Besides being a housewife and taking care of children, Ms. Van Anh also trades in cosmetics to earn money. However, her husband always advised her to balance work and rest, not economic pressure. In his free time, 9X Hai Phong posted to build a Tiktok channel to share stories of marriage and family in Korea, attracting more than 2 million likes. Having an almost perfect life in a foreign country, being pampered by her husband and children, and having an abundant economy, Van Anh still cherishes the intention of returning to school to complete her study program.
Van Anh confided: "In the past, because of the sudden outbreak of the epidemic, then I had a baby, so I reserved my grades. I intend to wait for my child to be stronger, I will go back to school to finish school and then go to work. Anyway, I still have I'm young, so I'm not too hasty. My husband and family support my decision."
Beautiful, young diaper mother.
You are reading the article
Life as a Korean bride of a Hai Phong female student, her mother-in-law behaves wonderfully

at
Blogtuan.info
– Source:
Soha.vn
– Read the original article
here