Business
More than 1,230 Zalo news about security was sent to the police force by people of Tan Phu district
Information from the Conference "Preliminary use of the Tan Phu District Image Monitoring Center and the Zalo Official Account model to serve the reception of ANTT news" held on the afternoon of May 13, 2022.
Sharing at the conference, Colonel Nguyen Duy Dong – Deputy Chief of Police of Tan Phu District (HCMC) said that after only 1 year of operation, Zalo Security model has achieved very good results. Under the continuous communication and guidance of police officers, this model was widely disseminated to a large number of people.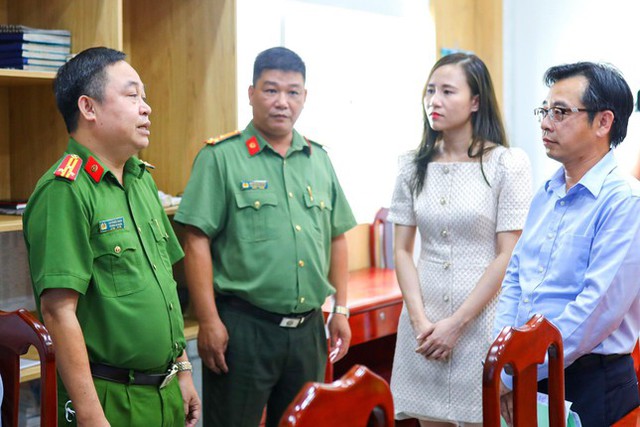 Leaders of Tan Phu district and Zalo representatives exchanged and learned experiences about the operation of the Zalo Security model. Photo: Nguyen Thao
With the goal of contributing to reducing administrative procedures, through the Security Zalo accounts, the Tan Phu District Police have received 216,798 messages to learn and guide people on the steps to prepare documents and procedures. necessary papers when carrying out administrative procedures in order to create favorable conditions and shorten the time for receiving and handling, and not allowing people to go back and forth many times, causing loss of time.
In particular, the District Police and affiliated units have received more than 1,230 news reports, including more than 307 valuable messages from people via Zalo. Thereby providing timely information and evidence to help the District Police quickly detect and handle many cases related to security and order in the area.
In addition, during the stressful period of the Covid-19 epidemic, Tan Phu District Police also sent notices via Zalo to each citizen requesting a medical declaration with a built-in link, making the declaration quick and easy. Easily, support authorities in tracing and promptly detecting cases at risk of Covid-19 infection.
The content posted on the Zalo page of the ward and professional teams is evaluated in a practical and timely manner, helping to spread epidemic prevention information strongly.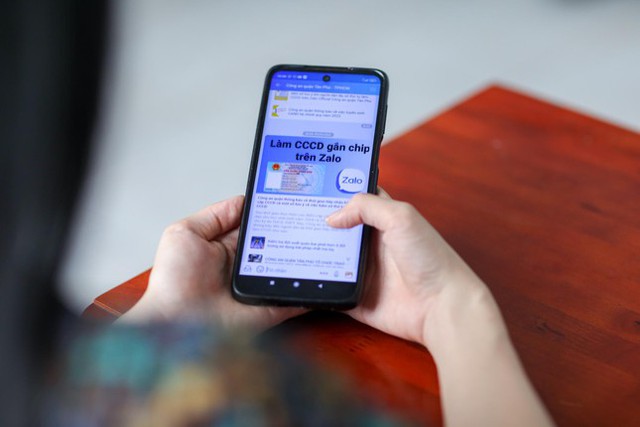 Nearly 160,000 people in Tan Phu are interested and follow the district's Zalo Security page. Photo: Nguyen Thao
Operating from February 2021, the Zalo Security model of the Tan Phu District Police has set up 18 pages including: 1 Zalo page "Tan Phu District Police", 11 Zalo pages of the Ward Police and 6 Zalo pages for professional teams. service.
These pages operate with 3 main goals: Interactive channel, propaganda channel and administrative reform. Thereby, promoting the efficiency of crime denunciation activities, ensuring security and order and simplifying administrative procedures, saving people time.
After more than 1 year of operation, so far the Zalo page of the District Police has more than 157,200 people's attention and follow-up. The Editorial Department also collaborated with 13 professional teams and 11 wards police to publish more than 610 articles and videos with nearly 4.3 million views and share propaganda content about the operation tricks of various types. crimes, guiding people to carry out administrative procedures, preventing crimes, informing about the security situation, and personal examples with excellent achievements.
In addition, more than 38.5 million times of notification of text messages about things such as setting up new utilities, reporting crimes, preventing the Covid 19 epidemic, and issuing CCCD notices, etc., have also been sent to users. people use Zalo in the district.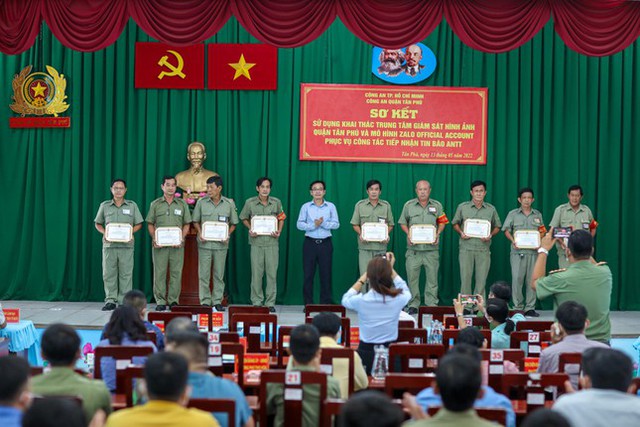 Mr. Pham Minh Man – Chairman of People's Committee of Tan Phu District (HCMC) awarded certificates of merit to the street protection force. Photo: Nguyen Thao
In addition, in order to help people interact more conveniently and effectively, the Zalo Police account of Tan Phu district continuously added and developed new features such as: Set up quick view of security information; Quick answer questions via chatbot, dial numbers automatically to make CCCD; Quick lookup results of CCCD Citizen identification; Wanting information or finding lost relatives; Announce information security, hotline.
Mr. Pham Minh Man – Chairman of Tan Phu District People's Committee (HCMC) emphasized, for Zalo Security model, interacting with people is very important. Therefore, the district has directed the units to perfect the article, news page, how to interact with the people most effectively.
"Propaganda activities must also be paid more attention with the set goal that 100% of district people will be interested in these Zalo pages. If people are interested, it seems that we will have a source of crime denunciation, security and order news, messages reflecting the environment about the environment, … helping Tan Phu district to have peace." , Mr. Pham Minh Man shared more.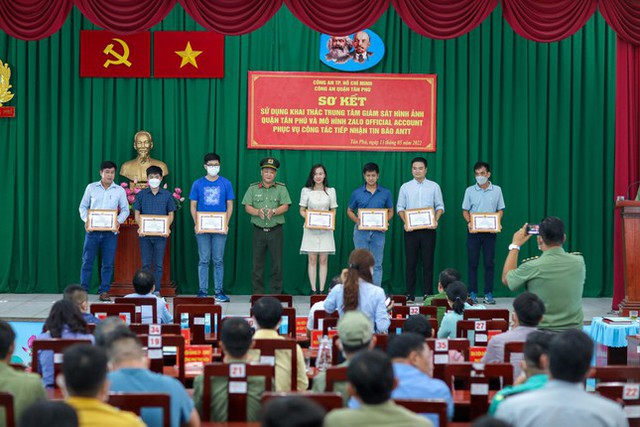 Senior Colonel Nguyen Duy Dong – Deputy Chief of Police of Tan Phu District (HCMC) awarded certificates of merit to Zalo team. Photo: Nguyen Thao
Also at the Preliminary Conference, Tan Phu District Police awarded certificates of merit to the Zalo team for their positive contributions in supporting the construction and operation of the district's Zalo Security model.
Although it has only been deployed for more than 1 year, the security Zalo model has been effectively promoted for the work of ensuring information security, the reform of administrative procedures of the District Police, and has been agreed by a large number of people. supportive mind.
In the coming time, the model will be promoted, adding new features to suit the situation of digital transformation and the needs of people in Tan Phu district. Thereby, contributing to building the image of a modern, friendly policeman who interacts promptly, effectively propagates, and maintains the peace of life 24/7.
You are reading the article
More than 1,230 Zalo news about security was sent to the police force by people of Tan Phu district

at
Blogtuan.info
– Source:
cafebiz.vn
– Read the original article
here